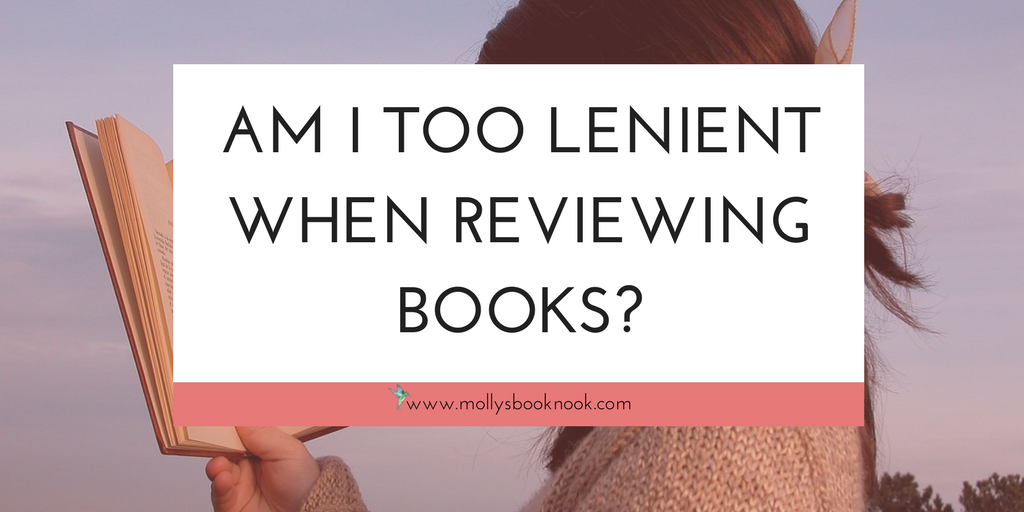 Book reviews are important. Even if they get the least amount of views, I can bet that the views they do get are from people genuinely interested and trying to make a decision on whether to read said book or not. They give people an idea of what to expect. Many of us have blogging friends whose opinions we trust wholeheartedly. When we see them publish a review of a book we may be on the fence about, we quickly read it because we trust them and their opinion matters.
That thought right there made me question my book reviews. I questioned things like how I review books, what sort of things do I tend to critique, what things do I tend to not even notice, what is important to my readers that I do or do not address in my reviews? It got me thinking, am I too lenient?
I'm a mood reader
I am 100% a mood reader. I have always read for entertainment and have never spent a lot of time critiquing books. I pick up a book if the synopsis sounds fun, I read it, and I am either entertained or I am not entertained. My reviews tend to reflect that. Did I relate to the character? Was the pacing too slow? Was there a lot of action? Was the romance a super-unrealistic whirlwind?
Where this can have a negative impact on my reviews is that I either love a book or I hate a book. It is very rare for me to say a book was "just okay" and give it a mid-range rating. It's either 1 star or 5 stars. Looking back at my reviews, the number of 5-star reviews would make some of you probably shake your head at me. My average rating on Goodreads is 3.92. I give a lot of rave reviews.
Then I look back and think "why did I give this book 5-stars? I don't even remember the plot…" Yeah, I'm that reader.
So, am I too lenient? Do I give too many books the benefit of the doubt? Am I not looking closely enough to give a fair and correct rating? Do I let my emotions play too much of a role in my reviews? Probably. So, I've tweaked how I'm going to review books from now on.
SEPARATING EMOTION FROM REVIEWS
Recently Emily from Loony Literate talked about not liking books but still recommending them. She uses the example of History Is All You Left Me – a book she wasn't particularly fond of but had to separate her emotions from the review just enough to still recognize the book could be important for someone else.
I relate to this so much in that I feel like I haven't been doing this enough while reading. What may not be my cup of tea can be perfect for another person – not just in a difference of opinion but in representation. A book that one person doesn't see themselves in at all could be the closest representation another has ever read. It's important to acknowledge that.
Obviously, I'm not going to completely ignore my own emotions about a book. That's why I read in the first place! However, I think Emily is right in that there needs to be a distinction between how a book has made you feel and looking at the merits of it objectively.
Some changes are a-comin'
I started a reading journal
So far, this has proved useful. I used to take notes and while a journal is similar, I've customized it to get my brain thinking more critically while I'm reading. I include a rating section of all the categories I tend to review: world-building, character development, writing, plot, originality, etc. Having that in front of me while reading reminds me to critique those areas while reading not after I'm done and already have an emotional response to the book.
It can also be helpful if I find another book that I feel was rated incorrectly (either too low or too high). I can check the journal to see what my thoughts were at the time of reading.
More categories
Speaking of categories, you may have already noticed a few added ones in my reviews. I'm going to try to slowly add in categories in my reviews to help break down my thoughts more. A few of them are:
Romance – Honestly, sometimes it's just fun to either love or bash on a romance. So I included that section. I also think it can be helpful for some people who make a decision based on the existence – or non-existence – of one.
Representation – This is especially for books that rely on that. Books like Me Before You, Under Rose-Tainted Skies, More Happy Than Not – they all have major themes around disability, mental health, and sexuality. This is important to a lot of people and should be included, especially when talking about those types of books.
World-Building – I'm going to start including this category for any fantasy books I read. Sometimes authors do this perfectly, sometimes we're left scratching our heads.
---

What do you think? Do you think your own reviews can use a little less emotion and a little more true critique?

How do you keep track of your thoughts while reading?

Do you think some of your old ratings can be redone to either lower or raise the rating?

What are some things you'd like to see reviewers do more of in their reviews? Things you wish they'd notice while reading? Categories you wish they'd cover?