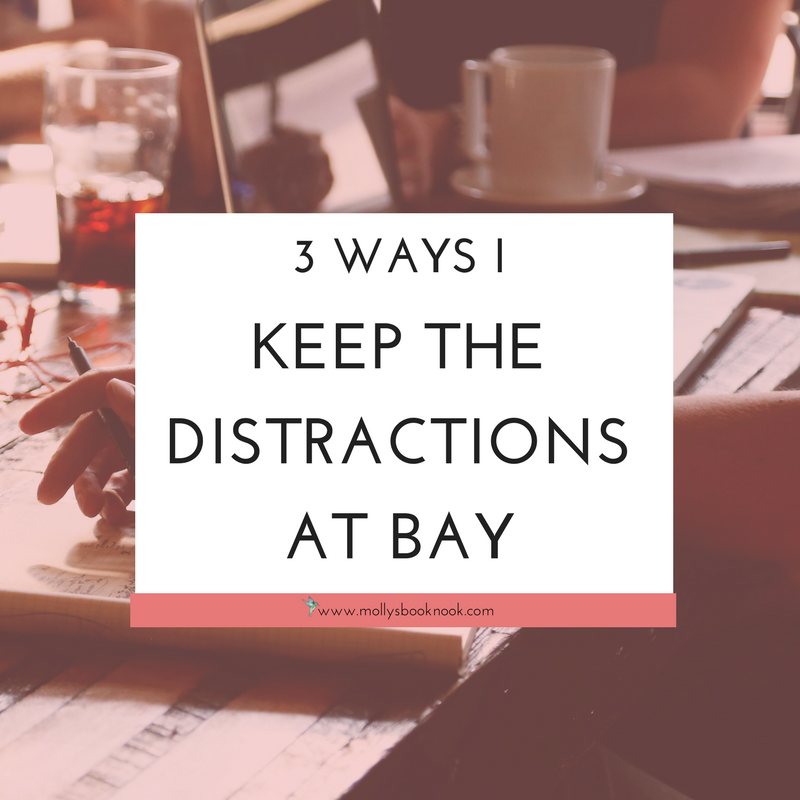 Blogging is difficult. What makes it more difficult? Distractions. They're everywhere. Whether it be the television, your phone, your dogs, or a daunting to-do list, they can pull you away from blogging and cause you to fall behind. So, today, I wanted to share what I do to keep those distractions at bay. For me, this is even more important because I not only blog, but I own a business and run the fort at home. I have a long to-do list every week. Here's how I make sure I'm on track.
*Disclaimer: Everyone is different and has different obligations in their lives. This is just what works for me, but you do you!

TURN OFF THE TV, PUT AWAY THE PHONE
I know, I know, that's such a wonderful word of advice. You haven't heard that one before, have you? Ok, good.
Anyways, this is what I try to do every time. I tend to want Netflix on in the background but then end up watching Netflix more than working. So, I turn the television off and, for good measure, put my phone on the other side of the room or out of my reach that way, I have to get up to use it.  Just make sure you leave the volume on & high if there's an emergency.
Bonus: Sit at your desk, if you can. I try to sit at my desk 99% of the time when I need to blog, design, or do other 'work' related tasks. It makes sure I'm turned away from the television, and it's just the feeling of being official at your desk and not in your pajamas, in bed, watching Sherlock.

MAKE LISTS
All the lists! I love lists. I make a weekly to-do list and daily to-do list. I also categorize my to-do list into Blog, Store, and Home lists so that my tasks are separated and easy to manage. Seeing them divided like that makes it a little more feasible to me, rather than one giant list of tasks.
Bonus: If you find that even using lists doesn't help, look at how your managing your lists. First, try skipping the digital form and journal form. I know we all love our apps and bullet journals, but I find that having that extra step of opening up a journal or my phone makes me check my list less. Instead, I write it down on a loose leaf piece of paper and have it next to me on the desk. This way, it's always right in front of my face (so I have no excuses) and it's a little more mobile friendly.

TAKE TWO TYPES OF BREAKS
Break #1: An actual break. Working too much, too long is no fun for anyone. Give yourself a break whenever you want. I either take breaks when I feel I need one or if I have a lot to do, I take breaks at certain hours. Either way, relax, eat, go outside, watch tv, take a good old-fashioned break.
Break #2: A productive break. Say what? Well, a way that I manage my to-do lists is that I don't spend too much time on one category. I divvy up my day between Blog, Store, and Home tasks. For example, I'll write that week's blog posts then go to the grocery store then come back and work on a new design. I don't like doing one thing for too long and I hate the feeling of having too much to do. Doing this makes sure I chip away at each list without getting bored or feeling overwhelmed.
---

How do you avoid distractions?
Do you already do any of these things?