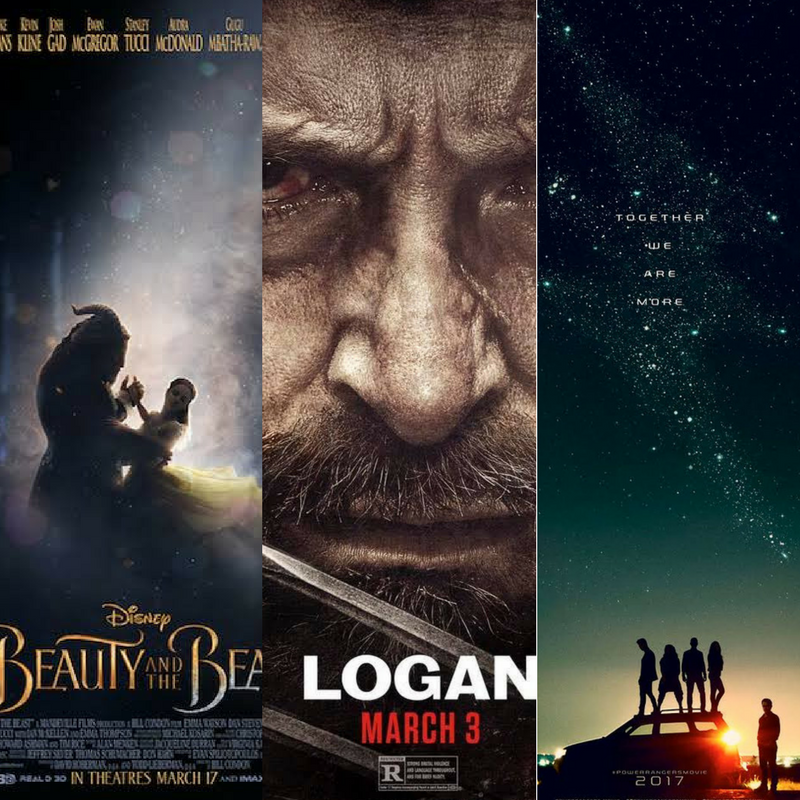 I mean, do I even need an intro? Nah. Here are my mini reviews of the three films I've seen in theaters recently:
Logan
Released: March 3, 2017
Directed by: James Mangold
Screenplay by: James Mangold, Scott Frank +
Starring: Hugh Jackman, Patrick Stewart, Dafne Keen, Boyd Holbrook, Stephan Merchant
Rated: R
My Rating:  ?? / 5

" In the near future, a weary Logan cares for an ailing Professor X somewhere on the Mexican border. However, Logan's attempts to hide from the world and his legacy are upended when a young mutant arrives, pursued by dark forces. "
I really wanted to like this. The trailers for this made it look so dark, gritty, and just good. My husband and I both left utterly disappointed. For a movie that relies so heavily on the characters and their internal struggles, I just didn't feel it. For example, Professor X did something bad sometime before the events of this movie. It's mentioned a few times, and then, the big moment where it seems like it's going to get addressed in a deeper way…it just doesn't. I left thinking "Well, I know something happened, I gather what it is, but I don't feel the emotion in the film".
That's how I felt through the entire thing.
There was also some inconsistencies. Like how the little girl speaks Spanish and has an accent, but all the other kids (who are from the exact same place as her) don't. There are other inconsistencies, but I don't want to spoil anything.
Long story short, I just wasn't impressed and Logan was asleep for half the movie – literally. I also really wanted it to be more post-apocalyptic like Old Man Logan.
Beauty and the Beast
Released: March 17, 2017
Directedby: Bill Condon
Screenplayby: Stephan Chbosky, Evan Spiliotopoulos
Starring: Emma Watson, Dan Stevens, Luke Evans, Josh Gad, Ewan McGregor, Ian McKellen, Emma Thompson
MyRating: ????? / 5

" An adaptation of the fairy tale about a monstrous-looking prince and a young woman who fall in love. "
Of course, I loved this. Of course, I did.
They adapted this so well that I want to see it again and again and again. The songs were perfect, even the added originals fit in with the rest of soundtrack. The set design and CGI were beautiful. I love the way the castle and all the things inside it look, it was stunning. Emma Watson is adorable as Belle, as expected. It was just so good.
I would say my only complaint is that I didn't feel like they connected Belle to the people/objects living in the castle like the animated version does. While beautiful, they were only sort of there and I didn't care about their relationships with each other or with Belle like I do in the animated version.
But, c'mon, this movie is gorgeous and I can't hate on it at all. So, just fangirl in the comments, ok?
Power Rangers
Released: March 24, 2017
Directedby: Dean Israelite
Screenplayby: John Gatins, Matt Sazama +
Starring:  Dacre Montgomery, Naomi Scott, RJ Cyler, Ludi Lin, Becky G., Elizabeth Banks, Bryan Cranston, Bill Hader
MyRating: ???? / 5

" A group of high-school students, who are infused with unique superpowers, harness their abilities in order to save the world. "
This one is just some good family fun. It's super corny, but it's fun so you can't hate it. Also, it has a good cast of characters:
An actress of English and Indian descent
A Mexican-American actress who plays a gay ranger
A Chinese actor who doesn't play a stereotype
A black actor who plays a ranger on the Autism spectrum
Honestly, Billy (ranger on the Autism spectrum) stole the show. I wouldn't have liked this movie as much if he wasn't in it. Basically, it was just a fun movie to watch. Don't expect some deep and emotional film – it's a fun, family friendly, action flick! Although, I couldn't get past Elizabeth Banks being the bad guy because I kept seeing her as Effie (probably just me, though). Oh, and make sure you stay through till mid-credits – there's a short scene!
---

Have you seen any of these? What did you think?
Do you want to see any of them?