I don't really read outside of my comfort zone that often. I read a lot of YA, some NA and on rare occasions, epic fantasy. My husband, on the other hand, reads no YA or NA. So, you can probably guess our shelves look very different from each others. And they do. His is filled with fantasy, classics and even some poetry. Both of us love adventure stories, but mine have a bit more (or a lot more) romance.
However, there are plenty of books on his shelf that I have been eyeing for a while. Yet, I still haven't picked them up. So, I thought I'd share a few that interest me in the hopes that maybe some of you are looking for a story a little outside of your YA comfort zone. Because I sure live in that zone.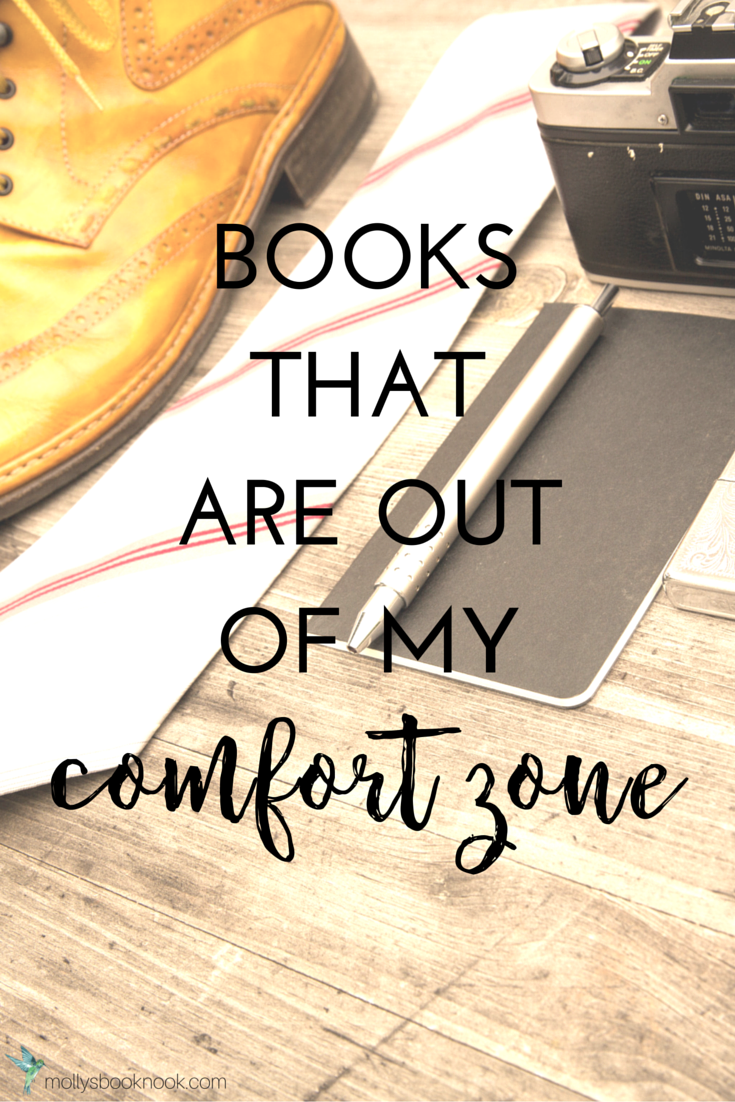 Titles link to Goodreads page.
"Life-long friends, they went their separate ways. Now they are together again, though each other holds secrets from the the others in his heart. They speak of a world shadowed with rumors of war. They speak of tales with strange monsters, creatures of myth, creatures of legend. They do not speak of their secrets. Not then. Not until a chanced encounter with a beautiful, sorrowful woman, who bears a magical crystal staff draws the companions deeper into the shadow forever changing their lives and shaping the fate of the world.
No one expected them to heroes.
Least of all themselves."
⇒ I have to admit, I had absolutely no interest in this series. That is, until I heard my husband and his friend talking about some of the plot and I became very intrigued.
"The dark elves are feared throughout the Old World for their evil, savage ways, yet one member of this despicable race stands out for his treachery and cunning – Malus Darkblade. He displays all the Dark Elf qualities – he is unscrupulous, cruel, cunning and ambitious. Seeking to extend his influence and his power Malus went off in search of an ancient treasure. After many trials he eventually found the treasure, but by doing so awakened the daemon Tz'arkan, called the "Drinker of Worlds" by some. Now he is faced with a stark choice – recover five items of unimaginable power within one year or forfeit his soul for ever! These books chronicle his treacherous journey as he fights for his life and his freedom."
⇒ Can we just talk about those covers for a second? He looks effin' badass, how could I not look at this book and say "I want to read it!"? Then you read the synopsis and you're like, "Take my money!"!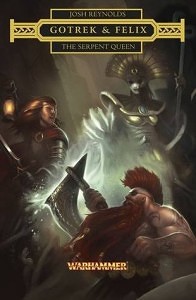 The Serpent Queen (Gotrek & Felix) by Joshua Reynolds –
"Gotrek and Felix: unsung heroes of the Empire, or nothing more than common thieves and murderers? The truth perhaps lies somewhere in between, and depends entirely upon whom you ask… Travelling to the mysterious south in search of a mighty death, the Slayer Gotrek Gurnisson and his human companion, Felix Jaeger, find themselves caught up in a battle between warring kingdoms. Captured by the sinister Queen Khalida and forced to do her bidding, the adventurers must brave the horrors of the sun-soaked Land of the Dead… And the dead do not rest easy."
⇒ I've actually started this book before, and I enjoyed what I have read. The two friends are pretty funny together, and the world is very elaborate.
"House of Leaves begins with a first-person narrative by Johnny Truant, a Los Angeles tattoo parlor employee and professed unreliable narrator. Truant is searching for a new apartment when his friend Lude tells him about the apartment of the recently deceased Zampanò, a blind, elderly man who lived in Lude's building.
In Zampanò's apartment, Truant discovers a manuscript written by Zampanò that turns out to be an academic study of a documentary film called The Navidson Record, though Truant says he can find no evidence that the film or its subjects ever existed.
The rest of the novel incorporates several narratives, including Zampanò's report on the fictional film; Truant's autobiographical interjections; a small transcript of part of the film from Navidson's brother, Tom; a small transcript of interviews of many people regarding The Navidson Record by Navidson's partner, Karen; and occasional brief notes by unidentified editors, all woven together by a mass of footnotes. There is also another narrator, Truant's mother, whose voice is presented through a self-contained set of letters titled The Whalestoe Letters."
⇒ Ok, technically, this has been on my shelf for years and I haven't gotten around to it. BUT, it is one of my husband's favorite books and he has been telling me to read it forever. Also, his friend recently got me The Familiar by the same author for my birthday, so I should probably get to this sometime soon.
"Geralt of Rivia is a witcher. A cunning sorcerer. A merciless assassin.

And a cold-blooded killer.

His sole purpose: to destroy the monsters that plague the world.

But not everything monstrous-looking is evil and not everything fair is good. . . and in every fairy tale there is a grain of truth."
⇒ Another one that is kind of not from my husbands shelf. We both play the video game The Witcher so we bought this for us. But, I'm saying it's on his shelf because it is more his type of book than mine.
"Banished from England for seeking to marry against his father's wishes, Ivanhoe joins Richard the Lion Heart on a crusade in the Holy Land. On his return, his passionate desire is to be reunited with the beautiful but forbidden lady Rowena, but he soon finds himself playing a more dangerous game as he is drawn into a bitter power struggle between the noble King Richard and his evil and scheming brother John."
⇒ We own two copies of this book, yet I've never read it. I shall include this into my Rory Gilmore Reading Challenge (I'm sure it's already on the list, anyways).

What are some books you want to read that are out of your comfort zone?
What is your reading comfort zone?