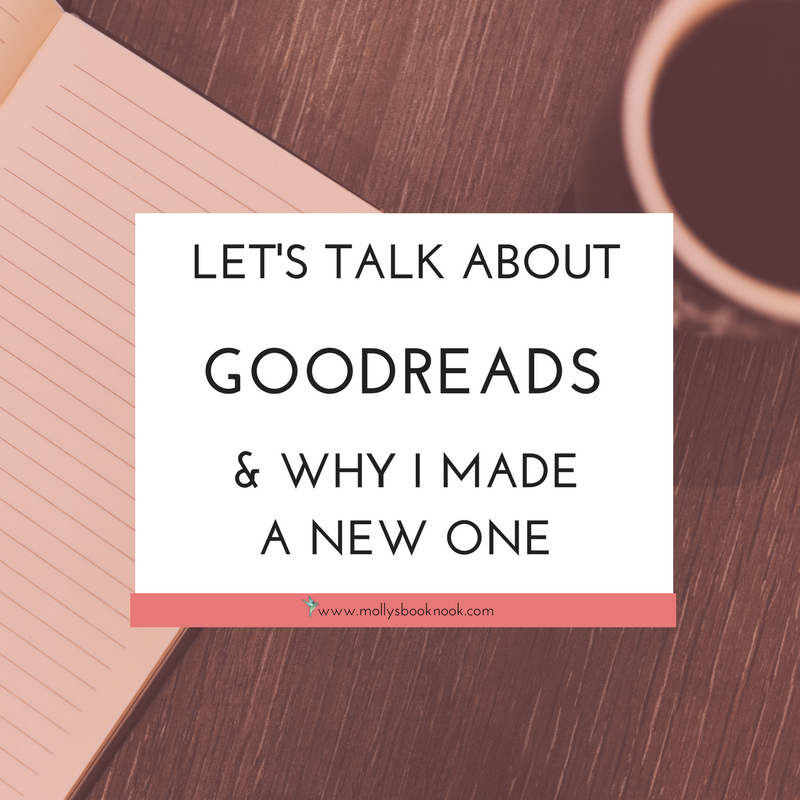 On an impulsive urge to declutter, I completely purged my Goodreads account.
Not just purged it, I created an entirely new one.
My old GR account was stupid. I had too many books added to my TBR shelf, too many friends that I didn't even know, and some of my "Read" books somehow got duplicated. It was a hot mess and it was bothering the crap out of me. So, I fixed it by creating a brand spankin' new one! So, naturally, I just want to chat about GR today – how I redid mine and to ask you how you organize yours! This is a quick post  🙂
Before we continue, feel free to add me on there! Just click here to go to my profile.

BOOKS I ADD & MY SHELVES
The biggest change is that, for now, I only added books I already own to my shelves. I wanted an easy way to catalog my owned books and with my old GR account, it would have been a pain in the ass to do. So, for now, I've only added books I currently OWN to my shelves. I'll probably make some sort of unowned TBR shelf, but that's where the questions at the end of this come in!
Continuing from the books I add, I wanted to organize them into specific shelves. Owned books that I haven't read. Ebooks. Audiobooks. Review copies. Now I can easily look at my progress while attempting to actually read books I own and not constantly purchasing new ones (say hi to a book buying ban!)
ENGAGEMENT
I don't want to just accept friend requests all willy-nilly anymore. It made my feed a mess and I didn't even care about 80% of the updates. Instead, I added a challenge question and am only accepting my mutuals, current & future ones. I want to actually use GR as a way to chat about books, not just a hot mess of clicking "Want to Read" over and over.
GOALS & REVIEWING
Goodreads has always been a bit of a stressor to me. Mainly because of the Reading Challenge – my own and others. I always looked at the amount everyone else was reading and felt bad for not reading as much. I've also been in a huge slump for months and was already nearly 15 books behind schedule with my reading goal. So, I set my goal to 1 and am going to ignore that shit. I'll read what I want, when I can, the end.
I also am not going to be publishing full reviews on GR, just star ratings. At least for now. First, I always forget to transfer them anyways. Second, there was a post by one of you (forgetting who now, if it was you let me know so I can link!) about how Google thinks if you copy your review from blog to GR, that your blog is the duplicate. Third, reviewing adds to the pressure. I figured a review on my blog will be good enough. With all that said, I may still add a few quick reviews here and there, especially for ARCs & other review copies since it helps those authors out so much!
---
Honestly, that's it! I just wanted to start fresh. I wanted to utilize GR in a more effective way to catalog and fangirl – and not feel pressure to read and take my updates/reviews too seriously. So…
---

Do you even use Goodreads?
If you do, how do you organize your books?
I need some inspiration for types of shelves to make, so what shelves do you have? Do you have any that you can link below? I'd love to see how y'all make it work for you!