I received this book for free from the publisher in exchange for an honest review. This does not affect my opinion of the book or the content of my review.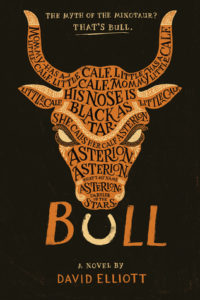 Bull

by David Elliott
Published by HMH Books for Young Readers on March 28th 2017
Genres: Poetry, Classical Retelling, Fantasy (YA)
Pages: 200
Source: the publisher
Amazon | | Barnes & Noble | | Book Depository

SEE THE STORY OF THESEUS AND THE MINOTAURIN A WHOLE NEW LIGHT

Minos thought he couldPull a fast oneOn me,Poseidon!God of the Sea!But I'm the last oneOn whom youShould try such a thing.The nerve of that guy.The balls. The audacity.I AM THE OCEAN!I got capacity!Depths! Darkness! Delphic power!So his sweet little planWent big-time sourAnd his wife had a sonBorn with horns and a muzzleWho ended upIn an underground puzzle.What is it with you mortals?You just can't seem to learn:If you play with fire, babies,You're gonna get burned.

Much like Lin-Manuel Miranda did in Hamilton, the New York Times best-selling author David Elliott turns a classic on its head in form and approach, updating the timeless story of Theseus and the Minotaur for a new generation. A rough, rowdy, and darkly comedic young adult retelling in verse, Bull will have readers reevaluating one of mythology's most infamous monsters.
If you can get past the cringe-worthy writing, you might enjoy this.
On the plus side, this is a short and easy read. It is written in verse and is extremely easy to understand what is going on. The author uses different styles for each character/point-of-view which makes it easy to differentiate between the chapters. It's also somewhat fun because of the language used (which was actually a negative for me, but it might work for some people). With those two things combined, it's great for people who want a more lighthearted version of Greek mythology.
If that isn't up your alley, then this book will probably annoy you.
It opens up with Poseidon saying "Waddup bitches?" That is cringe-worthy enough, then the author completely lost me when he used "LMAO" to rhyme at the end of one of the verses. From then on, I really couldn't help but laugh at some of the word choices (and not a good kind of laugh). It's this odd blend of the author trying to appeal to younger audiences but at the same time being vulgar and using profanity. I honestly don't know where I would place this book if someone asked me which age group is it appropriate for.
The story itself, which is a retelling of Theseus and the Minotaur, is lackluster. Elliott fit the myth, with his own creative liberties, within 200 pages of verse. There was a lot of detail left out. A lot of the story that I would have found interesting was simply skimmed through to have more sick rhymes for Poseidon. 
Overall, this is good for a slump because of how incredibly easy it is. However, if you're a fan of Greek mythology and want a decent retelling that doesn't almost make a mockery of it, then I wouldn't recommend this.
Rating Report
Plot
Characters
Writing
World Building
Overall:
2 / 5