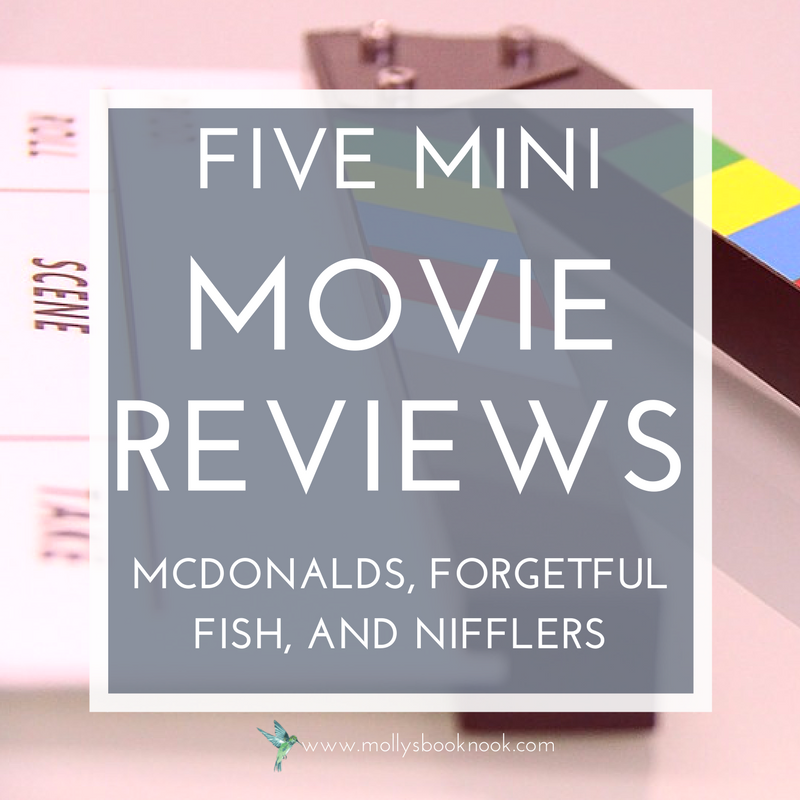 My husband and I have watched quite a few movies lately – both in theaters and at home. Instead of reviewing each one individually, here are some mini reviews! These are kind of ranty (fair warning)  😆 Let's just dive right in:
DUNKIRK

♥♥ / 5
My husband and I couldn't have more opposite opinions on this movie. He thought it was one of the best movies of the year, I was rather bored and can't stop venting about it. I can't go into detail on everything because of spoilers, but some highlights:
The special effects were terrible. At one point bombs drop on the beach and the dead bodies look like people just sleeping (from bombs…

)

The way they told the story through time jumps got annoying. You saw the same scene more than once, but from different perspectives, that it took all tension out of the scene because you knew the outcome.
There was very little dialogue, which isn't always a bad thing. What annoyed me was that the for the 5 minutes of dialogue in the movie, 90% of it was given to Harry Styles character (

hmm….I wonder why

).
The soldiers had terrible survival instincts. Alright, this is based on a true story, so I'm sorry, but some of the things they did to "survive" were just plain stupid.
Gosh, that's not even everything. Don't get me wrong, this movie isn't terrible. I might watch it again, but there were so many things that I couldn't help but nitpick that I'm just going to rate this in the middle.
WONDER WOMAN

♥♥♥ / 5
Okay, this was good, I just don't love it as much as everyone else. The humor was super cheesy and I really disliked Ares. I'm sorry, but he's was the God of war and should not have been played by David Thewlis (come on, that moustache?).
I'd watch this again just to watch Gal Gadot because what a babe. Otherwise, it's pretty cheesy. (Disclaimer: I saw this opening weekend and am just now trying to write down my thoughts, so frankly, I forgot a lot of my first feelings. Which I guess might be a sign of how much I didn't really enjoy this one)
THE FOUNDER

♥♥♥♥♥ / 5
I loved this. It was interesting to see how McDonald's started, even if it wasn't in the most nice of ways. Ray Kroc basically stole McDonald's from the brothers who originally started it through legal loopholes…but also by doing a lot of the work. Personally, I left that movie thinking "alright, sure, it wasn't cool of him, but he basically made McDonald's a household name…". Literally, without Kroc, McDonald's never would have grown to what it is today.
Also, while watching this, it's so funny to see all the things we take for granted now. It was a big deal to get served your food in a paper bag and be able to eat it anywhere you wanted. It was 35 cents for a burger, fries, and a soda. It was huge to get a meal within 30 seconds. It was 35 cents for a meal. Sorry, I had to repeat that
FANTASTIC BEASTS AND WHERE TO FIND THEM

♥♥ / 5
Y'all, why haven't I watched that many good movies lately?
For some reason, I expected to dislike this one – so this wasn't a disappointment. I found the plot boring to the point that I fell asleep. I had to rewind to see the big reveal at the end – which was just ridiculous. The only thing I liked about this movie was the Niffler because how cute, right? Otherwise, Redmayne's acting was just awkward, they picked the 2 worst actors for the "villain", and it just definitely was not the return to magic I wanted. 
FINDING DORY

♥♥♥♥♥ / 5
Let's end on a high note.
Finding Dory was adorable. This movie is how you return to a story/world that is beloved by so many. It 100% feels like it picked up right after Finding Nemo. Of course there was tears. Of course this made me laugh. Baby Dory was just about the cutest freaking thing I've ever seen. It was also kind of neat to see her origin story and explain some of the jokes she made in Finding Nemo. I mean, it's a cartoon, I'm not going to get that deep with it, but it was just nice to see it all come together.
---

Have you seen these? Thoughts? What other movies have you watched recently?