I received this book for free from the publisher in exchange for an honest review. This does not affect my opinion of the book or the content of my review.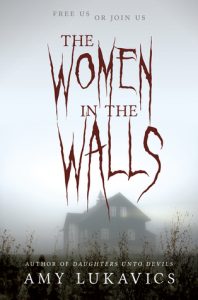 The Women in the Walls

by Amy Lukavics
Published by Harlequin Teen on September 27th 2016
Genres: Horror, Paranormal (YA)
Pages: 304
Source: the publisher
Amazon | | Barnes & Noble

Lucy Acosta's mother died when she was three. Growing up in a Victorian mansion in the middle of the woods with her cold, distant father, she explored the dark hallways of the estate with her cousin, Margaret. They're inseparable—a family.
When her aunt Penelope, the only mother she's ever known, tragically disappears while walking in the woods surrounding their estate, Lucy finds herself devastated and alone. Margaret has been spending a lot of time in the attic. She claims she can hear her dead mother's voice whispering from the walls. Emotionally shut out by her father, Lucy watches helplessly as her cousin's sanity slowly unravels. But when she begins hearing voices herself, Lucy finds herself confronting an ancient and deadly legacy that has marked the women in her family for generations.

Maybe it was just me but I found the story to be really predictable. Side note about me: I grew up watching horror films. My mom loves them so I've seen almost every big budget and b movie horror film made, so it takes a lot to surprise me. So, while reading this, just a few pages in I pretty much already figured it out. 
With that said, there were some side scares that got me. It was a bit creepy to be reading this alone in my house at night. I did want a bit more out of the ending, especially the "investigation" but overall it was a decent story.

Something about this story is that I don't think the characters really matter — and that could be a good or bad thing. Sure, the characters have personality and their own issues, but I never felt connected to them. Lucy was a very difficult character to relate to. I had one more major issue with her character but it's a pretty big spoiler, so you've been warned >> View Spoiler »Also, I felt like that she cut herself was just a plot device. It didn't feel like it was there to be a part of her character, rather than being something the women in the walls whispered to her when they wanted her to kill herself to join them.  « Hide Spoiler
However, to me, the story is more about the mystery of the house and less about the actual people in the house. I liked the added depth with the relationship between the house and the people living there, but it could have been any old Joe Shmoe and the story would have been the same.

Lukavics definitely scared me a few times. Even though I already knew the overall plot pretty early on, she threw in a few moments throughout that brought on some scares. With that said, the writing at times was also a little confusing. It wasn't clear what decade this was taking place in because the house and their lifestyle seemed very Victorian, but then there was mention of cars (which actually doesn't narrow it down too much). So, I still don't know what decade this book takes place in.
The pacing was on and off. At times it moved quickly, other times it slowed down a bit. However, this is a short book and it's not very noticeable.

Overall, it was an okay book. It scared me a few times, but I didn't find the story to be incredibly attention-grabbing or the characters to be of much significance. With that said, it could be just me because I've watched way too many horror films and this resembled a few that I've already seen. If you're looking for a quick read with a few scares for this coming Halloween season, I do recommend this one, though.
Rating Report
Plot
Characters
Writing
Representation
Overall:
3 / 5