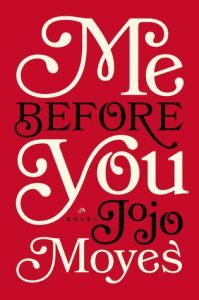 Me Before You (Me Before You, #1)

by Jojo Moyes
Published by Pamela Dorman Books/Viking on December 31st 2012
Genres: Contemporary, Romance, Disability
Pages: 369
Amazon | | Barnes & Noble

Louisa Clark is an ordinary girl living an exceedingly ordinary life—steady boyfriend, close family—who has barely been farther afield than their tiny village. She takes a badly needed job working for ex–Master of the Universe Will Traynor, who is wheelchair bound after an accident. Will has always lived a huge life—big deals, extreme sports, worldwide travel—and now he's pretty sure he cannot live the way he is.
Will is acerbic, moody, bossy—but Lou refuses to treat him with kid gloves, and soon his happiness means more to her than she expected. When she learns that Will has shocking plans of his own, she sets out to show him that life is still worth living.

I was so disappointed in this one. I was spoiled for the ending prior to reading it but I wasn't aware of what the entire plot was about. Frankly, I'm not happy with the message it sends.
Will is a quadriplegic. He is incredibly wealthy and before his accident lived a very adventurous life. After his accident, he was a different person. While I can't exactly relate to him, I can empathize with how hard it can be to go from no chronic pain or disability to not being able to perform basic tasks without aid. However, the message this book seems to send is that you cannot live a fulfilling life with a disability.
And how false that is. We always talk about wanting positive representation which makes me so surprised that this one is so well liked. It's such a negative representation of disability and chronic pain.

This is about to me a kind of unnecessary rant: I couldn't stand Louisa. She was extremely infuriating and naïve. From the beginning, I knew she was going to bother me throughout the entire novel. The story opens with her needing a job because she is the sole breadwinner for her family and just lost her job at the diner. Any rational person would realize the financial burden it would be to not have a job, taking whatever job they could get. Louisa refused everything, basically stating she was too good for all the opportunities because she was a waitress at a diner or several years.
Yep, she was going to bother me. The next time I got incredibly frustrated with her was after she got the job as Will's caregiver. Again, any rational person living in the 21st century would think it logical to look into the needs of someone who is quadriplegic before needing to help them. Alright, maybe I'm being picky, but it just seemed like common sense to have some knowledge of the job you're about to undertake before starting (especially for someone who was so on their high horse with every other job opportunity).
Will wasn't much better but it's because he never got developed outside of his disability. It's all he was. There was a lot of mention of what he used to be like and what he used to do, which then gives the message that disability or any chronic pain/illness will turn you into an entirely different person. (I realize that becoming quadraplegic can change someone, but I would think that they would maintain most of who they were before the accident.)

I covered most of my thoughts on this in the Plot section, but I have a few more things to add. As stated before, I think it's important for positive representation. While this book does cover a realistic topic, I wish it would have shown Will finding happiness somewhere in his life. I don't mean that to be taken as this book was "just too depressing" but that it portrays that life is not worth it if you are disabled.
Also, it follows a person who is insanely wealthy. People all around the word battle something similar and don't have the same financial stability and access to opportunities as Will did. Another reason I think this book is such a negative representation – showing someone who has better choices and still portrays that your quality of life isn't as good.
Lastly, if you want to read about a positive representation of someone with this type of disability (maybe not quadriplegia but similar symptoms) then I recommend The Fundamentals of Caring about a boy with Duchenne Muscular Dystrophy and his caregiver (super positive message), or you know, read about Stephen Hawking who has Amyotrophic Lateral Sclerosis.

I didn't even review every category in this because I felt like the three I did talk about really covered enough reasons why I was so disappointed. However, just a quick few to add if you were wondering: I didn't enjoy the writing because I didn't feel the emotion (oddly enough) and the romance was terrible because Louisa has one of the most selfish boyfriend and I wasn't thrilled with the relationship dynamics between her and Will.
Overall, I didn't like this story. It had characters that were one-dimensional, and frustrating. The representation wasn't something I would recommend to people with chronic pain/disabilities, which means I wouldn't recommend this to really anyone.
Rating Report
Plot
Characters
Writing
Representation
Romance
Overall:
1 / 5