This was requested by Sophie Alex from Books Like Wolves and Ilsa from A Whisper of Ink. They wanted to know the difference between WordPress.com and WordPress.org and why I chose WordPress over other blogging platforms. This is also something I've discussed before, but again it was back in February of 2016. So, I thought I'd give it a little revamp with some new information regarding hosts and platforms.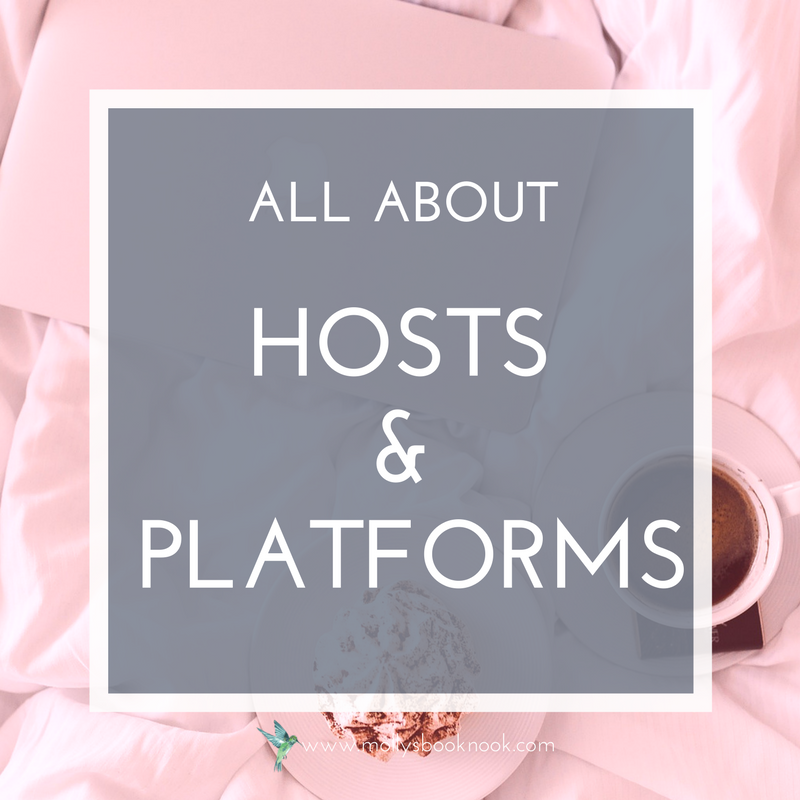 Before you do any fun customization or write any great content, you have to decide where the heck you're going to blog! There are two steps to this: 1) Deciding on a host (if you need one) and 2) Deciding which platform to use. There is a boatload of information on these two topics that things can get a bit overwhelming. When I was starting I had 50 tabs open on my browser because the information was scattered, all said different things, and I just got confused and lost and wanted to throw my computer through the window and lay down and cry into my pillow. Yep, it was emotional. 
I don't want that for you. Because I like you. And I don't wish that on my friends.
So, here is the most useful information on these topics that I think can help you decide!
THE HOST – WHAT ARE THEY & WHICH ONE SHOULD YOU GO WITH
First, you want to decide on how you are going to host your blog. You have TWO options: Free or Self-Hosted.
TLDR; There is a comparison chart at the end of this section that sums up all of the information.
COST
| | |
| --- | --- |
| FREE | PAID |
| Let's start by saying, nothing is ever free. As I noted in the chart, your host can place ads on your blog if they want (I haven't really seen this happen, so I don't know if you need to worry about it too much). Also, if you want some add-on features or more storage, most cost money. They have 4 levels of plans, Free, Personal ($4/mo), Premium ($8.25/mo), and Business ($24.92/mo). | This depends on your host. BlueHost is regularly between $10.00 – $30.00 per month, depending on the option you choose. FatCow is regularly between $10.00 to $12.00 per month, also depending on the option you choose. |
CUSTOMIZATION
| | |
| --- | --- |
| FREE | PAID |
| You'll be pretty limited & it also depends on the platform. Blogger has premade templates, but you can install unofficial Blogger templates. WordPress.COM doesn't offer many options either, you also can't install additional plugins. With that said, there are many blogs out there on Blogger or WordPress.com and look beautiful! It is not necessary to have a self-hosted blog to have a good looking blog, it just depends on how much customization you want to have. | Unlimited. Seriously. You can customize the shit out of your blog. From custom PHP to custom CSS to plugins to custom themes. The world is your oyster. |
OWNERSHIP
| | |
| --- | --- |
| FREE | PAID |
| You DO NOT own your site. Your platform, be it Blogger or WordPress.COM, can shut down at any time or decide your content doesn't fit with their rules. They own your site. You cannot sell items on free sites, either. So, if you're looking to start a business, do not go on a free site. | You own it. You can do whatever your heart desires with your blog. This also means that you are the one that needs to back up your site and protect it with security features. |
TECHNICAL ASPECTS
FREE
PAID
You won't get a lot of technical support from free sites. Most are limited to just FAQ or Documentation pages. You're also limited in storage space and bandwidth. And unless you upgrade, you'll have a subdomain (

meaning your URL will look like mollysbooknook.wordpress.com

)
Support will be much better. For example, my host has a 24/7 Live Chat support – which is wonderful. When something goes wrong, I don't have to hunt through pages of documents and random FAQs. I know you may think "support? who cares about support?" – but please, don't assume nothing will go wrong! Things happen!

THE PLATFORM
Instead of just jabbering on about this, here is a handy comparison chart that compares Blogger, WordPress.COM, and WordPress.ORG.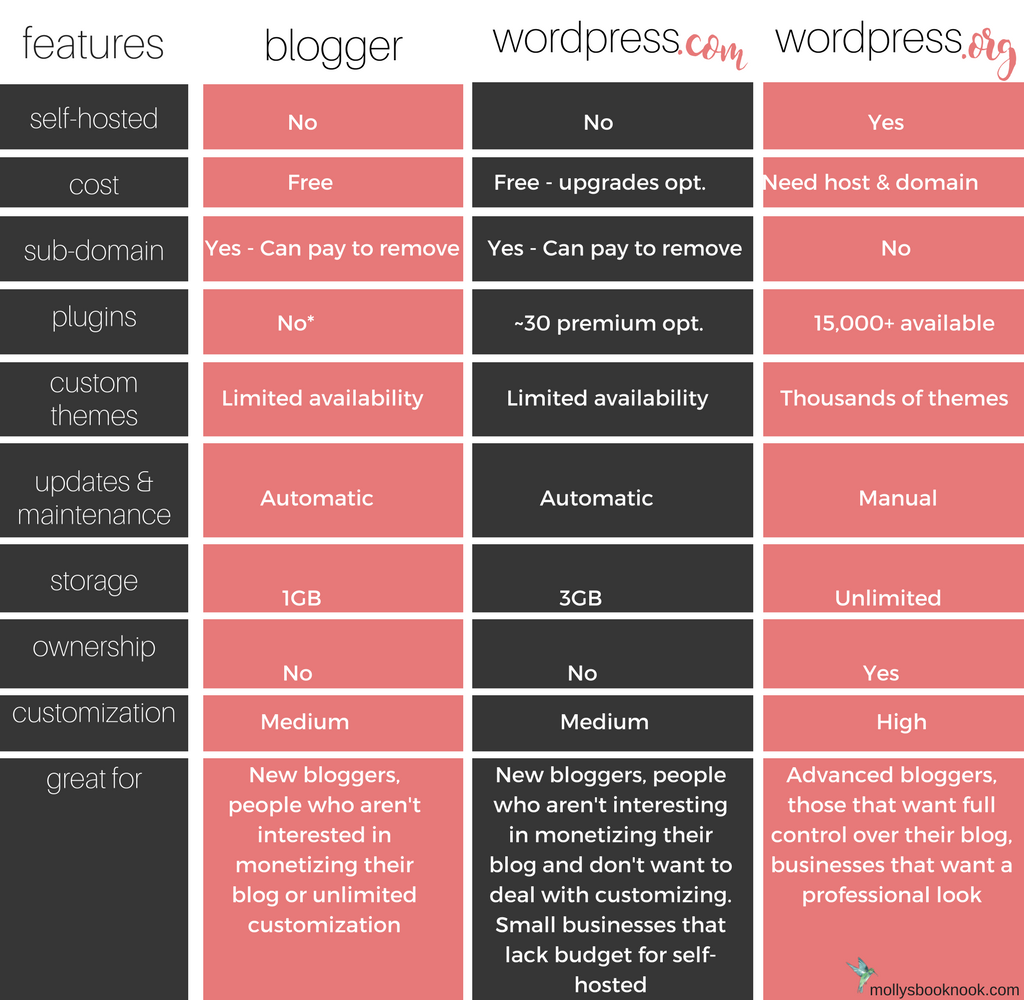 Blogger has "widgets" which aren't the same as plugins. They offer basic additions to the site, no "behind-the-scenes" plugins. WordPress.COM comes with pre-installed plugins, you cannot add any more.
---

I hope this helps! If you have any questions still, please feel free to ask in the comments.