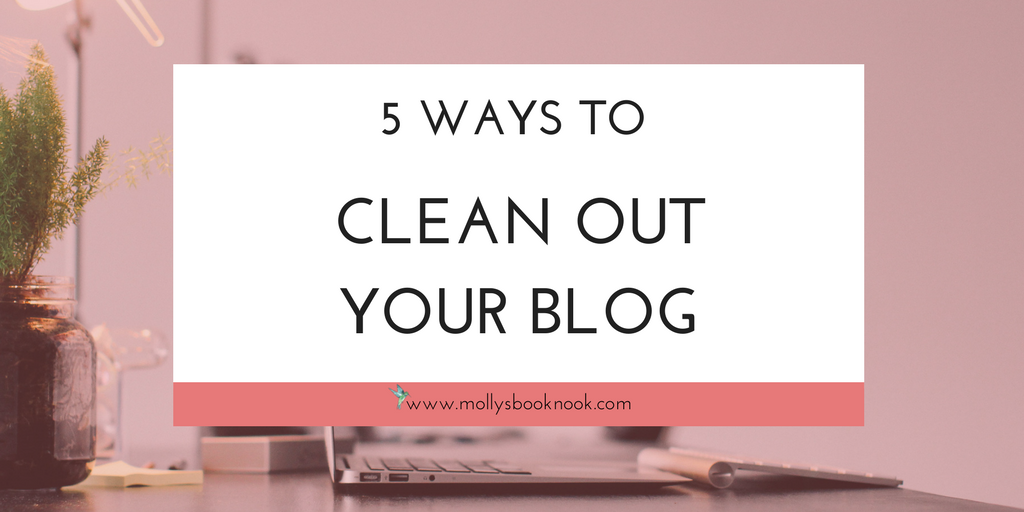 Every now and then it's important to do some cleaning on your blog. You don't have to wait for Spring to do this! I tend to do several things every couple of weeks just to boost the performance and make myself feel like my blog is more organized and sleek. Today, I want to share with you a few things that you can do for a quick clean up of your blog!
Filter your posts
It's okay to delete old posts! Go through some of your older posts and delete, delete, delete.
Some that might be worth trashing:
Ones that don't live up to your current writing standard
Memes that you don't care about anymore

I recommend deleting The Sunday Post & other weekly wrap up posts that are older than 2 or 3 weeks.
Top Ten Tuesday topics that are no longer interesting to you

Themed posts, like holiday ones (however, just making these private could be useful if you want to reuse the content when the holiday comes back up!)
Then, if you're okay with letting go, delete from the trash folder completely! It's refreshing, I promise.
Reduce your categories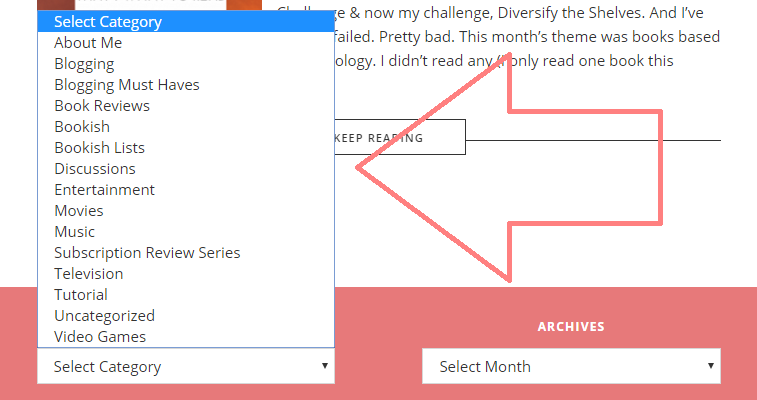 I'm not even exaggerating when I say I had TWENTY-SEVEN categories. Now, there isn't a perfect number of categories, but just take a look at yours and ask yourself a few questions.
How many posts are under each category?

Can any of them be joined into one category? 

How well-organized do you have the branches? 
After asking myself those questions while looking at my 27 categories, I realized I had a few extra that weren't necessary. I deleted a few, combined a few, and now I am down to 14 categories. It allows for more streamlined navigation.
Audit your plugins
If you're a WordPress user and use plugins, chances are you sometimes go overboard. Go through your plugins list and see if you actually use all of them. Delete the ones you never use or don't bring something of true value to your blog and your readers. Also, if you have one that you use sometimes but not every day, go ahead and at least deactivate it. For example, I use ShortPixel but not every day, so I deactivate it. You can take it one step further and delete it then reinstall when you want to use it again – but for me, that's too much work. I'm a lazy person.  😉
Check for broken links
Broken links are links that direct to a non-existent page. It's pretty common. When I first checked mine, I had 44 broken links (mainly due to people who have deleted their blogs or posts that they linked to).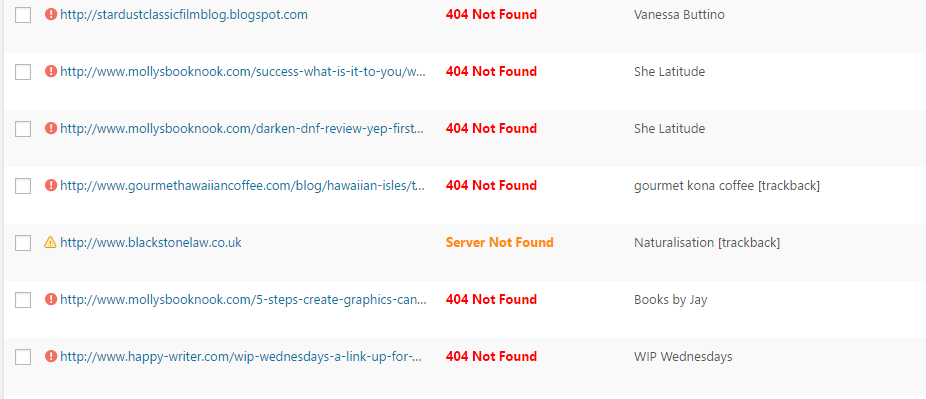 You should delete them because
It's a better experience for your reader. They won't click a link only to find that it leads nowhere. Which means they won't get annoyed.
It's better for SEO, if you care about that type of thing.
How to check for them:
If you have WordPress, use a plugin like Broken Link Checker that will do it for you
You can also use a tool like the web tool Broken Link Checker. Just enter your URL and let it do its thing.
What to do with broken links:
Remove them – If the website or page no longer exists, just remove it. With the plugin, you can remove automatically. With a web tool, you'll have to do everything manually.
Correct them – If there is just a structure issue, fix the HTML and double check it now works
Set up a Redirect – If you've changed your URL recently, you'll need to set up a redirect for the old links. I won't be going over how to do that here, but there are some great resources online! I'll probably cover this one day.
Edit visible post information
This one is more of a personal preference. I don't like a lot of extra information on each post. It takes up space that can either be used for something more useful or just left as white space (which is also important).
The type of information I'm talking about is when you click on someone's blog post and you can see the DATE, TIME, AUTHOR, TAGS, SHARE BUTTONS, etc.
The beginning of a post: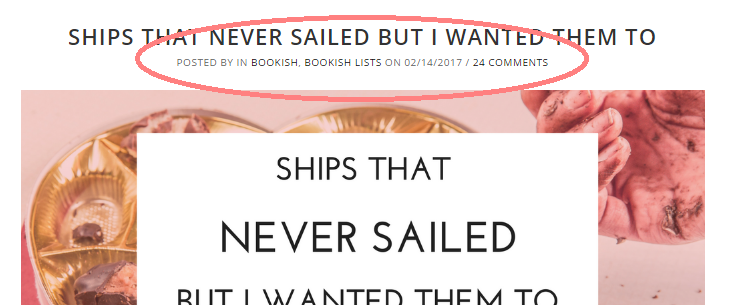 Determine which ones you actually need to have visible. 
Date – I think this one is super important. I like knowing when posts were published, especially when I'm writing wrap-ups.
Time – This one is usually not necessary. Unless you publish several times a day, there isn't really a point to share that you published at 7:00 am.
Author – Unless you have a co-blogger, there's no need to have the author of the post visible.
Tags/Categories – I like keeping my categories visible at the beginning, that way people can click on the category to see more like it. However, I don't have my tags visible in any intrusive place. They're placed underneath my Related Posts (since they are used to determine which posts show up there). This is up to you how you want to do this!
Share buttons – Absolutely have these somewhere! My recommendation is to not have them in more than two places. I like to have mine above the comments or on the side using my SumoMe plugin
Etc – I'm not familiar with what other information you may share, so just take a look and decide if it is all necessary
The end of a post: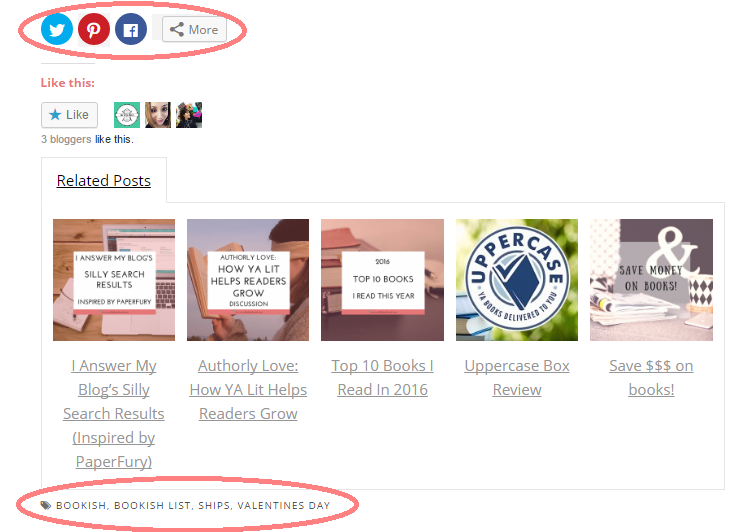 ---

Do you do any of these things already? 
Were they helpful for you if you don't?