I received this book for free from the author in exchange for an honest review. This does not affect my opinion of the book or the content of my review.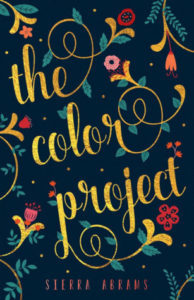 The Color Project

by Sierra Abrams
Published by Gatekeeper Press on July 18th 2017
Genres: Contemporary (YA), Romance (YA)
Pages: 464
Source: the author
Amazon

Bernice Aurora Wescott has one thing she doesn't want anyone to know: her name. That is, until Bee meets Levi, the local golden boy who runs a charity organization called The Color Project.

Levi is not at all shy about attempting to guess Bee's real name; his persistence is one of the many reasons why Bee falls for him. But while Levi is everything she never knew she needed, giving up her name would feel like a stamp on forever. And that terrifies her.

When unexpected news of an illness in the family drains Bee's summer of everything bright, she is pushed to the breaking point. Losing herself in The Color Project—a world of weddings, funerals, cancer patients, and hopeful families that the charity funds—is no longer enough. Bee must hold up the weight of her family, but to do that, she needs Levi. She'll have to give up her name and let him in completely or lose the best thing that's ever happened to her.

For fans of Stephanie Perkins and Morgan Matson, THE COLOR PROJECT is a story about the three great loves of life—family, friendship, and romance—and the bonds that withstand tragedy.
This book is adorable and swoon-worthy with aspects I enjoyed and some that I didn't but one thing is for sure, it will hit you in the feels.
The story follows Bee. She's not my favorite main character. It's not that she's a bad one, I just did not understand a lot of her motives. Most of the novel is spent reading about Bee's thoughts on Levi and how amazing Levi is that when it comes time for the tension or major plot point, I was left a little confused on why she felt like that. I can't give too much away because of spoilers. The best way to explain it is that I don't feel like Bee's internal struggles were developed enough to convince me of her major conflicts later on in the story.
However, I did enjoy the other characters and how healthy all the relationships are. Bee is surrounded by a lot of amazing secondary characters. She has a perfect relationship with her family, her best friend is the kind every girl should have – supportive, understanding, and encouraging – she gets along with her boss, and literally everyone else (I think there was one person she didn't like and was only present for a few pages, if that). They're almost too perfect, but I didn't mind that.
The romance was also a major positive. It's a very healthy YA romance and Levi is one of the calmest and understanding love interests I've ever read in YA contemporary. Even when something is supposed to be 'wrong', he's still calm and listens. I appreciate that so much for a YA novel – Abrams didn't create this sulking bad boy that the MC maybe shouldn't be talking to, instead, it's a slow-burn, healthy, and admirable relationship.
The story itself takes a little longer to develop. The majority of the novel is spent developing their relationship before it gets to any major climax. While I do think it could have been shortened in the first half, the pacing wasn't a bother since the romance was actually really well written. Also, when it does get to the main point of the story, it will definitely hit you in the feels (and maybe make you cry, fair warning).
Overall, I enjoyed The Color Project. While I wanted more character development of Bee, it was a great read especially if you want a romance. It's cute, but also has emotion to it. I definitely recommend it to anyone looking for a healthy, clean, YA romance but can tolerate a sort of confusing main character.
Rating Report
Plot
Characters
Writing
Romance
Overall:
3.5 / 5