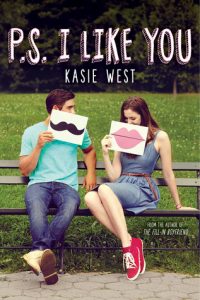 P.S. I Like You

by Kasie West
Published by Point on July 26th 2016
Genres: Contemporary (YA), Coming of Age (YA), Romance (YA)
Pages: 330
Amazon | | Barnes & Noble

Signed, sealed, delivered…
While spacing out in chemistry class, Lily scribbles some of her favorite song lyrics onto her desk. The next day, she finds that someone has continued the lyrics on the desk and added a message to her. Intrigue!
Soon, Lily and her anonymous pen pal are exchanging full-on letters—sharing secrets, recommending bands, and opening up to each other. Lily realizes she's kind of falling for this letter writer. Only, who is he? As Lily attempts to unravel the mystery and juggle school, friends, crushes, and her crazy family, she discovers that matters of the heart can't always be spelled out…
This book was cute, but not exactly captivating. It seems like if you're already a Kasie West fan, you will love this. Disclaimer: This was my first Kasie West book. I went in expecting some great things and while I didn't hate it, I didn't absolutely fall in love with it either.
The story focuses on Lily, who I guess was supposed to come across as one of those quirky not-like-most-girls type characters. Which, sure, she had that going for her. She wore thrift store/handmade clothes, listening to (what I think was) somewhat different music, and wrote lyrics (which isn't even that quirky). All that was fine. What made me not really enjoy her character was her attitude. She acted like a girl who knew she wasn't like most girls. That irritated me. She was unfriendly, purposefully distanced herself from others but then blamed the others for being distant, and acted as if she was the only kid on the planet that had crazy younger brothers that she had to babysit. Frankly, she was snooty for someone who complained about others being snooty.
As for the other characters, I have mixed feelings. While reading, I enjoyed her friendship with her best friend. I thought "wow, for once someone has a really good best friend AND it's a girl!" However, I was reading someone's review after I finished this book and in that review, she said "the best friend only exists for Lily. In fact, I can't even remember her name" (paraphrasing). And you know what I realized? I don't remember her name either. I think that says something. With that said, it was nice to see a friendship that was actually good. They worked through any issues they had fairly quickly and were supportive of each other. Bonus points for that!
The love interest, well, I never really warmed up to him. He wasn't terrible, but for a book that is 100% about the romance, I should have quickly loved him.
On the plot, which is where I'm even more iffy. It's insanely predictable. I knew what was going to happen well before it was even hinted. West made it painfully obvious. And this is where I talk about it in more detail, so spoiler: View Spoiler »West mentions Lily's disdain for Cade so much that it becomes incredibly obvious. Why bring him up so often if there wasn't some larger purpose? Which then ties into how I feel about Lily's best friend — she is there to add drama to the story. If it wasn't for Cade and her best friends previous relationship, the story would have been smooth sailing. So, literally, her best friend is only there as a plot device and not to prove that two girls can be good friends to each other. « Hide Spoiler
Even though I knew exactly which direction this was going to go, and even knew that at some point a certain something was going to happen, I still thought it was cute. It's an easy read and does somewhat teach you a lesson to get to know someone's character. I do wish there was a bit more depth to it and that the friendship was actually as good as I thought it was while reading and not just a plot device, but I do recommend it if you want an easy, quick, high school romance.
Rating Report
Plot
Characters
Writing
Representation
Overall:
3 / 5