I received this book for free from the publisher in exchange for an honest review. This does not affect my opinion of the book or the content of my review.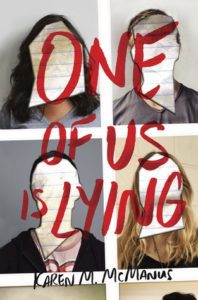 One of Us Is Lying

by Karen M. McManus
Published by Delacorte Press on May 30th 2017
Genres: Contemporary (YA), Mystery (YA)
Pages: 370
Source: the publisher
Amazon | | Barnes & Noble | | Book Depository

A New York Times bestseller

One of Us Is Lying is the story of what happens when five strangers walk into detention and only four walk out alive. Everyone is a suspect, and everyone has something to hide.

Pay close attention and you might solve this.

On Monday afternoon, five students at Bayview High walk into detention.

Bronwyn, the brain, is Yale-bound and never breaks a rule.

Addy, the beauty, is the picture-perfect homecoming princess.

Nate, the criminal, is already on probation for dealing.

Cooper, the athlete, is the all-star baseball pitcher.

And Simon, the outcast, is the creator of Bayview High's notorious gossip app.

Only, Simon never makes it out of that classroom. Before the end of detention Simon's dead. And according to investigators, his death wasn't an accident. On Monday, he died. But on Tuesday, he'd planned to post juicy reveals about all four of his high-profile classmates, which makes all four of them suspects in his murder. Or are they the perfect patsies for a killer who's still on the loose?

Everyone has secrets, right? What really matters is how far you would go to protect them.
*Content Warning: View Spoiler »drug addiction, alcoholism, suicide « Hide Spoiler
This is a page-turner, that's for sure. It's the first book I've read in a while that I just couldn't put down because I wanted to know the answer to the mystery.
The characters are very realistic. They aren't perfect, even the ones who seem perfect. They all have some sort of issue, flaw, or struggle they have to go through. The book tackles things like drug addiction, cancer, sexuality, bullying, the pressure to be the perfect student, codependency & abusive relationships –  it's all there. The characters were the highlight of this book, even if they were a bit cliché.
While I appreciated that McManus included some tough topics, I didn't find that the characters had very distinct voices. The writing just didn't separate each of them enough. Sometimes I was confused which character I was reading because they all sound very similar when they aren't talking about their individual struggles. That sort of dry writing carried out throughout the novel – so if it wasn't for my need to know the ending, I would have been fairly bored.
I did have some issues with how certain things were dealt with. I won't be going into a lot of detail on how they happen, but here is a brief explanation of the two biggest ones:
First, sexuality is used as a plot twist. There is a character in the story that struggles with hiding their sexuality from the people they love. This isn't something you know until later because as stated, it's used as a plot twist.
Second, depression/mental illness is vilified. There are several times when the characters in the novel with a mental illness are, in a way, made to be the bad guy. For one character, I can understand why they are negative towards the person with the mental illness, but it isn't really challenged in any way. There is another character who deals with depression and was made to be the biggest villain of all. It didn't sit right with me.
I am being purposefully vague in both of those explanations because of spoilers. So, if you have any questions, please leave a comment!
Overall, if you are a fan of Pretty Little Liars and Gossip Girl (and may be having some withdrawals because of them being over), this might curb your appetite. It's a quick read with a good flow of questions and reveals until the mystery is solved. Even the small romances in the book are enjoyable. However, the writing is a bit dry and the voices for the multiple POV's are very similar. Then, you'll have to get past, or be mildly accepting, of how the issues above were handled. AKA, this is a really hard book to rate so I'm placing it solidly in the middle.
Rating Report
Plot
Characters
Writing
Representation
Romance
Overall:
2.5 / 5