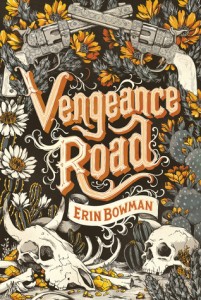 Vengeance Road

by Erin Bowman
Published by HMH Books for Young Readers on September 1st 2015
Genres: Fantasy (YA), Historical Fiction
Pages: 336
Amazon | | Barnes & Noble

Revenge is worth its weight in gold.
When her father is murdered for a journal revealing the location of a hidden gold mine, eighteen-year-old Kate Thompson disguises herself as a boy and takes to the gritty plains looking for answers—and justice. What she finds are untrustworthy strangers, endless dust and heat, and a surprising band of allies, among them a young Apache girl and a pair of stubborn brothers who refuse to quit riding in her shadow. But as Kate gets closer to the secrets about her family, a startling truth becomes clear: some men will stop at nothing to get their hands on gold, and Kate's quest for revenge may prove fatal.

Erin Bowman created a pure western from the cover to the writing – but for the young adult genre. Don't be fooled, though, this book is gritty and filled with plenty of those shootouts and bar brawls.
This book is filled with shootouts, brawls, revenge, gangs, cowboys (and girls) and just about everything you'd look for in a western. While it's not really toned down, it's not over-the-top either; it has all the violence and unpredictability that a western should have, perfectly balanced.

Kate Thompson is a unique female protagonist. She's a shoot first, ask questions later sort of gal (which isn't rare in YA), but what I think makes her stand out is that her quest for revenge is far more important to her than anything else. She doesn't let the handsome boys tagging along distract her (most of the time) and she doesn't regret a thing when she doles out her version of justice:
'"See you in hell, mister."
And that's where I'm going, sure as the sun will rise, 'cus I feel nothing. No remorse. No guilt. Not even a sliver of doubt. He deserved it, and I'd do it again."
The secondary characters are all well-written, not nearly as developed as Kate, though. However, you do care about what happens to the 2 guys following her around. They're the exact opposite of each other and create some pretty good humor throughout the book.

Bowman really immerses the reader into this Arizona wild-west culture. Not only with fantastic landscape descriptions and world building but with her writing style as well. The way Bowman writes takes a bit of adjusting but once you get into the flow of the style you start speaking in that western accent! To give you some perspective on the writing, here's the opening sentence of the book:
"It weren't no secret Pa owned the best plot of land 'long Granite Creek, and I reckon that's why they killed him."
Or, here's a little sneak peek of its western grit:
"'Now you listen, and you listen good,' I says. 'I'm going to Goldwaters, and I'm gonna get what you ain't giving up. Then I'm gonna ride after yer friends and do to them exactly what's in store for you — what's in store for every yellow-bellied coward who goes round stringing up innocent men.'
'That sounds real nice, boy," he says. 'Now for the love of God, lower that damn pistol.'
'All right,' I says.
And I do.
Right after I shoot him through the skull."
The whole book is written in that cowboy dialect and like I said before, it takes some adjusting. If this is something that will drive you to insanity (I's instead of I, yer instead of you're) while reading, maybe this isn't the book for you. Although, I don't think this book would be nearly as great if it didn't use that style; it really enhances that western experience.

Overall, this book is fantastic. The characters are all morally questionable, all shoot-now-ask-questions-later types, there wasn't an overwhelming amount of romance (for those that get turned off by love-triangles, there is no love triangle), the story was consuming and believable and the author didn't shy away from gore and violence. It was a fun, action-packed story that really immerses you into that 1877 wild-west world.
---
A couple of side notes:
The story is Bowman's creative take on a true legend – The Lost Dutchman's Gold Mine! There's even a special all about it on The History Channel … there are also several other movies, games and novels based on the legend.
It's worth it to buy the hardcover edition. The whole design of the book – the beautiful cover, the faux-leather texture, the deckled edges and the chapter fonts – all bring together that western feel. It's really a beautifully put together print edition, so definitely worth it! Here are the links to Amazon and Barnes & Noble!
---
Rating Report
Plot
Characters
Writing
Representation
World Building
Overall:
5 / 5