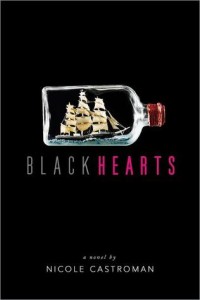 Blackhearts

by Nicole Castroman
Published by Simon Pulse on February 9th 2016
Genres: Fantasy (YA), Historical Fiction
Pages: 384
Amazon | | Barnes & Noble

Blackbeard the pirate was known for striking fear in the hearts of the bravest of sailors. But once he was just a young man who dreamed of leaving his rigid life behind to chase adventure in faraway lands. Nothing could stop him—until he met the one girl who would change everything.
Edward "Teach" Drummond, son of one of Bristol's richest merchants, has just returned from a year-long journey on the high seas to find his life in shambles. Betrothed to a girl he doesn't love and sick of the high society he was born into, Teach dreams only of returning to the vast ocean he'd begun to call home. There's just one problem: convincing his father to let him leave and never come back.
Following her parents' deaths, Anne Barrett is left penniless and soon to be homeless. Though she's barely worked a day in her life, Anne is forced to take a job as a maid in the home of Master Drummond. Lonely days stretch into weeks, and Anne longs for escape. How will she ever realize her dream of sailing to Curaçao—where her mother was born—when she's stuck in England?
From the moment Teach and Anne meet, they set the world ablaze. Drawn to each other, they're trapped by society and their own circumstances. Faced with an impossible choice, they must decide to chase their dreams and go, or follow their hearts and stay.

This book wasn't exactly what I expected. I thought this was going to be a sort of Blackbeard origin story, but it's more of a romance. The plot is not very gripping and, at times, can be extremely predictable. Most if it is focused on Anne's servitude to the Drummond family and Teach's obsession with Anne. So, whether this book is entertaining or not really depends on what you are looking for. If you want a bad-ass pirate story (like I was expecting), this isn't for you, but if you want a decent forbidden-love romance, you'll enjoy it.
To touch more on my thoughts, though, I found this to be one of the most predictable stories I've read (until the end, that kind of surprised me). However, I saw most of what were supposed to be "curveballs" coming well before they happened. Also, one of the biggest secrets Anne kept from the Drummond family felt a little out-of-place, too convenient and View Spoiler »rushed the story once it was revealed. « Hide Spoiler

Anne is a frustrating character. She believes she's better than everyone, even if she never directly says that, it's the feeling I got. She purposely says things about other maids knowing it can result in punishment and thinks she can get away with any bad thing she does (ex. stealing and contaminating guest's food). Then, she gets exactly what she wants even though she's kind of a crappy person. Very frustrating.
Then there's Teach, who you'd think would be a badass pirate, but is instead a "romantic hero" that incessantly bothers Anne until she finally gives in. Honestly, I felt the only reason he was interested in Anne was because she was "forbidden" and he was unhappy with the lack of control he had over his own life.
However, they both strive for independence – to break free from their constraints – and that's what makes their relationship make sense.

The story is told through alternating chapters from Teach and Anne's POV. It was interesting to see both sides of the story and it helped progress the story. If it had been told from only Anne's POV, it most likely would have been a slow read. I definitely preferred Teach's chapters, though, since most of Anne's were filled with descriptions of maid duties.

I really had a love-hate relationship with this book. It wasn't exactly what I expected, so that affected how I viewed the rest of the book, but it also wasn't horrible. While Anne isn't one of my favorite characters and Teach can be a tad creepy at times, their love story was interesting and made sense. The story was predictable, yet intriguing enough to continue on. I don't know if this is part of a series, but the ending definitely leaves a fantastic opportunity to finally include more pirate badassery!
Rating Report
Plot
Characters
Writing
Representation
Overall:
3.5 / 5