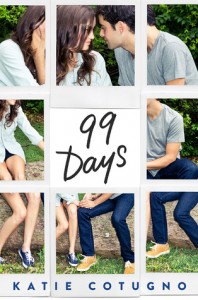 99 Days

by Katie Cotugno
Published by Balzer + Bray on April 21st 2015
Genres: Contemporary (YA), Coming of Age (YA), Romance (YA)
Pages: 384

Day 1: Julia Donnelly eggs my house my first night back in Star Lake, and that's how I know everyone still remembers everything—how I destroyed my relationship with Patrick the night everything happened with his brother, Gabe. How I wrecked their whole family. Now I'm serving out my summer like a jail sentence: Just ninety-nine days till I can leave for college, and be done.
Day 4: A nasty note on my windshield makes it clear Julia isn't finished. I'm expecting a fight when someone taps me on the shoulder, but it's just Gabe, home from college and actually happy to see me. "For what it's worth, Molly Barlow," he says, "I'm really glad you're back."
Day 12: Gabe got me to come to this party, and I'm actually having fun. I think he's about to kiss me—and that's when I see Patrick. My Patrick, who's supposed to be clear across the country. My Patrick, who's never going to forgive me.

Yes, there is a love triangle, but wait! It's not what it seems. Cotugno took a unique approach to the typical love-triangle cliché and addressed some very relevant issues. Basically, one girl is in love with two boys and she has to deal with some horrible double standards. I, oddly, enjoyed that because sometimes YA love triangles aren't very realistic. I think they paint a fairytale image in people's minds when really, they aren't that pretty and swoon-worthy.
I don't want to give too much away, so I'm going to leave my views on the plot at that.

There were some great characters in this book and some that I could not stand.
To start off, Molly, the main protagonist. Sometimes I just wanted to go into the book and shake her – not only for what she did but for how she was handling the aftermath as well. I understand she made a huge mistake, but learn from it and don't run away from everyone. I mean, she literally ran away from her whole life, including the only friend who had her back throughout the ordeal. On top of that, when she returns to her small town, she plans to spend most of it hiding away in her room. No one should let people have that much impact on their life. Learn from your mistakes, grow from them and stand up for yourself, damn it!
The two love interests were somewhat infuriating. Patrick had some deep issues if he thought the way he was behaving was okay. He was a little too bratty for me – grow up, guy, things don't always go the way you want them to. Gabe was the typical sweet and overly charismatic one, I could tolerate him a lot more than Patrick. I dislike the reasons he started acting interested in Molly, but at the end of the day, he was actually a decent guy.
There were plenty of the typical mean girls – literally, there was a leader with a little pack that tormented Molly. There were also some good girlfriends to Molly, but I never became attached to any of them. Oh, and don't even get me started on her mother – she gets the award for the worst parent in the world!

This book had a pretty quick pace – there honestly wasn't any time I felt like things were going a bit slow. In fact, sometimes I felt it went too fast. Each chapter is one day in Molly's life and sometimes I wanted to know more about how she was dealing with certain issues. Some chapters, or days, we are only given one simple paragraph about what happened that day – and when that was what we got after a pretty dramatic event the day earlier, it was a little disappointing. So, no, it wasn't slow at all.
Another aspect of Cotugno's writing is that she incorporates flashbacks to what happened to Molly the years earlier. While there wasn't a visual separator to when these flashbacks began, it wasn't overly confusing when they were happening. Every now and then at about two sentences into the flashback I would realize that it was, in fact, a flashback but it wasn't distracting or cause for complaint.

This book is very fast paced and addicting. While it isn't exactly a butterflies-in-your-tummy, feel all the feels type contemporary, it definitely has its emotional moments. While all the characters are morally questionable, I believe that is what the author was going for: shining a light on topics that are so rarely discussed in YA/contemporary. There are also aspects that people can relate to whether it be figuring out what you want to do after high school, dealing with "mean girls" or family issues. There is just something about this book that will draw you in and hook you – but if you like your romance nice and neat with a ribbon tied around it, don't read this.
Rating Report
Plot
Characters
Writing
Representation
Overall:
4 / 5