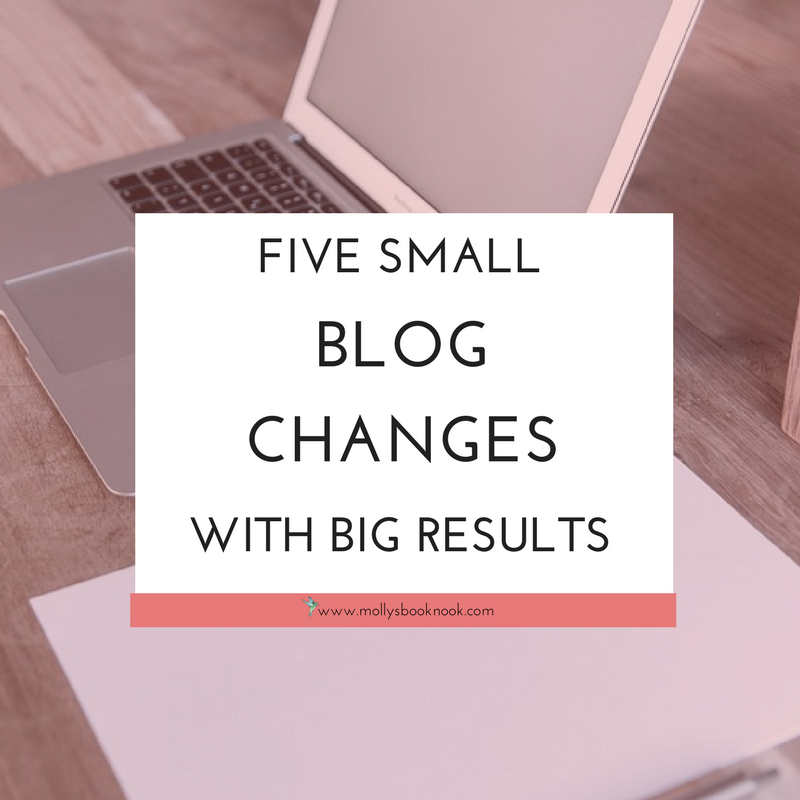 Sometimes when we're visiting other blogs, there might be something that is on their blog that makes our lives easier. It makes contacting them easier, it makes navigating easier, whatever it is, it makes our experience reading their blogs smoother. Yet, sometimes we don't even notice that it's doing that. This post is about those things. Small changes you can make to your blog to improve the overall experience, or even just be surprised by how often people actually use that feature.
PS: I don't know much of a result any of these bring, but for me, they've proven helpful and/or I enjoy them on other blogs!

HAVE A CONTACT FORM
You may think no one will use it, but it can come in handy! I've had people use my contact form to reach out for specific blog related help (which, by the way, you can totally do! I'm always open to help you!). I've had authors use it to request reviews, other bloggers use it to request interviews and collaborations. More likely than not, it will be used eventually.
Why have a contact form instead of just listing your email somewhere? Because it's convenient for the visitor and yourself. The visitor doesn't have to copy & paste into their email, they don't even have to sign into their email! You get to have everything in one place and organized depending on what you have them fill out (i.e., name, email, what blog they're from, what their book is called). Win, win.

HAVE A REVIEW POLICY (EVEN THOUGH IT ISN'T USED AS OFTEN AS WE'D LIKE)
The previous point brings me to this. Yes, I know not everyone reads these. It's clear by the emails that come from authors who fill out your contact form! However, on rare occasions, authors do read them (I've had a few). Let's say they don't, you could always politely decline by referring them to your review policy. If you don't have one, then you don't have that option! It doesn't take long to make one. You can use mine as a guide if you'd like!

IMPLEMENT GOOD NAVIGATIONAL TOOLS
I don't know about you, but sometimes I want to find a specific type of posts on blogs. Story time:
Let's say X blogger is known for their amazing bookstagram tips. I go to X blogger's blog just to find those. But GASP! They don't have any sort of navigation to help me find their bookstagram posts! No search box, no menu of categories! Ok, they have an archive, I can work with that. I'm pretty sure they posted the one I want about 8 weeks ago. Oh goodness. They don't have numbered page navigation, I have to click the "older" or "next" button 7 times just to find it. I give up.
Navigation is so important. I recommend having one or more of the following: a search box, archives, an organized menu system, and numbered pages. For example, on my blog, I have drop down menus, a search box, and numbered pages: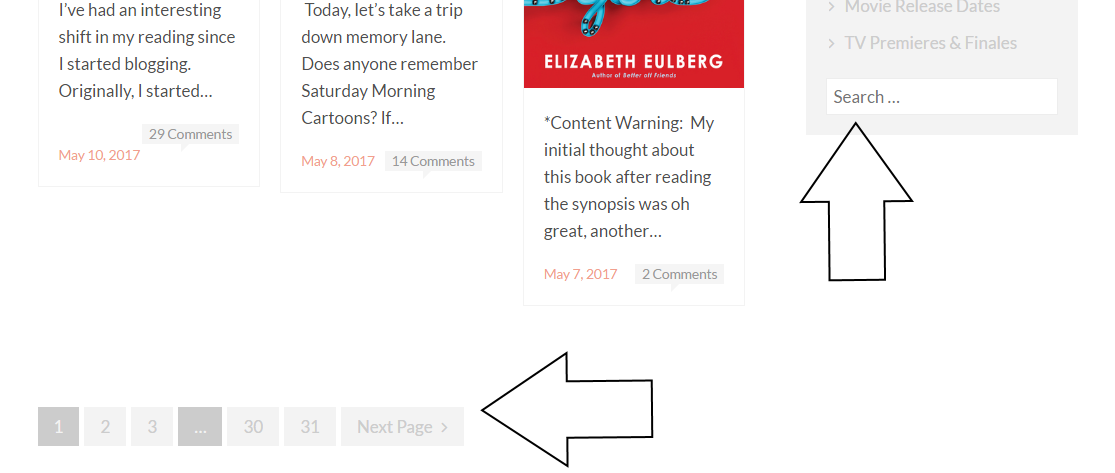 HAVE A RELATED POSTS SECTION
This can be a part of good navigation, but I decided to include it on its own. Sometimes I'll be visiting a blog, love the post I'm reading, and want to read more like it. If there's a Related Posts section, perfect! I get to browse this person's blog and this type of post for a while. I especially do this when I'm visiting new blogs. That's an important note because let's consider they didn't have related posts somewhere, would I have stayed as long and potentially subscribe to their blog?
If you can have a widget or app do this for you, perfect! If not, you can always include manual links at the end of some posts that you think relate to the one the reader is on. You can even weave them throughout the post itself.

CLEAR FEATURED IMAGES
Your blog design is up to you so this is entirely a personal preference. I prefer when featured images have a clear title in them. I don't care what image you use it in or what embellishments are in them so long as I can clearly read the title of the post. I'm a skimmer. I tend to quickly skim/browse through Bloglovin' and blog's old posts by looking at the featured image of it and not the actual title. So, this is something that will either make my experience easier or slightly more complicated.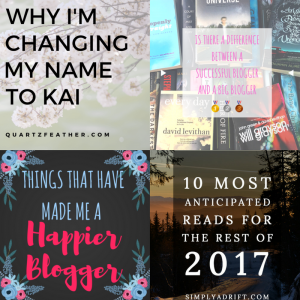 Here are some of my favorite types of featured images from Kai (Quartzfeather), Mikaela (The Well-Thumbed Reader), Shannon (It Starts at Midnight) and Jordon (Simply Adrift).
Regardless of the image used, the embellishments, the font, the color, they're all clear and easy to read. They all tell me exactly what the post is about without me having to really focus on the image to see the title.
---

Do you already have these things on your blog? Do you have any other little tips for bloggers that can improve reader experience and the length of time they stay on their blog? Share in the comments!