I received this book for free from the publisher in exchange for an honest review. This does not affect my opinion of the book or the content of my review.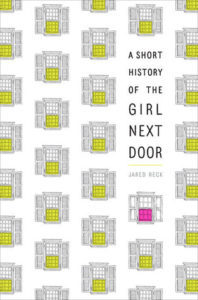 A Short History of the Girl Next Door

by Jared Reck
Published by Knopf Books for Young Readers on September 26th 2017
Genres: Contemporary (YA)
Pages: 272
Source: the publisher
Amazon | | Barnes & Noble | | Book Depository

The unrequited love of the girl next door is the centerpiece of this fiercely funny, yet heart-breaking debut novel.

Fifteen-year-old Matt Wainwright is in turmoil. He can't tell his lifelong best friend, Tabby, how he really feels about her; his promising basketball skills are being overshadowed by his attitude on the court, and the only place he feels normal is in English class, where he can express his inner thoughts in quirky poems and essays. Matt is desperately hoping that Tabby will reciprocate his feelings; but then Tabby starts dating Liam Branson, senior basketball star and all-around great guy. Losing Tabby to Branson is bad enough; but, as Matt soon discovers, he's close to losing everything that matters most to him.

Humorous and heart-wrenching, A Short History of the Girl Next Door is perfect for readers who fell in love with All the Bright Places' Finch or Stargirl's Leo.

YOU'll FEEL ALL OF IT
Seriously, all the feels. I laughed, I cried, I got angry, and it was all so good. It's an emotional read in the sense that you will literally feel all the emotions at one point or another. Now, if that isn't great writing, I don't know what the heck is!

IT'S RELATABLE AF
Ok, so how much you relate to something is obviously on a person to person basis but I still believe there will be something in this book that you connect with. It is a little different for me since it is told from the point-of-view of a young male, even so, I found him and everyone around him to be familiar in some way or another.

THE FAMILY AND FRIENDSHIP REPRESENTATION
This book did it right, simple as that. The family is present from the parents, to the siblings, to even the grandparents. All there, all involved in the MC's life, and all amazing people.
The friends are real. Whether it be the fights they have, jokes they make, activities they take part in, or how they support each other, they're just real. There aren't many friends of the MC's in this novel, but quality over quantity, y'all!

THE ROMANCE
I'm going to keep this short because it is too hard to go into detail without a major spoiler. The romance, love interest, young love, whatever you want to call it in this book is at the forefront but also the background at the same time. I know, that makes no sense, how can it be both? Well, that's what I can't get into but I can sort of explain within the next point:

THE SUBJECT MATTER
The overall theme of this book, or the life lesson you may learn at the end, makes this book worth it. It's a pretty tough one and hit a personal note for me, so maybe it's just that connection I have to it that makes it worth it…but I still think it's an important topic to discuss.
---
I know that this is a pretty short review, but I can't go into a lot of detail without totally ruining the book for you. All I want to get across is that I LOVED this book (if you didn't notice it's my first 5-star in a while!) and that you should all read it!
Rating Report
Plot
Characters
Writing
Overall:
5 / 5