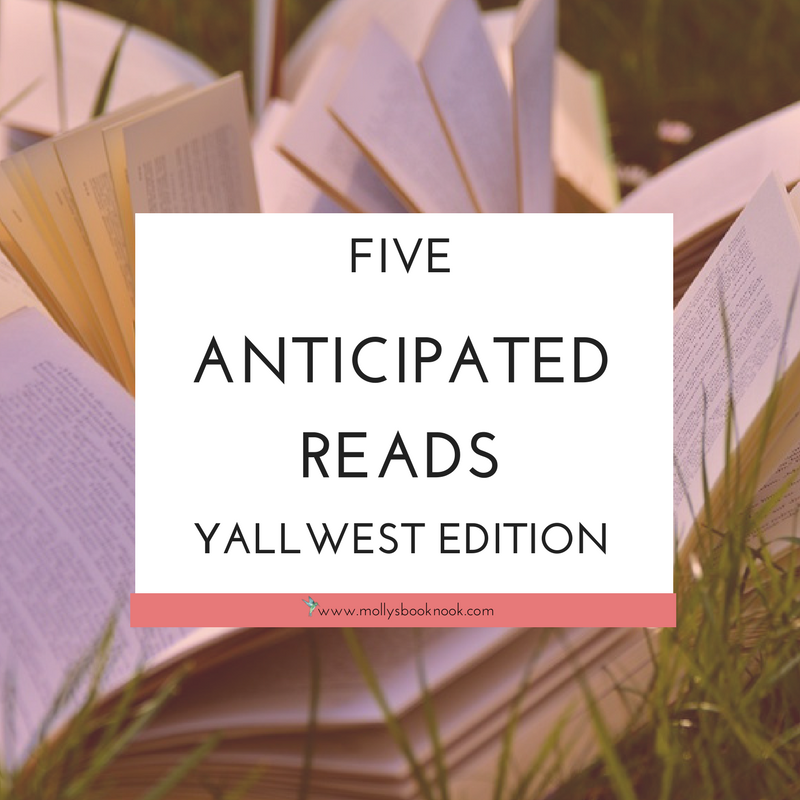 As you now know from my monthly wrap up yesterday, I went to LATFOB and Yallwest. There, I got a ton of new books to read! I haven't read anything in a while, but getting all these new books has me excited to dive into something good.
This anticipated reads post isn't just about which books I want to read, it's a list of the books I want to read the most from the ones I received from Yallwest/LATFOB. There are just five on this list because I had to control it – otherwise, I'd include all the books I received >.<
So, here ya go! (You can click on the book titles to be taken to their GoodReads pages)
When I saw this one being given away, I had to jump at the chance. I liked Maxwell's book Unhooked (a Peter Pan retelling) – so I'm excited to read another one of hers. Also, let's be real, there's magic, dual POV (I think), time travel, and that cover. I'll take it.
In modern day New York, magic is all but extinct. The remaining few who have an affinity for magic—the Mageus—live in the shadows, hiding who they are. Any Mageus who enters Manhattan becomes trapped by the Brink, a dark energy barrier that confines them to the island. Crossing it means losing their power—and often their lives.

Esta is a talented thief, and she's been raised to steal magical artifacts from the sinister Order that created the Brink. All of Esta's training has been for one final job: traveling back to 1902 to steal an ancient book containing the secrets of the Order—and the Brink—before the Magician can destroy it and doom the Mageus to a hopeless future. (*shortened from GR)
I. CAN'T. BELIEVE. I GOT THIS. It's Wonder Woman. It's Leigh Bardugo. 'Nuff said.
Diana longs to prove herself to her legendary warrior sisters. But when the opportunity finally comes, she throws away her chance at glory and breaks Amazon law—risking exile—to save a mere mortal. Even worse, Alia Keralis is no ordinary girl and with this single brave act, Diana may have doomed the world.

Alia is a Warbringer—a direct descendant of the infamous Helen of Troy, fated to bring about an age of bloodshed and misery.

Together, Diana and Alia will face an army of enemies—mortal and divine—determined to either destroy or possess the Warbringer. If they have any hope of saving both their worlds, they will have to stand side by side against the tide of war. (*Shortened from GR)
Oh, hi, a fellow book community human gave me a signed arc of their book? I love supporting ya'll and the fact that I'm one of the few that received her beautiful arc makes me so happy. I can't wait to dive into this beautiful (and big!) book.
Bernice Aurora Wescott has one thing she doesn't want anyone to know: her name. That is, until Bee meets Levi, the local golden boy who runs a charity organization called The Color Project.

When unexpected news of an illness in the family drains Bee's summer of everything bright, she is pushed to the breaking point. Losing herself in The Color Project—a world of weddings, funerals, cancer patients, and hopeful families that the charity funds—is no longer enough. Bee must hold up the weight of her family, but to do that, she needs Levi. She'll have to give up her name and let him in completely or lose the best thing that's ever happened to her. (*Shortened from GR)
I received The Crown's Game last year at Yallwest. I had no idea what it was about, but I was so surprised by it! I absolutely adored the book and Evelyn herself (she's such a sweetheart). I'm so glad I was able to meet her again and get an arc of The Crown's Fate this year – so I'm obviously looking forward to this one!
Russia is on the brink of great change. Pasha's coronation approaches, and Vika is now the Imperial Enchanter, but the role she once coveted may be more difficult—and dangerous—than she ever expected.

With revolution on the rise, dangerous new magic rearing up, and a tsardom up for the taking, Vika, Nikolai, and Pasha must fight—or face the destruction of not only their world but also themselves. (*Shortened from GR)
I read MHTN but I wasn't a huge fan of it. However, I like to give authors more than one chance because sometimes even your faves might have one book that you just don't like. Also, it seems like he is improving as an author the more books he releases! So, I'm happy I was able to get TBDATE and I got to meet Adam / get it signed!
On September 5, a little after midnight, Death-Cast calls Mateo Torrez and Rufus Emeterio to give them some bad news: They're going to die today. Mateo and Rufus are total strangers, but, for different reasons, they're both looking to make a new friend on their End Day. The good news: There's an app for that. It's called the Last Friend, and through it, Rufus and Mateo are about to meet up for one last great adventure—to live a lifetime in a single day.
---

Have you read any of these? Do you want to read them? What are some of your anticipated reads/releases?