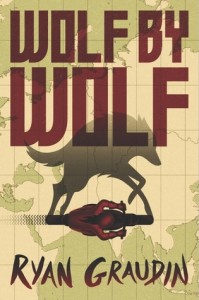 Wolf By Wolf (Wolf By Wolf, #1)

by Ryan Graudin
on October 20th 2015
Genres: Fantasy (YA)
Pages: 388
Amazon | | Barnes & Noble

The year is 1956, and the Axis powers of the Third Reich and Imperial Japan rule the world. To commemorate their Great Victory over Britain and Russia, Hitler and Emperor Hirohito host the Axis Tour: an annual motorcycle race across their conjoined continents. The victor is awarded an audience with the highly reclusive Adolf Hitler at the Victor's ball.
Yael, who escaped from a death camp, has one goal: Win the race and kill Hitler. A survivor of painful human experimentation, Yael has the power to skinshift and must complete her mission by impersonating last year's only female victor, Adele Wolfe. This deception becomes more difficult when Felix, Adele twin's brother, and Luka, her former love interest, enter the race and watch Yael's every move. But as Yael begins to get closer to the other competitors, can she bring herself to be as ruthless as she needs to be to avoid discovery and complete her mission?
---
"Who are you? (On the inside?)"
---

This is such a fantastic story. Like the author, World War II is a time period that has always interested me, so I found her alternate history interesting. At first, I was skeptical about the cross-country motorcycle race, but it just works. The story she created around this motorcycle race really put you right into this Hitler-ruled world. I enjoyed all the "what-ifs" that were presented throughout the plot.
While it was an exciting story, it was also heartbreaking at times. It does touch on some sensitive topics during that time such as death camps and cruelty. While it could be difficult to read, it was an essential part of the story. The story of Wolf by Wolf is the author's way of "challeng[ing] people to educate themselves on the history behind the fiction and to use this knowledge to examine our present world."

Yael (yah-ell) is the protagonist of the story. She escaped from a death camp, then has a chance encounter with a resistance member and found security with them. During her time in the death camp, experiments on her gave her the ability to change her appearance (skin shift) into any female she saw. Which is why she was chosen to pretend to be the victor Adele in the motorcycle race and kill Hitler. Her character is interesting because she's struggling with her own identity while trying to keep up a façade of being someone else. Graudin has said that the underlying message of the story is identity. Who are we? What makes us who we are? The outfits we wear? Our families? Graudin does a fantastic job at bringing that question to the forefront with a character like Yael.
The secondary characters are just that, secondary. You don't learn too much about any of them, just what is on the surface and maybe a few run-of-the-mill characteristics. Felix, Adele's brother, is the typical protective brother. Luka, Adele's somewhat love interest, is the bad boy who is hard to read. This may be due to the fact that Yael is pretending to be Adele, which makes it quite difficult to know what their history is. I am still interested in going a little deeper with those two characters. Hopefully, that will happen in the next book.
Side note: Yael's name is kind of awkward to say and took me a little while to get used to it. Even by the end, I was still saying "Yale" sometimes.

The writing and pacing are simply on point. Her writing was beautiful and really captured the tone for each time in Yael's life. The  story is told through a Then and Now structure, and Graudin just knew how to bring you into both (i.e. you felt Yael's loneliness during the flashbacks to her childhood, then felt the struggle of identity but at the same time a strength when back to present day). It was a wonderful contrast that, as I said above, created such a complex main character.
My only complaint with the writing is sometimes one of her techniques got a tad distracting – the repetitions (which may have to do with the fact it reminded me of Shatter Me by Tahereh Mafi – which I disliked). For example,
"Yael's body started to ache, cramped with the tension of being ready and waiting, waiting, waiting… But the kilometers kept spinning out, out, out. And somewhere ahead, Luka and Katsuo kept tearing away, away."
This is probably just a personal preference, but I dislike that many repetitions. It didn't ruin the writing as a whole, though.

This is a must-read for everyone. Even I went into this book with doubt, but it is one of my favorite books now. It is exciting and will keep your attention while still bringing the seriousness that this time period should have (even if it is an alternate version). Graudin did a tremendous amount of research to put this book together, and it definitely shows.
---
"The answer to this question was something Yael had to fight for. Her self-reflection was no reflection at all. It was a shattered mirror. Something she had to piece together, over and over again. Memory by memory. Loss by loss. Wolf by wolf."
---
Rating Report
Plot
Characters
Writing
Representation
Overall:
5 / 5