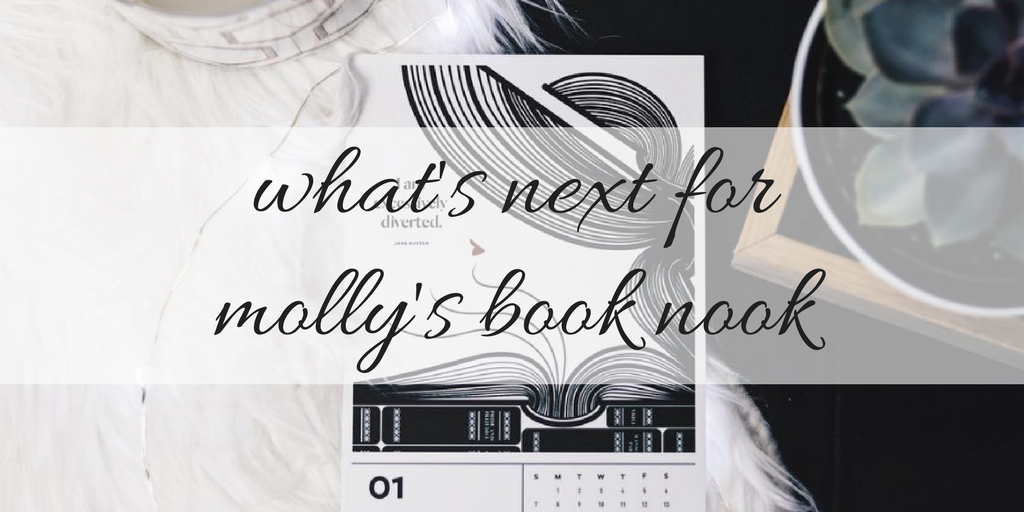 Hello lovely friends!
Back on December 19th, 2017 I went on an official hiatus from the blog. Although, the official hiatus was after months of mini breaks, sporadic posting, and a general loss of motivation to blog. Well, now it's been a month of me completely ignoring everything that had to do with Molly's Book Nook and I think I'm ready to come back! 
First of all, you may have noticed a bit of a blog design change. I've updated my header, my featured images, some in-post content, and colors. I know a lot of you loved my previous theme, especially my header, but I was beginning to hate it. I felt like it wasn't professional and while I am not doing this as a professional, it just didn't fit my style anymore. I wanted something that was clean, something classy, so that's what I did and I absolutely love it. It actually fits with my Instagram theme more. 
Which brings me to the next point: I'm going to start connecting my Instagram and my blog more often. I rarely share my blog on IG nor do I share my IG on my blog. Yet, 50% of my online time is spent on my bookstagram account. That just doesn't make sense. So, expect some more Instagram posts, photography posts, and just a general promotion of both accounts on each.
I'm not going to address each change individually, it would only bore you, but here are some things to expect in the future:
I'm going to be taking my own blog photos from now on.
I won't be using a schedule. I'm just going to post when inspiration for a topic hits.
I will be featuring lots of bookish shops since that is the other 50% of my online life now. I think there are so many that don't get the attention in the blogosphere that they deserve, so I want to bring them to you!
More Instagram tips & tricks
Less blog help posts, unless specifically requested (so use that contact form to ask questions!)
Lifestyle posts sprinkled in – like makeup, non-bookish favorites, cooking, etc.  I decided not to change my name to accommodate these posts since most of my blog will still be bookish, but I don't want to restrict myself from talking about those things!

Well, that's it! Not an overly exciting post since it's just me trying to say hello after a long month of being away! I hope you all had a lovely holiday season and I can't wait to get back into the swing of things!
Tell me, what do you think of the new theme? Has a hiatus ever helped you find inspiration/motivation?