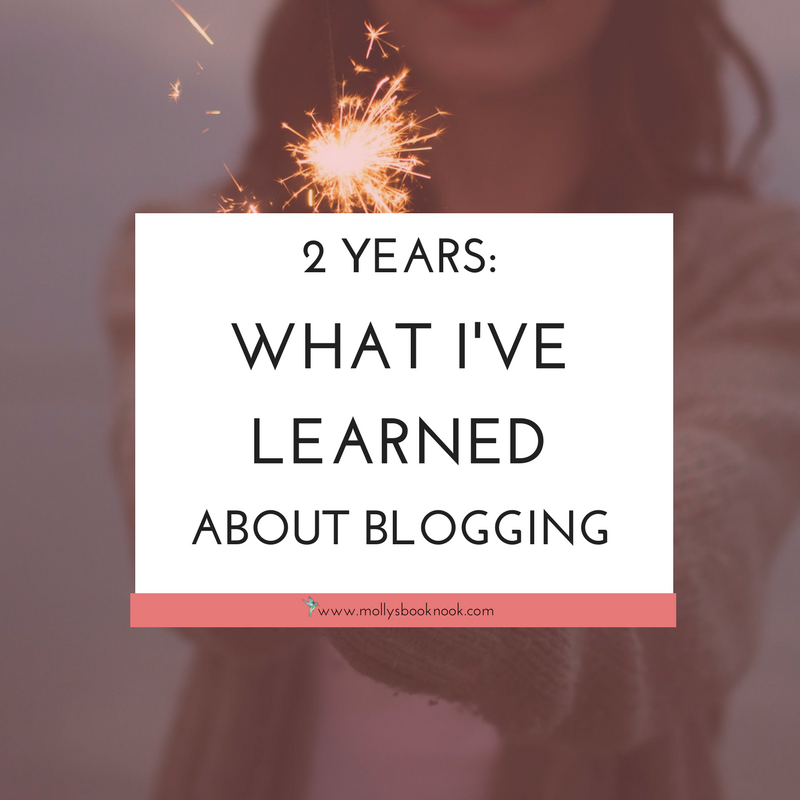 Can you believe I've blogged for nearly 2 years? I can't, that's for sure. It's so weird to think that I've been consistent with this for 2 years when I thought I would give up within 6 months. It's become such a daily habit of mine that I don't even notice the months go by sometimes. Either way, here I am, 2 years later and still going strong! I've made mistakes, learned a few things, and made some great friends over the course of that time, and I want to share with you what all of that has taught me so far.

YOU'RE CONSTANTLY LEARNING
Even though this is a post about what I've learned thus far, I know there will be more as I continue. I'm always changing the way I blog, the way I engage, what I talk about, and more. It's a constant process as you encounter issues you need to resolve or just change as a person. Never think you have it all figured out.

IT'S LIKE A PART TIME JOB
Seriously. One of my top 5 pieces of advice to new bloggers or people considering starting a blog is to make sure you have enough time to put into it. I'm not saying you have to invest all of your free time to it, but just enough to actually do it. Personally, that means several times a week of writing posts, blog hopping, replying to comments, or any other task related to my blog. I probably put at least 15 – 20 hours into my blog per week. This isn't something I expected when I started. I thought writing posts was going to be easy, I thought commenting on other blogs was going to be easy. Boy, was I wrong because all of it takes so much time.

NOT ALL ADVICE WILL HELP
BUT CONSIDER MOST
Even though I've provided blogging advice since the beginning of last year, I'm still going to tell you that not all advice will be helpful. It just isn't. Sometimes something that works for one blogger just won't work for you. This is something I've learned throughout the years when trying out some advice from others, only to discover that it's not for me.
However, I did at least try it, and that's my second point. Always consider all the advice you read because you just might find something that works 100x better than what you're doing. That's how I discovered Bloglovin' (I was pretty anti-it before), how I found that commenting back isn't something that is feasible for me, and how I learned that Mailchimp was a better option for my email subscribers than regular WordPress. As my mother always says, "Don't knock it till you try it".

CONSISTENCY ISN'T ALWAYS KEY
When I started blogging, I thought that I had to post the same days every week with the same type of post each day. I had a schedule and I followed it 100%. As time went on, I found that it just didn't always work. Sticking to a schedule like that caused some stress because sometimes I wouldn't have time to write a post or I had no idea what to talk about. It also didn't work because it caused burn out. So, what I learned is that having a "guide" for what I post is more helpful and that breaks are not the end of the world.
I've gone 1-2 weeks without posting. I'll tell you what didn't happen: I didn't lose followers, I didn't get shunned, and I didn't lose friends. It's okay to break consistency if it's something that doesn't work for you.

IT'S A GIVE & TAKE HOBBY
You can't give nothing to the community or your blog and expect something in return.
You can't just run your blog and expect people to flock to you. This isn't something I ever expected out of blogging – but I did notice two things in the past 2 years. One, when I take a break or get lazy with my blog, the amount I talk to you guys is definitely affected. Two, when I notice that other bloggers don't seem to put time into their blog, I don't always follow them.
If you want loyal readers, care about your blog. Design it with the reader in mind.
If you want people to comment, care about your content. Write something original, solve a problem for your reader, help them out somehow.
If you want to make friends, reach out to other bloggers – comment on their blogs, share their posts on social media, talk to them on other social platforms.
It's give & take. Give to the community and they'll give back.

THE FRIENDS YOU MAKE IS WORTH IT
All the stress and time you put into your blog is worth it because of the community. Sure, it's not always perfect, but you'll find a group of friends that you can always rely on to fangirl with you, complain with you, and just be awesome. Speaking of which, here are a few bloggers that have stuck around this long with me and that I cherish so much. Some I talk to all the time, some are friends that I can always rely on to comment something great, and they're all people I look up to:
*If you're not on this list, don't fret! I cherish all of you but I can't make this list too long. There are so many not on here that I appreciate and read regularly. You are all awesome for even being here in the first place!
---

Well, I hope some of that was helpful for you! It's what I've learned and I hope it resonates with a few of you. Thank you all so much for sticking around this long with me! 
What are some things you've learned in the time you started blogging?