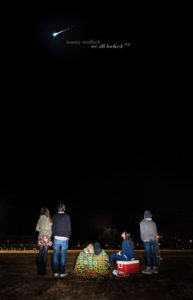 We All Looked Up

by Tommy Wallach
Published by Simon & Schuster Books for Young Readers on March 24th 2015
Genres: Contemporary (YA), Sci-Fi (YA)
Pages: 370
Amazon | | Barnes & Noble | | Book Depository

Before the asteroid we let ourselves be defined by labels:The athlete, the outcast, the slacker, the overachiever.

But then we all looked up and everything changed.

They said it would be here in two months. That gave us two months to leave our labels behind. Two months to become something bigger than what we'd been, something that would last even after the end.

Two months to really live.
*Content Warning: View Spoiler »sexual assault, abuse/violence, captivity, death, cancer « Hide Spoiler
This novel read like a book written by John Green. Let me explain.
This isn't an action packed sci-fi/end-of-the-world story. It's more of a character study. There's a lot of soul-searching and a lot of pretentious writing – like John Green.  Disclaimer: If you like John Green, I'm sorry, but you have to admit that he does have some pompous characters. So does We All Looked Up.
This type of writing works for a lot of people (John Green is wildly successful, obviously) but it didn't exactly resonate with me. At the same time, I can appreciate that the book is about the end of the world and there will be some soul-searching from, well, everyone. I could've handled it if it was toned down just a pinch.
As for those pompous characters, there were several of them. This is told in multiple points of views and each one wasn't very relatable and their actions don't make a lot of sense. For a group of teenagers that are at the end of their life, they make decisions that are pretty mundane. I obviously can't say what people should do at the end of the world, but to decide to start a photo blog or just dump your girlfriend seems a little lackluster. It's fiction, they could have done anything. No offense, friends, but if it was the end of the world in two months, I wouldn't just keep blogging…
We All Looked Up also greatly lacked in world building. I was confused on the setting through the entire thing. One moment they're at a friend's house eating dinner with parents, the next they're at a mall that is being robbed and blown up. Does that make sense? No, not really, and it was hard to keep up with what this "we're all going to die" type world actually looked like.
Overall, I wasn't impressed. Maybe 2-stars is a little low – it was interesting to be in the minds of teenagers on the verge of a cataclysmic event – but I just wasn't on board. The characters were disappointing, the world building didn't make a lot of sense, the writing was too poetic/try-hard, and the first 200 pages nothing was happening. I wasn't hooked and didn't care by the end. 
Rating Report
Plot
Characters
Writing
Representation
World Building
Romance
Overall:
2 / 5