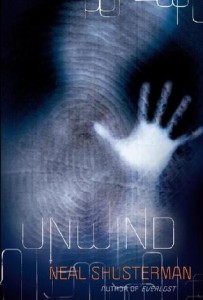 Unwind (Unwind, #1)

by Neal Shusterman
Published by Simon & Schuster Books for Young Readers on November 6th 2007
Genres: Dystopian (YA)
Pages: 335
Amazon | | Barnes & Noble

Connor, Risa, and Lev are running for their lives.
The Second Civil War was fought over reproductive rights. The chilling resolution: Life is inviolable from the moment of conception until age thirteen. Between the ages of thirteen and eighteen, however, parents can have their child "unwound," whereby all of the child's organs are transplanted into different donors, so life doesn't technically end. Connor is too difficult for his parents to control. Risa, a ward of the state, is not enough to be kept alive. And Lev is a tithe, a child conceived and raised to be unwound. Together, they may have a chance to escape and to survive.


This one surprised me. Going into it, I did not expect much. To be honest, the premise doesn't even make sense and would not work in the real world. But, guess what? It's a work of fiction! So, it doesn't have to make sense.
The extremes Shusterman went to solve the "pro-life v pro-choice" war in his world are very elaborate. The story was exciting and intriguing. It kept moving, with rarely a dull moment. Also, lots of "what the eff" and "shut the front door" moments! 

The story is told from three main perspectives: Lev, Connor, and Risa. (There are a few side perspectives, but I'll get to that later). I enjoyed each character. I liked their backgrounds and personalities, each of them was very different from the other.
However, sometimes the change of perspective meant a lack of focus on character development. This is mainly seen in Lev. His character takes the backseat for a while and when he arrives again, he's a completely different person and we're told (literally) that it doesn't matter where he's been, just where he is now.
That was a little disappointing, especially since his character is the one that goes through the most change.

There was nothing particularly special about the writing, but it was fast-paced. Also, on top of the three main perspectives, the author included a few chapters here and there that showed a different (or outsiders) point of view. For example, there is a scene in which a cop is chasing a character – instead of showing the perspective of the chased, you get the perspective of the cop.
At first, this was a little odd for me, but by the end, it's something I enjoyed. It gave a quick glimpse of what was happening outside of the main characters.

I thoroughly enjoyed this and will probably continue the series later on. While I wished for more attention to certain characters' development, I still think Shusterman did a fantastic job at showing the changes of his three main characters. He also touched on a lot of very controversial topics in this novel, from abortion to adoption, with some disturbing scenes that definitely make you question humanity.
Rating Report
Plot
Characters
Writing
Representation
Overall:
4.5 / 5