I received this book for free from Netgalley in exchange for an honest review. This does not affect my opinion of the book or the content of my review.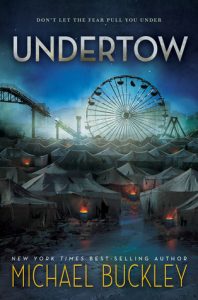 Undertow (Undertow #1)

by Michael Buckley
Published by HMH Books for Young Readers on May 5th 2015
Genres: Dystopian (YA), Fantasy (YA)
Pages: 376
Source: Netgalley
Amazon | | Barnes & Noble

Sixteen-year-old Lyric Walker's life is forever changed when she witnesses the arrival of 30,000 Alpha, a five-nation race of ocean-dwelling warriors, on her beach in Coney Island. The world's initial wonder and awe over the Alpha quickly turns ugly and paranoid and violent, and Lyric's small town transforms into a military zone with humans on one side and Alpha on the other. When Lyric is recruited to help the crown prince, a boy named Fathom, assimilate, she begins to fall for him. But their love is a dangerous one, and there are forces on both sides working to keep them apart. Only, what if the Alpha are not actually the enemy? What if they are in fact humanity's only hope of survival? Because the real enemy is coming. And it's more terrifying than anything the world has ever seen.
Action, suspense, and romance whirlpool dangerously in this cinematic saga, a blend of District 9 and The Outsiders.
* Disclaimer: I use some quotes from the book but they're from an uncorrected NetGalley. Thus, some of the quotes may be different in the final product, or not in it at all.

The story itself isn't all that bad, it just wasn't something I was into. 
Here's what I imagined the plot to be like: Twilight – if the Cullens were mermaids and disliked by the entire town, not worshiped. I say that because it focuses a lot on a forbidden relationship and not an intriguing plot.
Personally, what overshadowed the plot, even if it was just a lot of forbidden love, was that I felt that the story had an underlying political agenda to it that seemed very in-tune to current political issues. I wasn't sure if the author was trying to get you to root for the Alphas or not because if so, it wasn't convincing me.
For those of you who have read it, or don't mind some spoilers (not a huge spoiler, it's just about one character's views and how I feel they were portrayed):
View Spoiler »
In the story, there is the governor of New York who is 100% against the Alphas assimilating with the humans. I feel like she was written to poke fun at people who lean towards the right, or are Republican, in America. She's very extreme but some of her basic feelings are, to me, understandable. Yet, the book makes it seem insane, bigoted, xenophobic and racist (those last two are actually used to describe this point of view in the book) that she would not want this water species, who mind you, have insane strength, electric powers that can kill a person, rows of razor-sharp teeth, claws that come out of their hands, and are walking weapons, in the schools of American children. They make it seem insane that, hey, maybe taxpayers don't want to pay for them to have benefits. It's not even like it's just disagreed with, it's made to seem ridiculously cruel and idiotic. Which made me dislike a majority of this book. « Hide Spoiler

I never fell in love with any of the characters.
The story follows Lyric, who used to be a "wild thing" and is now a "basic bitch" to protect her family (that's basically what I was gathering). I didn't like her character, mostly because there wasn't a lot to her. It was completely obvious what direction her development was going to go within the first few pages with nothing surprising added throughout. I also did not connect to her personality — she seemed like she was trying to be mature, but came across like a brat most of the time. Also, for someone so desperate to help her family, she gave into the hot guy without a shirt within a minute.
Then there are the Alphas. Their descriptions were just insane to me. Sometimes it was hard to imagine how they would really fit into this world. Because of that, I felt like there was a disconnect between me, the reader, and the story. The Alphas would be a really interesting species to follow if they were in a different story.

The writing was decent and the pacing was fast. That's pretty much all I have to say about it. There wasn't anything that stuck out with the writing on a positive note. Sometimes I thought the writing was actually too immature. For example, here are some descriptions used:
"…all roly-poly-like…"
"…tall-ass frame…"
"…Bex = besty…"
They're not terrible, but they're phrases that you'd see in a YA contemporary. It didn't fit in this sort of dystopian fantasy.
Also, the phrases "I cry", "I cried" and "He/she cried" were used exactly 70 times throughout the book.

If the Alphas were in a different story, I would have probably enjoyed reading about them more. Unfortunately, they were not, they were in this one. I wasn't sold on the romance, I thought the plot was thin, and I was absolutely turned off by the political undertone of this. Now, that's not to say it's a horrible book, I can see other people liking this one. It just depends on what you're expecting or how you feel about the politics of it.
Rating Report
Plot
Characters
Writing
Representation
World Building
Overall:
2 / 5