*I want to start by saying that I am not affiliated with Nose Graze at all. If you click the links leading you to the product page of this plugin & buy it, I don't receive anything. This is all me just gushing about a plugin that I think is awesome. Also, this is only useful for those of you who have a self-hosted WordPress site. I'm sorry 🙁 (But if you're thinking about switching over, keep reading! Maybe this will convince you 😉 )
Today I want to talk about the Ultimate Book Blogger plugin from Nose Graze.
The Ultimate Book Blogger is a plugin brought to us by Ashley from Nose Graze – a blog and shop all about making WordPress easier for us. If you don't know about Ashley's site, you should! I have actually purchased several items from her shop. This plugin for one, but also themes and her CSS course. So, you know, I'm a fangirl of Ashley's.
Anywho, on to the plugin.
This plugin is designed to make lots of things we do as book bloggers 100% easier and save us a shit ton of time. And why wouldn't we want that? Time is money, people!
There are a lot of features that come with this plugin. Here is a look at the settings screen via the WordPress Dashboard. I'm not going to cover every category on the left side, but I'll cover a few.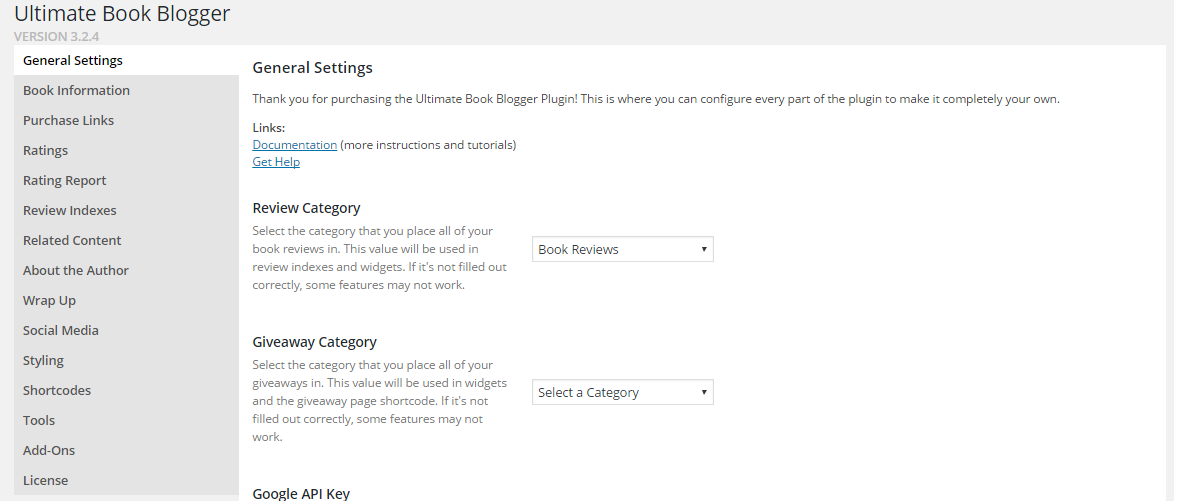 General Settings – You can easily select the categories you put all of your Reviews and Giveaways in, enable the Blogroll, various Blog Tour settings & add API keys to get book information faster (which I'll cover later).
Book Information – Tons of freakin' shit to customize how the book information of the book you are reviewing shows up.
Ratings – Customize the appearance of your star rating. You have the option of using Font Awesome Stars, Custom Stars or one of the Pre-Made Packs that come with the plugin.
Rating Report – You can customize the rating report. This is the rating of categories that shows up at the end of the review. If you scroll to the bottom of one of my reviews, you'll see my rating report. You can customize categories, appearance and how it determines the overall rating.
Review Indexes – Customize the archives. View mine to see how I organize mine.
If that doesn't show how much time this thing will save, let me explain. 
When you put together a book review you include the title, author, publisher, links, etc. It takes time to enter all those things manually. Copy & Paste. Copy & Paste. But that's not quick enough. With this plugin all you have to do is start a new post, save it as a draft then scroll down –  you'll see this:
Here you enter in the ISBN and choose to get the book information from Goodreads or Google Books (depends on the API you have set up). Click Get Book Info and you'll get this: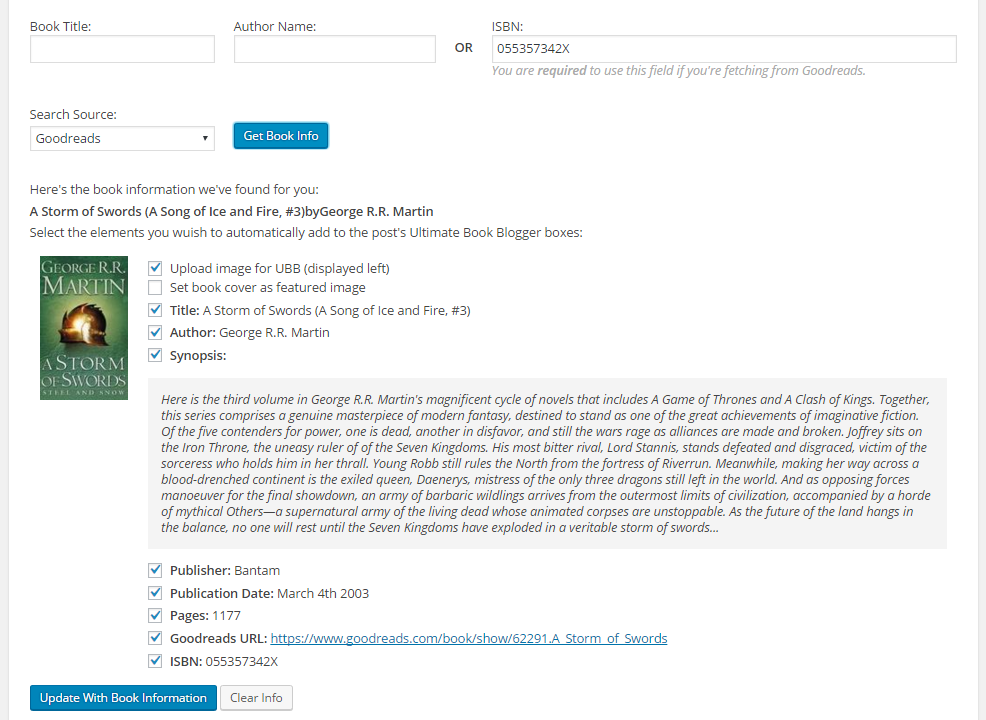 You can choose all the things you want to be displayed in your review. If you continue scrolling there are even more options like including an FTC Disclosure (for ARCs), customizing all the information you see above, including purchase links, and your ratings. You can even include other books in a series. Whoa! That's a lot of shit.
It'll look something like this (taken from my review):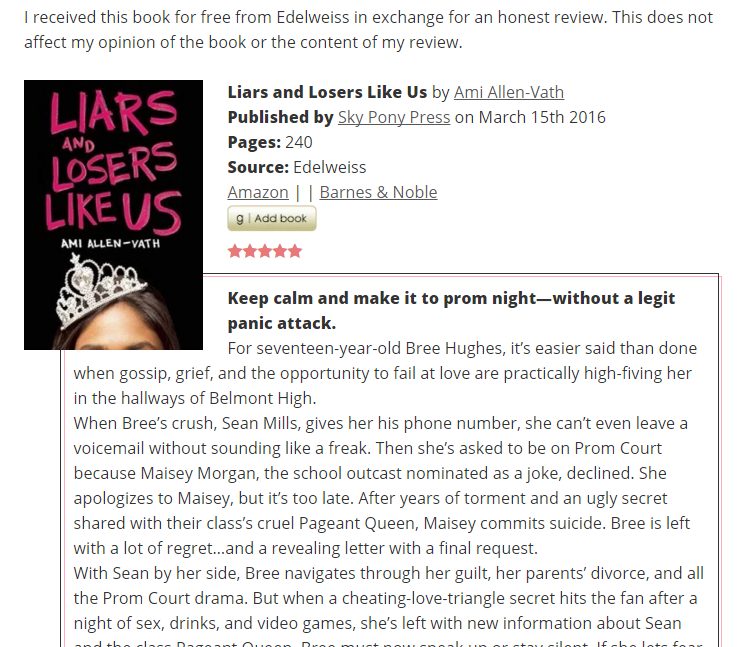 All that is done for you! And that saves you time. You can read. Or binge a Netflix show. Or get lost in the endless cat videos on YouTube. Do you, girl, do you.
But, wait! There's more!
This plugin also includes widgets! You know, those things we love in our sidebars. There is a social media widget, books read this year progress widget, recent review widget, giveaways widget, Goodreads widget, upcoming reviews widget, blog tour widget, currently reading widget, how to cure cancer widget. Ok, not that last one, but you get what I'm saying.
There's a lot. And most of it just generates all by itself. That review archive I have? I don't touch it, the plugin organizes and updates it for me. So do those widgets. Think of the time, people, the time! It adds up. This plugin is automatic. My prayers are schizophrenic. – wait? what? 😉 (pop quiz: name that song!)
Was I a decent sales person?
If you want to buy this plugin, it costs $35.00 USD for a single-site with support and updates for 1 year. You can then renew your license at a discounted rate at the end of the year, or continue to use it without the support or updates. If you have more than one site, you can buy a license for up to 5 sites with support and updates for 1 year for $60.00 USD (you can also renew).
If you have a self-hosted WordPress site & don't have this plugin, remedy that! If you are thinking about upgrading to a self-hosted WordPress site, did this convince you yet?