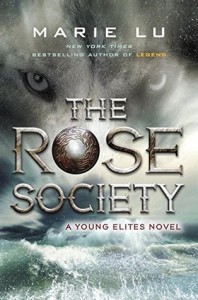 The Rose Society (The Young Elites #2)

by Marie Lu
Series: The Young Elites #2
Published by G.P. Putnam's Sons Books for Young Readers on October 13th 2015
Genres: Fantasy (YA)
Pages: 395
Amazon | | Barnes & Noble

Once upon a time, a girl had a father, a prince, a society of friends. Then they betrayed her, and she destroyed them all.
Adelina Amouteru's heart has suffered at the hands of both family and friends, turning her down the bitter path of revenge. Now known and feared as the White Wolf, she and her sister flee Kenettra to find other Young Elites in the hopes of building her own army of allies. Her goal: to strike down the Inquisition Axis, the white-cloaked soldiers who nearly killed her.
But Adelina is no heroine. Her powers, fed only by fear and hate, have started to grow beyond her control. She does not trust her newfound Elite friends. Teren Santoro, leader of the Inquisition, wants her dead. And her former friends, Raffaele and the Dagger Society, want to stop her thirst for vengeance. Adelina struggles to cling to the good within her. But how can someone be good, when her very existence depends on darkness?
*Because this is a sequel, if you haven't read Book 1 yet, you may not want to read my review.
However, I did make it as spoiler-free as I possibly could.*

The plot picks up where The Young Elites left off. I don't want to spoil it for those of you that haven't read The Young Elites yet. So I will just say that Adelina is on a mission to gather her own army to support her as she tries to get revenge on those who wronged her.

Adelina, once again, is one of the most stand-out characters in YA. A villain-in-the-making who, oddly enough, is one of my favorite characters. She becomes even darker and more twisted in this novel, you can't help but be intrigued and continue reading. She goes down a really dark path in this book.
Lu introduced some new characters as well. There's Magiano, who I actually really adore. I think he has some darkness in him as well to be so infatuated with Adelina, which is obvious even if he doesn't say it. He always claims he's only with her to get paid, but that's not true. There is definitely depth to his character that I hope Lu addresses in the third novel (because, frankly, I like him more than Enzo at this point).
There's also Sergio, a mercenary who, along with his small army of mercenaries, supports Adelina. He's actually a character that was mentioned in the first novel, but I don't want to spoil that for any of you.
There are the returning characters from The Young Elites such as Teren, Queen Guilietta, The Daggers and the briefly mentioned in the epilogue Queen Maeve. I found myself really rooting against Maeve and The Daggers, hoping for Adelina's success. Is that twisted of me? I don't know, but like I said, I really love Adelina's character.

Lu's writing was phenomenal, of course. This book was action-packed, full of twists, treachery, and questionable motives. However, I found myself feeling that the beginning was too slow and the end too quick. This tends to be my thoughts on most second books in a trilogy though. They tend to re-establish the MCs thoughts and build up to a climactic third novel.
On that note, Lu didn't leave us with a horrible cliffhanger. It actually ends quite nicely where you don't feel completely ripped off of any good story. I'm excited to see where Lu takes Adelina next, but I am definitely satisfied after the end of The Rose Society.

Marie Lu creates an even darker Adelina, I didn't know she could do it, but all the darkness that is hiding within ourselves loves it. Adelina is an unparalleled character and the story is so completely original that I couldn't put this down.
---
Marie Lu Q&A Fun Facts
If you read this week's edition of The Sunday Post, you know that I met Marie Lu last week at a small book signing. She briefly discussed her novels and then answered any questions from the audience. I learned some fun facts about Marie Lu, the Legend series, and The Young Elites series and wanted to share them with you. So here they are!
✺ She started writing when she was young. She used to write dark stories and wanted posters. When she was 13 she researched how to get published and over the course of the next few years, had sent in 3 novels – all rejected. So she continued on with school for Political Science and Biology. Eventually worked for Disney Interactive as a Flash artist. Until she wrote Legend and got published.
✺ She writes every day from 7/8 am to 1 pm.
✺ The Young Elites originally started as a story about a young man who discovers his powers and goes out looking for other elites. They ultimately end up on a mission to defeat the villain, Adelina. When Marie Lu sent this in to her agent, her agent literally asked, "Do you think this is good?" And when Lu asked what she could do to improve, her agent said she really enjoyed Adelina's character and suggested elaborating on her story.
✺ Marie Lu's favorite secondary character to write is Raffaele because he was the young man in the original story. She says you can tell which characters she likes based on their hair description: good hair means she likes them.
✺ There are a variety of sources for her inspiration for the malfettos' marks. One of her family members, who has one eye that has all white eyelashes.
✺ Her inspiration for the elites powers is based on what she thinks they align with. She also looked at a Wikipedia page with a list of all superpowers.
✺ She has an "evil" playlist on her iPod that she listens to for 30 minutes before writing Adelina to get into her twisted mindset.
✺ Her inspiration for the maps varies. For the Legend trilogy, the book was inspired by a map she saw online that portrayed what the US would look like when sea level rises. For The Young Elites, she would just sketch the map as she wrote and it would grow. Some of her inspiration came from Italy.
✺ Her inspiration for the names vary. June is named such because her personality aligns with Gemini. Day is named because of his positive attitude. The names for The Young Elites characters mainly came from a list of Italian baby names.
✺ The hardest character for her to write was Thomas from the Legend trilogy. He was originally only supposed to make one appearance but kept showing up as the story progressed.
✺ The quotes before Adelina's chapters are all made up by Marie Lu. After everything was done, she went back through and added them.
✺ Deep water is one of her biggest fears. That is why the underworld is represented as being in the ocean.
✺ A week before the event, she had received the first draft of the screenplay for The Young Elites. Nothing is final yet, but we might get a movie, guys!
✺ If she had a power, she would either have invisibility or the ability to fly.
---
Rating Report
Plot
Characters
Writing
Representation
Overall:
4.5 / 5