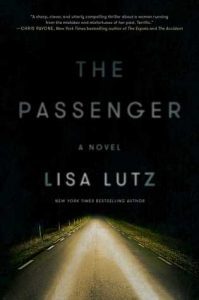 The Passenger

by Lisa Lutz
Published by Simon Schuster on March 1st 2016
Genres: Mystery/Thriller
Pages: 304
Amazon | | Barnes & Noble

From the author of the New York Times bestselling Spellman Files series, Lisa Lutz's latest blistering thriller is about a woman who creates and sheds new identities as she crisscrosses the country to escape her past: you'll want to buckle up for the ride!
In case you were wondering, I didn't do it. I didn't have anything to do with Frank's death. I don't have an alibi, so you'll have to take my word for it...
Forty-eight hours after leaving her husband's body at the base of the stairs, Tanya Dubois cashes in her credit cards, dyes her hair brown, demands a new name from a shadowy voice over the phone, and flees town. It's not the first time.
She meets Blue, a female bartender who recognizes the hunted look in a fugitive's eyes and offers her a place to stay. With dwindling choices, Tanya-now-Amelia accepts. An uneasy―and dangerous―alliance is born.
It's almost impossible to live off the grid today, but Amelia-now-Debra and Blue have the courage, the ingenuity, and the desperation, to try. Hopscotching from city to city, Debra especially is chased by a very dark secret…can she outrun her past?
With heart-stopping escapes and devious deceptions, The Passenger is an amazing psychological thriller about defining yourself while you pursue your path to survival. One thing is certain: the ride will leave you breathless.
*I listened to the audiobook of this book. I don't believe it has any influence on my review, but I just wanted to include that disclaimer.
I don't read a lot of mystery or thriller. I'm pretty sure this is only my second or third one. Either way, I wasn't very thrilled or mystified by it. 
First, let me get something off of my chest: the synopsis totally fooled me. I 100% thought this was going to be a story like Thelma & Louise. I was so excited for that and was completely let down. The synopsis makes it sound like the two women will be adventuring together but, boy, was I wrong.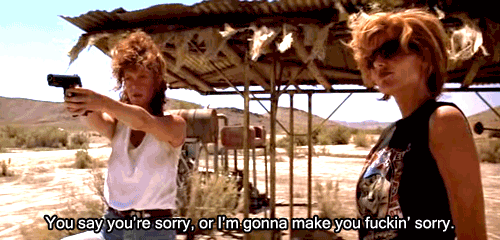 To add insult to injury, the big mystery was underwhelming…but I'm getting ahead of myself here.
The story starts off promising. I was immediately intrigued. Who is this woman? What happened to her husband? Why is she running? Whatever she did in her life before must have been bad. I even enjoyed many of her stops along the way – the people she met, how she would go about changing who she is when crap hit the fan. It was a fun beginning because I was so intrigued by what the heck will happen by the end of it.
Then it started to get a bit ridiculous. Everywhere she went bad things kept happening to her, forcing her to go to the next place and become someone new. It was such a repeat of events that I just wanted the story to wrap up. How many times can she hop from place to place before the story gets to the god damn point?
Then, when it finally gets to the point, I was so disappointed. My exact thoughts were "Really? That's it?". Honestly, I would've rathered the story followed Blue's life prior to the events of this book. The MC's (I don't even remember her real name, that's how much I didn't care) story wasn't as amazing as the book built it up to be.
Also, there were some plot holes or loose ends. I don't want to spoil anything but by the end of the book I was left asking things like: How did things end up in the last place she was staying? What happened to X person in that location? How did she get out scot-free?
While this story was fun and intriguing at first, it slowly became repetitive, then left you in the dust with a lackluster ending. Now I'm left with an itch to read a book similar to Thelma & Louise – so if you have any recommendations, let me know!
Rating Report
Plot
Characters
Writing
Romance
Overall:
1.5 / 5