I received this book for free from the publisher in exchange for an honest review. This does not affect my opinion of the book or the content of my review.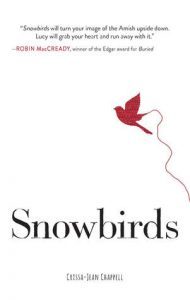 Snowbirds

by Crissa-Jean Chappell
Published by Merit Press on January 18th 2017
Genres: Coming of Age (YA), Contemporary (YA)
Pages: 265
Source: the publisher
Amazon | | Barnes & Noble

Secrets Were a Way of Life.But Secrets Have Gone Too Far …
Every year, Lucy waits eagerly for the arrival of the "snowbirds," the Old Order Amish who come trundling into Florida on buses from the north, bringing Lucy's best friend Alice, with whom she's spent every winter she can remember. This winter is different. At sixteen, Alice is in the middle of "Rumspringa," a season in which Amish teens try out forbidden temptations, in order to get them out of their system. Lucy is part of a different sect, in which teens aren't allowed such bold experimentation, and she's fighting to keep up as Alice races from one wild party to the next. Then, one night after just such a party, Alice vanishes. Wracked by guilt, Lucy knows that she should have been watching out for Alice, but instead, she was kissing Faron, an Older Order boy shunned by his society. Now, Lucy plunges into a search for her best friend—while also hiding her own secret, which could put her in even more danger.

This is the first book I've ever read with characters from an Amish community. I didn't know a lot about being Amish prior to reading, so I'll say this book did teach me something.
The story itself, however, was a little underwhelming. The mystery was ultimately what kept me going – I wanted to know what happened. Yet it felt like sometimes things were happening a little too conveniently. During Lucy's search for her friend Alice, she would "just so happen" to run into the person/thing/place she needed to reach the next clue to the mystery.
I also had heavy Pretty Little Liars feels to this in that why do teenagers never go to the cops when someone goes missing?! This was touched on in the story but I wasn't convinced. I still felt like when a certain thing (that I don't want to reveal because of spoilers) happened, she should have just shared everything she knew with the detective. This really had an effect on my enjoyment because I wanted to scream GO. TO. THE. COPS. 

The characters were probably my least favorite part. First off, there is little to no character descriptions. I only remember hair length mentioned twice. Other than that, there was nothing – no eye color, no facial structure, no hair color. While that leaves me to imagine them how I want them to look, I did want some sort of description of the characters.
The main character, Lucy, was a "not like most girls" type of character. Yes, that's something most of us don't like but it works well here because she is Amish. A lot of her actions and thoughts are not accepted by those in her community. With that said, she wasn't a character that really stood on her own. She has the typical I want to do something else with my life type of thoughts that most coming-of-age stories use.
And don't even get me started on the lackluster romantic interest.

I felt detached throughout the story. There are many instances where the descriptions of the area or other people is left to your imagination and I don't know if that is on purpose or not. Either way, I felt the story didn't move smoothly. 
Also, being inside Lucy's head became repetitive at times. She literally repeated the same feelings several times. There's several times where the similar dialogue or metaphors are used to convey the same message. This is a difficult thing to explain without giving away too much, but for an example there would be something like:
I want to study the ocean. My dad thinks I'm filling my head with lies.
Then…
I'm holding a book about the ocean. My dad takes the book & tells me to stop filling my head with lies.
That is possibly something minor to other people, but it really stood out to me in terms of writing style.

As I stated before, this is the first book I've ever read (or seen) that is about someone who is Amish. All of the lead characters are Amish, or have been banned from their Amish community, or are on Rumspringa.
For those who don't know a lot about the Amish, this is a plus because you will learn a few things. The author has done her research. You could technically just go to google, but that wasn't something I regularly thought of researching. This book did give me some inspiration to look into the different branches of the Amish and the different rules within those branches.
So, plus for the diversity of religion.

Overall, this book just wasn't for me. The plot had promise and probably could have succeeded if the writing and story structure were different. While it was nice to read a book about a different religion, that wasn't enough for me to actually enjoy this one. However, it is a short book (less than 300 pages) and easy to read. So if you are looking for, or are now interested in, a book about Amish communities, then you can give this one a try.
Rating Report
Plot
Characters
Writing
Representation
World Building
Romance
Overall:
2 / 5