These are mini-reviews of comics 1 through 3 of Scarlet Witch.
Ps; these are the first comic books I'm reviewing, so bear with me.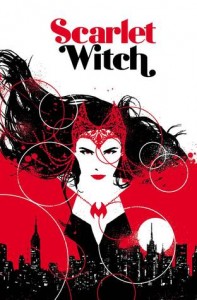 Scarlet Witch #1
Written by: James Robinson
Illustrated by: Vanesa Del Rey
Cover by: David Aja
Published by: Marvel on December 9, 2015

Witchcraft is broken – and the SCARLET WITCH is on a journey across the globe to fix it. From the back alleys of Manhattan, to the serene Greek Isles, to the bustling streets of Hong Kong, Wanda will have to face down her foes and find out who her true friends are. But as Wanda solves magical crimes and pieces witchcraft back together, the most important question remains: Who is the mastermind that broke it in the first place?
I enjoyed the start of the story in this one. It shows just enough to get me interested and I like the idea of it being an investigation/mystery. Overall, the general story had me intrigued.
The writing is a little melodramatic. For example, this is a line:
"Whoever it is, wherever they are, they will know what it means …. to face the Scarlet Witch." 
So, not too unbearable. Also, the art was decent. Personally, I like cleaner lines, but that doesn't mean the art was bad. It's more rough and sketch-like.
Overall, good start to the series.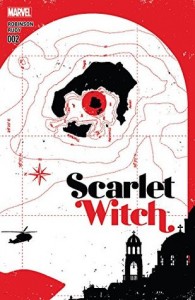 Scarlet Witch #2
Written by: James Robinson
Illustrated by: Marco Rudy
Cover by: David Aja
Published by: Marvel on January 13, 2016

Wanda enters The Labyrinth! The sickness in witchcraft is spreading. A murderous creature from ancient lore has come to life and is terrorizing the Greek isle of Santorini. Wanda teams up with Goddess Hekate! But will they uncover something even darker beneath the surface of this mystery?
This one didn't impress me as much – mainly because of the art. It was so incredibly distracting. It didn't always read from left to right. There was one page that was formatted like a swirl and I swear it took me a few minutes to figure out how to read it. It's unique and a few pages of a funky format would have been fine, but the entire thing distracted me from the main story.
The main story wasn't all that impressive either. I didn't see the connection to the rest of the story as clearly.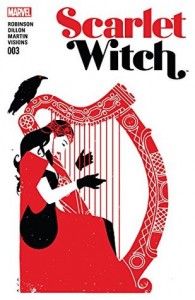 Scarlet Witch #3
Written by: James Robinson
Illustrated by: Steve Dillon
Cover by: David Aja
Published by: Marvel on February 3, 2016

A magical curse has befallen the Irish countryside and only the Scarlet Witch has the cure! A powerful new magician by the name of the Emerald Warlock has his eye on Wanda…but is he friend or foe? Wanda discovers that there is much more to her family history than meets the eye…
This one definitely made up for #2! I really enjoyed where the story went. It finally addressed some of my questions, explaining more of who is breaking witchcraft. Also, it ended on such a good note. That cliffhanger – I need the next one now.
On top of that, the art was exactly the type I enjoy. Very linear, clean lines. Dillon even made Scarlet Witch/Wanda look pretty hot – which is what I expected in the first place.
Overall thoughts of #1-3
They were all so different from the pace of the story to the art that it's hard to review them as a group. I do enjoy where the story is headed, especially after the ending of #3. However, because of the different artists, it makes me wary of who they chose for the rest – the only art I really enjoyed was in #3. OH BUT. Can we talk about those covers for a second? David Aja did wonderfully! I'm absolutely in love with them.
I will continue this series, though! So look out for my mini-reviews of the rest of them 🙂