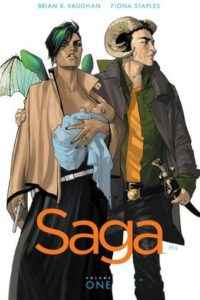 Saga, Vol. 1 (Saga, #1)

by Brian K. Vaughan, Fiona Staples
Published by Image Comics on October 23rd 2012
Genres: Comics
Pages: 160
Amazon | | Barnes & Noble | | Book Depository

When two soldiers from opposite sides of a never-ending galactic war fall in love, they risk everything to bring a fragile new life into a dangerous old universe.

From bestselling writer Brian K. Vaughan, Saga is the sweeping tale of one young family fighting to find their place in the worlds. Fantasy and science fiction are wed like never before in this sexy, subversive drama for adults.

Collecting: Saga 1-6
I don't read a lot of comic books but after seeing this one raved about and finding it at the used bookstore for $5, I decided why the heck not. It's not only a comic book, it's not a Marvel comic book (which is basically all I've ever read).
And let me tell you….I really freaking enjoyed this one.
This is already going to be pretty short since I'm reviewing under 200 pages so I'm just going to make some lists.
WHAT I LIKED
1. THE ART. I don't really know how to judge comic book art, but for me, this one was just easy to follow. I've read some that get a bit too creative with their structure and I don't know where the heck to look. So, for some one who is new to comic books, I enjoyed the structure and the look of all the art.
2. THE SIMPLICITY. Again, it made this sci-fi world really easy to follow. It also just made it fun to read. There wasn't a lot of in-depth science fiction jabbering to make things confusing.
3. THE WRITING. Specifically the narration, which I don't know if telling you who narrates this is considered a spoiler or not so I'll just leave that out and say I liked the way it was done. Also, there are times that the writing is just silly and makes me laugh (in a good way).
WHAT I DIDN'T LIKE
1. THE SIMPLICITY. I know…what? I just said I liked it! Which is true, it made it easy, but at the same time I thought it was just a tad lazy. For example, there is a cat that can tell when someone is lying. This is the time for some really bad ass name…nope. This cat was called The Lying Cat. 'Nuff said.
2. SOMETIMES ITS REALLY FREAKING WEIRD. I mean…really weird. There are characters with TVs for heads, there is a place called Sextillion that is just so far out there. It can get so odd which I know not everyone will love and even though I thought it was fun, did throw me off at times.
Side note, if you didn't know, this is for mature audiences. It is definitely not for kids.
---
Overall, this was a lot of fun to read. I'm definitely going to continue with this and see where the story goes!
Rating Report
Plot
Characters
Writing
World Building
Romance
Overall:
4 / 5