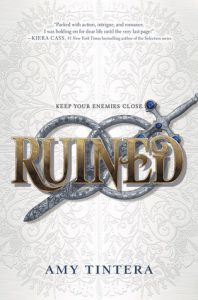 Ruined (Ruined, #1)

by Amy Tintera
Published by HarperTeen on May 3rd 2016
Genres: Fantasy (YA)
Pages: 368
Amazon | | Barnes & Noble

A revenge that will consume her. A love that will ruin her.
Emelina Flores has nothing. Her home in Ruina has been ravaged by war. She lacks the powers of her fellow Ruined. Worst of all, she witnessed her parents' brutal murders and watched helplessly as her sister, Olivia, was kidnapped.
But because Em has nothing, she has nothing to lose. Driven by a blind desire for revenge, Em sets off on a dangerous journey to the enemy kingdom of Lera. Somewhere within Lera's borders, Em hopes to find Olivia. But in order to find her, Em must infiltrate the royal family.
In a brilliant, elaborate plan of deception and murder, Em marries Prince Casimir, next in line to take Lera's throne. If anyone in Lera discovers Em is not Casimir's true betrothed, Em will be executed on the spot. But it's the only way to salvage Em's kingdom and what is left of her family.
Em is determined to succeed, but the closer she gets to the prince, the more she questions her mission. Em's rage-filled heart begins to soften. But with her life—and her family—on the line, love could be Em's deadliest mistake.

I thoroughly enjoyed the story of Ruined. It's this perfect balance of action, intrigue, and romance that I simply fell in love with. If you read the synopsis, you already know that there is a romance in this book and you know who it is between, so it wasn't really a question of who she was going to fall in love with but how it would all play out — considering her mission. That mystery keeps you going.
Oh, and that ending is the perfect cliffhanger. Yeah, a cliffhanger can be perfect because it does resolve several things that happened in the story but leaves you with just enough to really anticipate the sequel.

The main character Em is an easy female protagonist to like. So is the love interest, Cas. Em is the tough female who will do whatever it takes to save her people and her sister. Cas is the sweet, misunderstood, confused prince that loves his family but hates their policies. They're both sort of the stereotype for this type of book.
However, Tintera makes their characters complex and unique in a different way in that there really isn't a "good" side or "bad" side. Both of their families have committed some heinous crimes and they're simply stuck in the middle. I liked this gray area that Tintera created because that's how the world is – nothing is black and white.
And guess what? It's somewhat of a slow-burn romance and there's no love-triangle.
As for the secondary characters, you don't get to know them too much. There are some attempts at creating their own story, but it usually fell flat next to Em and Cas.

Tintera's writing was such a joy to read (this is the first book I have read by her). The wit and humor between Cas, Em, and even some other side characters was a nice break between some of the serious scenes. Tintera absolutely created chemistry between Em and Cas that was believable and enjoyable.
However, sometimes the fight/action scenes weren't as entertaining as they should have been. They felt almost repetitive in the way she would explain what was happening. Also, the world building was lacking. I didn't really visualize the land and setting well outside of the two main locations the story takes place. The magic system wasn't explained, either. This book would have benefited from more world building and a map!
Even so, I thought the book was written well with perfect pacing.

Overall, I enjoyed this book. It's easily going one of my favorites that I read in 2017. The opening scene alone is brutal and will hook you in. The wit, the pacing, the chemistry between characters, the morally gray area, are all things that made this book so amazing. While I would have loved more world building and some more information about the secondary characters, this book is definitely a hit. I recommend it to anyone who loves the YA fantasy genre that includes romance as one of the main plot points.
Rating Report
Plot
Characters
Writing
Representation
World Building
Overall:
4.5 / 5