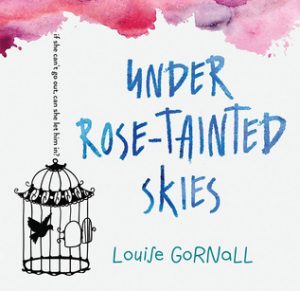 Under Rose-Tainted Skies

by Louise Gornall
Published by Clarion Books on January 3rd 2017
Genres: Contemporary (YA), Mental Health, Own Voices
Pages: 320
Amazon | | Barnes & Noble

At seventeen, Norah has accepted that the four walls of her house delineate her life. She knows that fearing everything from inland tsunamis to odd numbers is irrational, but her mind insists the world outside is too big, too dangerous. So she stays safe inside, watching others' lives through her windows and social media feed.
But when Luke arrives on her doorstep, he doesn't see a girl defined by medical terms and mental health. Instead, he sees a girl who is funny, smart, and brave. And Norah likes what he sees.
Their friendship turns deeper, but Norah knows Luke deserves a normal girl. One who can walk beneath the open sky. One who is unafraid of kissing. One who isn't so screwed up. Can she let him go for his own good—or can Norah learn to see herself through Luke's eyes?

The plot greatly resembles the book Everything, Everything by Nicola Yoon. While I didn't enjoy that book, this one stood out to me. Where Everything, Everything went wrong while dealing with mental health/chronic illness, Under Rose-Tainted Skies went right. However, this is more about how the mental illness is handled, the romance, and the writing. As for the plot, or the actual story, I wasn't always sold.
It's a very slow-moving story. It's something that is hard for me to rate by itself since I think many other factors (like the role of the romance and the representation) play a part. I will say that at times I felt there were build-ups to things that never really came to the climax you expected. Basically, where I expected there to be a "big reveal" or "plot twist" of some sort (because the book made me think there would be), there just…wasn't.

Norah is a character that many of us can relate to, whether we have OCD or agoraphobia or not. Gornall writes her in a way that makes it easy for someone without a mental illness to still see themselves in the story, or be hyper-aware of what Norah has to go through.
First of all, Norah is a great character. I knew I was going to like her from the moment she admitted she was pretty (which is so rare in YA). She has a sarcastic and self-aware personality that is easy to relate to. Her head is one that can be a joy to be in – her wit – and one that can be hard to be in at times too – her mental illness. However, both of those combined created a character that I thoroughly enjoyed getting to know.
My other favorite character was actually her therapist, Dr. Reeves. I actually can't really explain why as she was only in the story a handful of times, I just felt that she was someone who really helped Norah. The exchanges they had felt realistic and hopeful.

I actually would not say this is a YA romance at all. Yes, Luke is a major factor in the story. Yes, she talks about him, they flirt, there's a relationship of sorts, but I wouldn't call this a story about romance. Rather, I would say this is a story about mental illness that has romance in it.
With that said, I just didn't fall in love with Luke. He felt so unrealistic like he always said and did the right things. Even when he messed up, it was still him trying to do the right thing. He was just too perfect.
Also, as a side note, I found it unnecessary to throw in the character of Amy (I believe that's her name)  to show how "not normal" Norah was. Amy (I think her name is) was a character that is the typical beautiful high school girl who was after Luke, whom Luke conveniently hated. The story would have been just fine without throwing in that girl-hate.

I cannot speak with first-hand knowledge of how well the representation is in this book. I will say that it feels right compared to books like Me Before You and Everything, Everything.
What is the most important part of the representation in this book is how the romance comes into play. Norah isn't saved by Luke. Norah doesn't get magically cured by Luke. Luke doesn't try to change her, doesn't try to convince her she's someone she's not. While that seems like something that should go in the romance section, I felt it belonged in representation. Norah has her mental illness, it's part of who she is, but it isn't all she is and there isn't a magical cure. The way this book ended is absolutely perfect for showing that.

Overall, this is an important book that I, for the most part, enjoyed. I liked the writing, I liked reading about and from Norah's perspective. It was eye-opening as someone who does not have a mental illness to be in the mind of someone who does. Mostly, this book is full of hope. However, this book isn't a light read. It's a heavy topic that doesn't tread lightly when handling it.
Content Warning: (I'm going to put it as a spoiler if some of you don't want to see it) View Spoiler »1. There are panic attacks and other more in-depth talk of mental health. 2. There is a lot of mentioning of self-harm. In fact, there is an entire scene in which she does self-harm. Also, there are some smaller instances (like obsessive scratching). « Hide Spoiler
Rating Report
Plot
Characters
Writing
Representation
Romance
Overall:
4 / 5