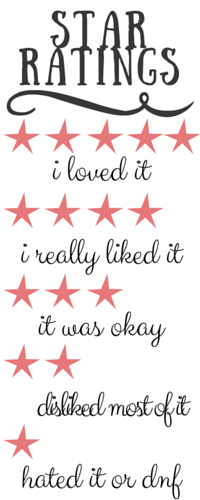 I am currently NOT accepting review requests. Please read below for more information:
I accept Young Adult, New Adult and Adult
Specific genres I do not accept: Erotica, Non-Fiction, Children's, Middle Grade (a few exceptions), Self-Help, and Spirituality/Religion.
I do not accept blog tour invitations
I prefer printed copies of books but do accept e-books. However, print copies are usually prioritized.
I rarely mark a book as "DNF". In the rare case I do, I will contact you.
I post my full review on this site. I post only star reviews on my GR account with the exception of small pub/self pub books which receive either a full review or shortened version.
I will be 100% honest with all of my reviews, even if it is negative.
I am not a professional book reviewer. My reviews reflect my own voice and personality.
I typically do not give a time-frame for when a review will go live. Although, I try to review it within 30-90 days. If your book needs to be reviewed by a certain date, please let me know that information when you contact me.
Use my contact form or send requests to molly@mollysbooknook.com
Review System
I use a 1-5 star-rating review system. I also use half-stars as part of the Rating Report. The Rating Report is at the end of each review and breaks down each category I review, giving them their own star-rating, then averaging an overall rating. The categories I review are plot, characters, writing and pacing. The overall review rating is automatically generated based on what I rated each separate category.