I received this book for free from the publisher in exchange for an honest review. This does not affect my opinion of the book or the content of my review.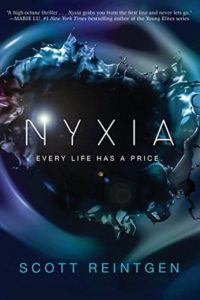 Nyxia (The Nyxia Triad, #1)

by Scott Reintgen
Series: ,
Published by Crown Books for Young Readers on September 12th 2017
Genres: POC MC, Sci-Fi (YA)
Pages: 384
Source: the publisher
Amazon | | Barnes & Noble | | Book Depository

Emmett Atwater isn't just leaving Detroit; he's leaving Earth. Why the Babel Corporation recruited him is a mystery, but the number of zeroes on their contract has him boarding their lightship and hoping to return to Earth with enough money to take care of his family.

Forever.

Before long, Emmett discovers that he is one of ten recruits, all of whom have troubled pasts and are a long way from home. Now each recruit must earn the right to travel down to the planet of Eden—a planet that Babel has kept hidden—where they will mine a substance called Nyxia that has quietly become the most valuable material in the universe.

But Babel's ship is full of secrets. And Emmett will face the ultimate choice: win the fortune at any cost, or find a way to fight that won't forever compromise what it means to be human.
This is a DNF review. I read 35% of the book before giving up.
WHAT I LIKED

THE CONCEPT 
I loved the idea behind this book. It's in the future, there's another planet with a valuable resource, there's aliens, and there's a bunch of young adults sent to do a job. It intrigued me and is the entire reason why I picked up the book in the first place.

THE CAST OF CHARACTERS
There's a lot of diverse characters in this book which is a positive for so many people. Within the first few pages you are introduced to
Emmett – the black protagonist
Kaya & Katsu – Japanese
Isadora – Brazilian
Azima – Kenyan
Bilal – Palestinian
and more. So, for all the negatives, it has a very mixed cast!
WHAT I DIDN'T LIKE

THE EXECUTION
While it had a great concept, I just wasn't in love with the execution. For starters, the writing wasn't my cup of tea. It was very, for lack of a better word, choppy. Someone else described it as having a Middle Grade vibe and I would have to agree a little with that. I just didn't connect as much.
It also lacked in world building. This is supposed to be the future but there is nothing about these characters that feel like anything in the world has changed. Self driving cars were briefly mentioned as the norm, but that's all the world building of Earth that I can remember. The space ship and the planet they were headed to weren't described very well either. It was all just very blurry in my mind.

THE LACK OF ACTUAL SPACE AND ALIENS
Which is a huge disappointment for me because hello, I totally thought there would be space. Anything in space. Space battles. Space ships. Aliens. Even just staring out a window into space would have appeased me for a time.
This book had none of that. They were inside a spaceship that was never really described to make it feel like they were on a spaceship. They could have been anywhere and the plot still would have progressed the same. Any space we did get, was in a virtual world (aka not real). It was just a lot of training in rooms than anything else and I just got bored.
Rating Report
Plot
Characters
Writing
Representation
World Building
Overall:
/ 5