I received this book for free from the author in exchange for an honest review. This does not affect my opinion of the book or the content of my review.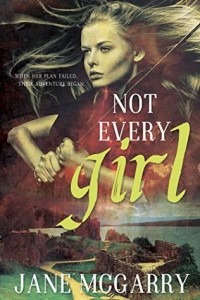 Not Every Girl

by Jane McGarry
on April 27, 2015
Genres: Fantasy (YA), Coming of Age (YA)
Pages: 275
Source: the author
Amazon

Olivia Davenport's plan is destined to fail.

She is going through with it anyway, of course. After all, it is the chance of a lifetime. The unreasonable rules of others should not stand in her way.

In her small kingdom of Stewartsland, Olivia trains with the squires and harbors a secret dream. She longs to become a knight under the command of the Master-of–Arms, who just happens to be her father. He has indulged her passion so far, but they both know a simple fact – girls may not attain knighthood. Dismayed by the constant discouragement of her ambitions, she makes an impetuous decision to disguise herself as a boy in order to sneak on a mission. The consequences are not at all what she anticipated.

When her deception is revealed, she is sent home in disgrace; however, an unexpected turn of events puts her at the center of a dangerous plot against the King. The ensuing adventure finds her grappling with mercenaries and outlaws, yet these pale in comparison to her newly awakened emotions. She finds not only her life at risk, but also her heart, when the aloof Prince Liam begins to affect her in ways she never thought possible. In the end, it is her courage and unique spirit which must guide her through the challenges she encounters both physical and emotional.

The plot is a like a blend of Mulan and Pride and Prejudice, the difference I found is that Olivia (the main character), starts her quest for selfish reasons and not to protect her family.
The plot was kind of wonky for me, which is primarily due to my not-so-pleasant feelings towards Olivia. Because of my feelings towards her (which I will go into under the characters category), I found some portions of this book difficult to get through. That is not to say it was a bad story or boring, it was actually a very fast-paced and exciting story. I thoroughly enjoyed the "realistic" setting and plot during a king and queen era and not the typical "magical" theme that has been going around. Basically, there was a battle, sword fighting, squires, class systems and none of it had to do with magic. It was refreshing. It was also very much a mix of action and romance – hence the Mulan and Pride and Prejudice comparison. I definitely enjoyed the direction the author went with that.

While the plot was entertaining, the main character was a girl I just could not like. I didn't despise her, but I found her to be selfish and hypocritical. At first, she despises everything that society expects out of her from acting like a lady to getting married. She says things like "girls should be taught to create their own happiness" and to 'prove' this, she manipulates everyone she loves to get her way. Then becomes an idiot when a cute boy comes around. Her tone quickly changes after this boy comes into her life to "I would sell my soul for five minutes to be alone with him". It was like she was having an identity crisis.
However, she was a determined young girl who could also hold her own in a fight. That was something I did like about her.
Other characters worth noting, ones I also loved, was Lydia, Olivia's little sister, and Athos. Lydia is so stinkin' cute, I just wanted to pinch her cheeks! And Athos is basically Robin Hood, which was pretty awesome!

The story is told from Olivia's point of view and that is what affected my opinion of the plot. If it had been told from third-person, it probably would have left me feeling something very different. Other than the choice of point of view, the writing and pacing were fairly consistent. While it had somewhat of a slow start, it began to really pick up about halfway through and kept my attention. There were some great descriptions of fight scenes and political intrigue/usurping.

Overall, this book was enjoyable. I finished it in two days! Even though Olivia isn't one of my favorite characters – she had a bit of an identity crisis and I was also never 100% sold on the romance due to the insta-love – I found the story to be interesting. I liked the originality of the political plot and I thought it was fast-paced. It's perfect for those of you that love romantic fantasy with a lead female who can also hold herself in a fight.
Rating Report
Plot
Characters
Writing
Representation
Overall:
3.5 / 5