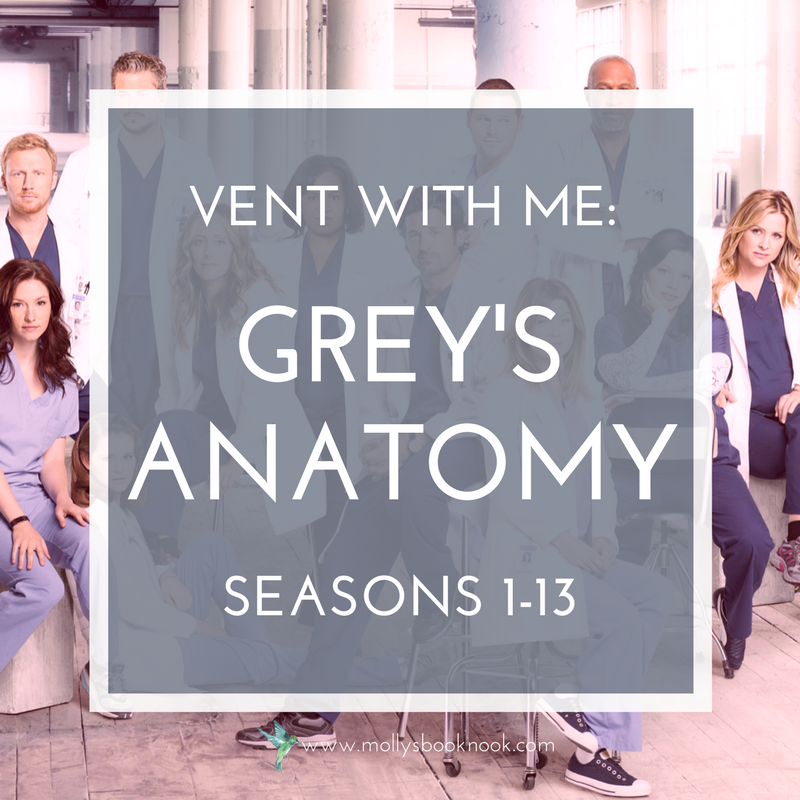 I originally planned to write this post after I finished season 4. I wanted to break down my thoughts in a sort of recap style every few season. Surprise Surprise … I failed. So, here I am, writing a recap for all 13 seasons that I binge watched in two months. I'll probably forget a lot and I don't want this to be too long, so I'll most likely talk about some of the more recent stuff.
FYI, I have not watched the newest episode yet, so no spoilers!
So, my Grey's Anatomy addicts, come chat with me because I need to.
Side note: This is ranty and FULL OF SPOILERS.

THE CHARACTERS
First of all, Yang is the most amazing human being on that show and I'm still bitter that she's gone so just don't even dare say anything bad about her or I'll hunt you.
With that out of the way, it's pretty hard to discuss all the characters because there are so many and a lot of stuff has happened. Instead, I'm just going to talk about the few that I either love, or really really don't like. Shall I vent about the annoying ones first? Ok, yeah, sounds good to me too.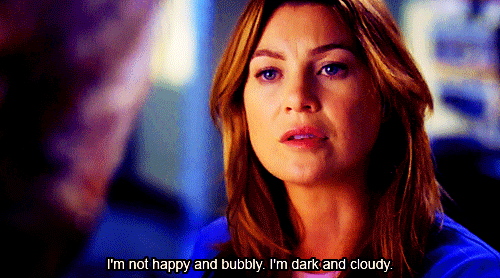 MEREDITH. She. Is. Terrible. I never even pay attention to her little monologues any more, half the time they don't even make sense anyways. Mostly, though, I find her love life to be exhausting and that she seems to think that no one else has had a rough life. Yes, she's experienced a lot, but so has basically everyone on the damn show – yet she acts like it's some sort of contest and she has it worse of all. Oh, and her vanishing for a year and having a "secret" baby….that was just the icing on the cake for me.
OWEN. He's not terrible but I need to get this off of my chest. WHY DOES HE NEVER DISCUSS A FAMILY BEFORE MARRYING SOMEONE? My husband and I had that discussion prior to signing that piece of paper. Why does he not do this? He could have avoided the last two hot messes of marriages if he just did that. But nope, instead he just gets married then tries to pressure the female into having children? PUH-LEASE.
JO. I feel like she shares a bit of the same personality as Meredith, like she's the only person on the planet who has had a hard life. She constantly uses it to justify her actions. Yet, when Karev gets in a fight thinking he's defending her, she hates him? Bitch please. Do you not remember that you also put a guy in the hospital several seasons earlier? Also, why the hell did she not tell Karev about her marriage? I don't understand what was so difficult about that when she so easily opened up about it to the other guy. (

Convenient plot point, maybe?

)
Ok, that's enough negativity for characters. Let's talk about the ones I do like: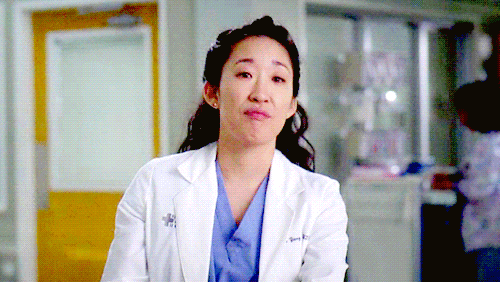 YANG YANG YANG YANG YANG YANG YANG YANG. All day. Every day. She is my sister. She is my best friend. She is my queen. The end.
KAREV. It took a little while for me to like his character but now I love him. I feel he is the one who has changed and grown the most on the show and I admire that. I hate what he had to go through in the last season but at least he's not in jail? Still, he better not go back to Jo or I might rage.
BAILEY. Well, sort of. She's kind of pissing me off now but in most of the show she was one of my favorites. I love how she just doesn't like dealing with the interns and how she's so mean. Now, she's doing things that I'm not too fond of, like messing with Webber. Don't mess with Webber, damn it.

THE COUPLES
I'm not going to go into detail for each one, just simply list them. This would be way too long if I broke down why.
ONES I WANTED TO WORK OUT FOREVER
Izzy and Denny
April and Jackson (

who knows?

)
Meredith and Derek (

duh

)
Lexie and Mark (

SOBBBBBBBBBB

)
Teddy and Henry (

again, sobbbbbb

)
ONES I WANT TO SEE GO UP IN FLAMES
Alex and Izzy
Alex and Jo
Christina and Owen
Christina and Burke
Izzy and George
Callie and Arizona
Catherine and Richard
Owen and Amelia
3 EVENTS/PLOTS THAT ANNOY ME OR PISSED ME OFF
1. DEREK'S DEATH. Yeah, I'm diving right into this one because I was PISSED at how they wrote him off the show. Here are my main points:
Why they gotta have him kiss someone in the episode prior? I mean really? They just had to taint the marriage one last time right before?
Who, in their right mind, after being in an accident, LOOKS AT THEIR PHONE WHILE DRIVING? Not only that, but STOPPED PERPENDICULAR TO THE ROAD IN THE MIDDLE OF THE ROAD? Come on, why did they make him so stupid in that scene?
Just. What. The. Fuck.
That is all.
2. THE AIRPLANES. THE DAMN AIRPLANES. I am so sick of it. Please, please just stop with the airplanes. They've been in a plane crash, plane crash victims got brought to their hospital, Meredith is on a plane when it has the worst fucking turbulence ever yet somehow manages to hold a syringe in a brain with no problems? She's a wizard apparently. Either way, please make the planes stop.
3. On that note, please, no more sisters. NO. MORE. LONG. LOST. SISTERS.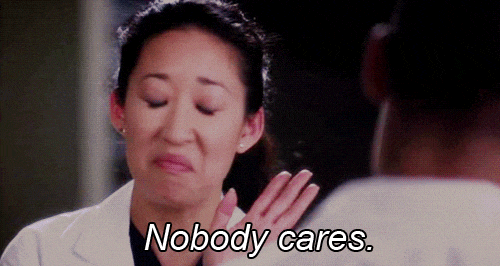 ---

Ok so obviously this could be a lot longer but I don't want to review 13 seasons worth of Grey's Anatomy.  So, tell me whatever you like/hate/want to rant about in the comments! Do you agree with me? Disagree? Is there someone or something that I didn't bring up that you want to vent about? I want to hear it!