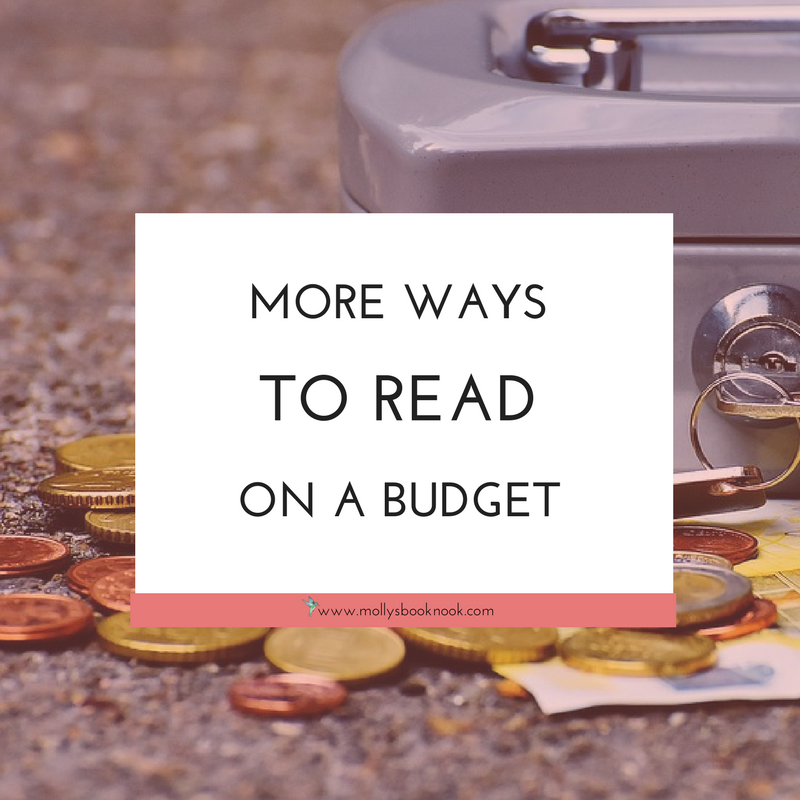 Over a year ago I wrote a post on how to save money on books. It included things like Netgalley and Book Depository but over the year, I've come up with a few more ways to read on a budget.

YOUR LIBRARY
Somehow, this didn't even cross my mind in the original post. Surprise! The library is free! I know not everyone has access to a great library, but if you do, use it. Even better, libraries are catching' up with the times. Many libraries are now linked to various apps where you can check out eBooks and audiobooks right from the comfort of your home! 
If you are going to start using your library, or if you already do, I recommend checking out if yours is connected to any app (like OverDrive or CloudLibrary). Also, install the Chrome extension Library Extension. This helps when it comes to avoiding purchasing books. When you're on Amazon or Goodreads, there will be a little box that tells you if the book you're looking at is available at your library! I've avoided a few purchases because of this. Instead, I just add the book to a shelf on GR titled "at my library".


BOOK TRADING
I've traded books a few times with some lovely women in this community. While I technically have to pay for shipping, it's nice to get a book I don't want in someone else's hands and a book I do want for $5.00 or less in shipping. I've posted in my story on Instagram about books I'm getting rid of and used the #booksfortrade on Twitter. #booksfortrade is a little more difficult because so many people are looking for some rare books when I'm just simply trying to get rid of some backlist/ read ones. However, give it a shot! I've successfully traded at least 10 times already.

AMAZON
Amazon has a few ways you can save on books.
Amazon Lending – You can actually lend or borrow books from your friends. The only issue is that a book can only be lent out once. Once you lend or borrow a book, no one else can borrow that same book from you or your friend. However, it's still a great way to share!
Free eBooks – Amazon has thousands of free eBooks! There's really nothing else to explain here. Free books = saving money.
Kindle Unlimited/Prime Reading – Kindle Unlimited is a monthly subscription through Amazon. You pay about $10.00 – $15.00 per month and can read hundreds of books. Prime Reading is included with your Prime membership but has a more limited selection of books compared to Kindle Unlimited.
Personally, I love Kindle Unlimited. There are so many books and some that I was surprised to find there! Books like Harry Potter, Lord of the Rings, The Bone Season, Ms. Marvel, almost every book published by Oftomes Publishing, The Hundredth Queen, Unicorn Tracks, and so much more!

AUTHOR NEWSLETTERS
I don't mean your faves (although I am subscribed to their newsletters), I'm talking about the indies, self-pubbed, and micro press authors. I've subscribed to a few over the past year – mainly from giveaway entries I've done – and they've proven to be really beneficial when it comes to free books! Several of them include free book alerts for other author's books, deals on their own books, or when their books are free.
For example, 154 of them just took part in a Scavenger Hunt. It started with ONE email then you visited all 154 websites to find the "hidden word" to enter the grand prize giveaway. But nearly all of them had their own giveaways and freebies! I received many free ebooks through this, discovered tons of new authors, and entered a bunch of giveaways (we'll see if any of them prove fruitful).
So, if you're into reading indie and the like, these can be so great for saving money on books!
---
If you want more ways to save, check out my post Save $$$ On Books! I didn't want to include all of those in this post since I've already gone into detail about them!
---

How do you save on books?
Do you already use some of these tips?