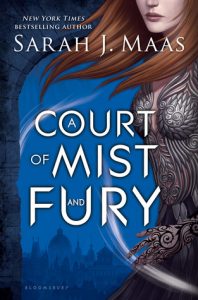 A Court of Mist and Fury (A Court of Thorns and Roses, #2)

by Sarah J. Maas
Published by Bloomsbury USA Childrens on May 3rd 2016
Genres: NA, Fantasy
Pages: 640

Feyre survived Amarantha's clutches to return to the Spring Court—but at a steep cost. Though she now has the powers of the High Fae, her heart remains human, and it can't forget the terrible deeds she performed to save Tamlin's people.
Nor has Feyre forgotten her bargain with Rhysand, High Lord of the feared Night Court. As Feyre navigates its dark web of politics, passion, and dazzling power, a greater evil looms—and she might be key to stopping it. But only if she can harness her harrowing gifts, heal her fractured soul, and decide how she wishes to shape her future—and the future of a world cleaved in two.
With more than a million copies sold of her beloved Throne of Glass series, Sarah J. Maas's masterful storytelling brings this second book in her seductive and action-packed series to new heights.
I finally read A Court of Mist and Fury and I have some thoughts.
Quick background: I was actually not a huge fan of A Court of Thorns and Roses. Unfortunately, I read it at a time when I didn't bother reviewing books GASP! Yeah, I didn't really review books all that often prior to having a blog. So, with that said, I can't actually pinpoint why I didn't like ACOTAR as much as other people. Either way, I went in with low expectations for A Court of Mist and Fury. Below are my thoughts.
Some foul language ahead.
AND LOTS AND LOTS OF SPOILERS!!
"By the cauldron," I snarled.
Literally, my first note while reading was "oh yeah, I forgot how annoying this crap was".
I hate the 'by the cauldron' thing. I get that it's supposed to be a saying relevant to the world, but it always got on my nerves. It was uncomfortable on the lips. It wasn't a phrase that rolled off the tongue like 'oh my God'. I cringed every time it was used.
Why is there so much snarling? I wish I would have counted how many times this was used because I remember that being something that irritated me in ACOTAR. Everyone fucking snarls at each other. Instead of using "he said" it's "he snarled". At first, I thought it was just a Tamlin thing because of his shapeshifting, but nope, other characters did it too. It annoyed me so much.
Where is the plot, yo? Oh, right, sexual tension.
No, seriously. The plot was so thin. This book is the perfect example of why sometimes I hate sequels because they feel like fillers in a series. And this one is over 600 god damn pages.
It is more sexual tension than anything else. Here is what I feel happened:
Feyre goes to Rhysand. Rhysand makes her part of his inner circle.
Feyre sits around and waits while everyone else plans some big infiltration of Hybern that you get no details of.
While she waits, she has some sexual tension at a horny-50-year-old-single-woman-who-lost-her-vibrator level.
They go to Hybern, executing a plan Feyre wasn't involved in creating and are outta there in 15 minutes.
Hmmm….yeah, no. The beginning was incredibly slow until she finally goes with Rhysand, where it speeds up a little, but then it just turns into that.
Also, the sex scenes are definitely not Young Adult. I'm not saying that young adults can't read this, but for a YA, the sex scenes were nowhere near what is usually contained in YA and should have been classified as either NA or "for older YA readers" just in case. Not everyone wants to read such detailed sex scenes in a YA fantasy.
I need more water wolves
This kind of goes with the point above, but I wanted to give it its own section. When we finally get to see Feyre use her powers to defend people in Velaris, it's less than a chapter. Less than a page for her water wolves. LESS. THAN. A. PAGE. As previously stated, this book is over 600 pages. If there isn't at least three damn chapters about her using her powers in full force, what the fuck are we reading the other 595+ pages?
Then, the last battle all she does is this weird white light thing. Really, with all of your powers, literally a portion of power from every single high lord, and all you can come up with is a bright white light then cowering to Tamlin to save your friends?
No. Just. No.
Oh, and hi Jacob and Renesmee…oh no…I mean Lucien and Elaine.
Tamlin v Rhysand
This seems to be the biggest disagreement where this book is concerned. I've seen fights on social media over these dudes. So, why not put in my two cents?
Tamlin wasn't my favorite love interest in ACOTAR and in this one he just creeped me out. Tamlin and Feyre had such a father-daughter type relationship that it was awkward to read. I understand he wanted to protect her but it got a bit ridiculous when she was asking for permission and he basically grounded her. I can't get on the Tamlin train.
Rhysand is obviously the better choice to me. He actually gives her freedom and the right to choose what she wants to do. I do find that Feyre overreacts about his omission about them being mates. However, she redeems herself by realizing she's doing just that, overreacting.
The ending, really bro?
WE DON'T EVEN GET TO EXPERIENCE THEIR CEREMONY.
WE GET THE DETAILS AS A GOD DAMN PROLOGUE TYPE CHAPTER.
THEN SHES BACK WITH TAMLIN.
WHAT. THE. FUCK.
And yet, I liked it
Personally, once I realized that this is basically a romance and not a fantasy adventure, I came to terms with it. It's an excellent romance, but I don't think it can even compare to some of the more action-packed fantasies out there that still contain romance. i.e. The Grisha Trilogy, The Lunar Chronicles (Cinder and Scarlet, specifically), The 5th Wave trilogy, The Young Elites, Legend etc.
I wish there was more plot to fill the pages, though. For a 600+ book to be mainly a romance is a bit discouraging. Do I want to even bother with the next book? I don't know because I really don't want to read about her with Tamlin again.
Rating Report
Plot
Characters
Writing
Representation
World Building
Overall:
3.5 / 5