I received this book for free from the author in exchange for an honest review. This does not affect my opinion of the book or the content of my review.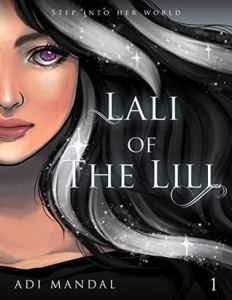 Lali of The Lill

by Adi Mandal
on February 14, 2015
Genres: Fantasy (YA), Paranormal (YA)
Pages: 151
Source: the author
Amazon

Lali must face her fears and begin the journey to The Lill, a treacherous journey built around lies. In seeking for the truth about her past and future, she must leave Krei, the young man who loves her more than his life, and learn to trust Theon, a stranger who claims he is the only one who can help her.

Lali of the Lill is a shorter book at only about 150 pages, but it packs a punch.
The story is very original, which is refreshing! At first, it seems like your dropped into the middle of a story. The opening scene was a tad confusing and I didn't know what direction the author was going with the world building – but as you continue through the book, you start to see the story forming. Not all questions are answered, though, which leaves you wanting more. I understand there needs to be mystery, especially if it's part of a series, but I would have liked some questions answered. Thankfully, there is a sequel!

Lali is a tough cookie. She's independent and doesn't take crap from anyone. However, sometimes it seems like she didn't have common sense. Like, why would you be "engaged" at 16? What century are we in? Or, how did you not put the two and two together with Theon the coworker and the other Theon? That's just a bit of nitpicking, but it was still a little bothersome.
The other characters are typical love interests. The stranger, who obviously has to be attractive and want to save the girl. Then the friend, who isn't exactly what the girl is looking for but it comfortable. I didn't fall in love with either of them, and it also seems predictable who she is going to end up with. But, hey, maybe this book will break the norm!

This book is fast-paced, for the most part. The first quarter takes a while to develop the story, but once it picks up, it moves quickly. The writing wasn't without its flaws, but it wasn't overly distracting. What I mean by that is the random transitions to another point-of-view. They seemed a bit choppy, but overall, the story had a good flow to it.

Overall, with so few pages I think that Mandal did a great job creating a new original world in Lali of the Lill. It's a fast, easy read that will leave you with a cliff-hanger and hoping for the sequel as soon as possible! It's not without its flaws, but for an independent, novella-length story, it's a great read. Go in with an open mind and you'll leave pleasantly surprised.
Rating Report
Plot
Characters
Writing
Representation
Overall:
4 / 5