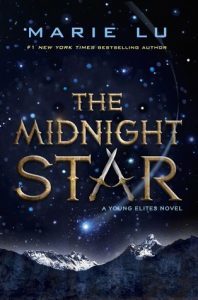 The Midnight Star (The Young Elites, #3)

by Marie Lu
Series: The Young Elites #3
Published by G.P. Putnam's Sons Books for Young Readers on October 11th 2016
Genres: Fantasy (YA)
Pages: 316
Amazon | | Barnes & Noble

There was once a time when darkness shrouded the world, and the darkness had a queen.
Adelina Amouteru is done suffering. She's turned her back on those who have betrayed her and achieved the ultimate revenge: victory. Her reign as the White Wolf has been a triumphant one, but with each conquest her cruelty only grows. The darkness within her has begun to spiral out of control, threatening to destroy all she's gained.
When a new danger appears, Adelina's forced to revisit old wounds, putting not only herself at risk, but every Elite. In order to preserve her empire, Adelina and her Roses must join the Daggers on a perilous quest—though this uneasy alliance may prove to be the real danger.
*This is the last book in The Young Elites trilogy. I am intentionally vague because I don't want to give away too much information. However, I will hide spoilers when I just have to talk about them.

This was a wonderful conclusion to one of my favorite trilogies. I don't want to give a lot away because it would ruin the story, but something I loved was that the story came full-circle. The direction Lu took it, I thought, was a perfect complement to Adelina's character development throughout the first two books.
I will say that the beginning of the story is a bit slower, but it works. Lu uses a good part of the beginning to build Adelina's character in her new circumstances. She also perfectly blends in some reminders of earlier events – which is something I definitely needed – and she did it without making it feel like info dumps.
Spoiler: View Spoiler »I absolutely love that the ending wasn't a 100% happy ending. While it is torture, I think it was such a beautiful way to end Adelina's story. « Hide Spoiler

Of course, I love Adelina's character. She's one of my favorite female fantasy characters I've ever read. Lu created one of the most complex female leads and in this conclusion, her character has to make some very tough choices, becoming even more complex. This is because Adelina is the exact opposite of what we are so used to reading when it comes to female leads in YA lit. She has to make decisions that are tough for her, but ones that may be completely obvious to others. It's one of my favorite things about her and I'm so glad Lu continued that, and then some, in this finale.
Oh, and don't worry, Adelina still kicks some butt, she just definitely grows as a person.
As for the other characters, personally, I never really pay attention to them. I do like Maggiano, but I actually like Teren more. His character, to me, is almost the male form of Adelina, so I've always enjoyed his story more than the others. And don't even get me started on the Daggers, because I don't like them and still don't.
Huge spoiler: View Spoiler »I am so glad Enzo died sort of early on. I was really sick of his character and that whole plot line in the series. I actually said "finally" when it happened. What about you?

Oh, and when Violetta died, it felt underwhelming. I expected so much more of a reaction from Adelina, but it felt so rushed. In fact, it seemed like there was more of a reaction when Teren died than when Violetta did. « Hide Spoiler

Lu is one of my favorite writers, I just absolutely love everything she does. Even when it's a slower part of the book, she makes it interesting or beautiful to read. I was quickly consumed in the story and my interest held until the very end. As I said before, the beginning is slower than the second half. However, it wasn't something that really affected my enjoyment overall.

I'll say this: my expectations were met. This was a fantastic conclusion and there was no reason for me to be nervous about how it would end at all. You get to see Adelina be her normal ruthless self, but also grow and change throughout. Like stated before, the story comes full circle, that's the best way I can describe it without spoilers. The ending is both beautiful and cruel, Lu definitely wanted to torture us. If you loved the first two books in this trilogy, the finale won't disappoint.
Rating Report
Plot
Characters
Writing
Representation
World Building
Overall:
5 / 5