I received this book for free from the author in exchange for an honest review. This does not affect my opinion of the book or the content of my review.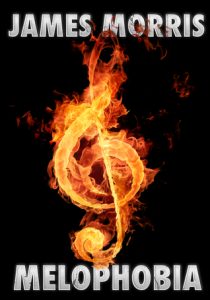 Melophobia

by James Morris
on September 22nd 2015
Genres: Dystopian (YA)
Pages: 252
Source: the author
Amazon

Melophobia: fear or hatred of music.
The time—now; the place—America, but in a world where the government controls all forms of art and creativity. Any music sowing the seeds of anarchy is banned—destroyed if found—its creators and listeners harshly punished.
Merrin Pierce works as an undercover Patrol officer assigned to apprehend a fugitive musician who threatens the safe fabric of society, only to confront everything she thought to be true – her values, upbringing, job, and future.
Can love survive in a world without music?
Publisher's Weekly called it "a convincing alternative history novel and…an accomplished coming-of-age love story that asks big questions about freedom and expressiveness in the face of oppression."

It's an interesting world Morris has built. It's very Fahrenheit 451-esque but where 451 banned books, Melophobia banned music. I also enjoyed the reasoning behind it — even if it did seem a tad dramatic at times. It just made sense. If you look throughout history, look at the type of music prevalent during certain decades and then look at the events that took place during that time — that's what Morris did, and it created an interesting and convincing correlation, thus forming the basis of this book.
As I said above, though, sometimes it did seem a little over-the-top. For example, there is one point when they talk about how the White House was renamed the Black House because of the national turmoil. Things like that weren't in overabundance, but I did roll my eyes just a little at that.

The story follows Merrin. She's an undercover cop tasked with taking down secret music clans (secret concerts, distributers, etc.) Her main task in this book is to find The Source — he provides music to all the different musical clans (or fans of specific genres) in the country. This requires her to go undercover and infiltrate the rock & roll scene.
For the most part, I enjoyed Merrin. I liked that Morris created a real connection between her and her hate of music — thus explaining her job. This connection fueled an inner struggle she had throughout the book. She was a very complex character. I only had a small issue with her character and role in the plot, but that's a spoiler so: View Spoiler »I wish we could have seen Merrin in the music scene more. She did spend a lot of time listening to it, but it was either alone, or with one other person. I would have loved to see more of the actual underground rock and roll music scene. « Hide Spoiler
The love story, which I'm also not going to spoil, will either be a hit or miss. It does happen fast, maybe too fast. I felt like it was happening out of convenience for who the characters were. They found comfort in each other, but I didn't fall for the actual romance. In fact, I was rooting for something else to happen. Either way, it was still a pretty cute romance.

Once again, I absolutely love Morris' writing. He's easily one of my favorite writers. I don't know how he does it but his writing just draws you in and keeps you engaged in the story. Even when the overall plot slows down a little, the way Morris writes Merrin's emotions and internal struggles is just fantastic.

Overall, I thoroughly enjoyed this book. I did have a few issues like the love story and some of Merrin's role, but it was a wonderful book. It can definitely be appreciated by any of you who absolutely love music. Morris really connects the reader to the emotions that take place when listening to music. If you like music, if you like a government-controlled dystopian society type story, you'll like this book.
Purchase Melophobia
 with that affiliate link to support my book nook 🙂
Rating Report
Plot
Characters
Writing
Representation
World Building
Overall:
4.5 / 5