I received this book for free from the author in exchange for an honest review. This does not affect my opinion of the book or the content of my review.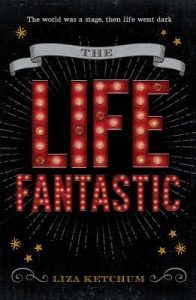 The Life Fantastic

by Liza Ketchum
Published by Merit Press on January 1st 2017
Genres: Historical Fiction
Pages: 256
Source: the author
Amazon | | Barnes & Noble

Will Teresa find fame or lose it all?
It's 1913 and vaudeville is America's most popular form of entertainment. Thousands of theaters across the country host vaudeville troupes. In Brattleboro, Vermont, fifteen-year-old Teresa LeClair—who has a "voice like a nightingale"—remembers the thrill of singing onstage as a child. But her parents have given up life on the road, and her father has decided that Teresa, blessed with perfect pitch, should drop out of school and work in the tuning rooms of the organ factory.
Determined to escape the life her father wants for her, Teresa wins an amateur singing contest in Brattleboro's opera house and steals away on the night train to New York. She hopes to become a star on Broadway's "Great White Way," but has no idea of the challenges that lie ahead. There she runs into Pietro Jones and his father, talented African-American dancers. Teresa and Pietro become competitors as well as unlikely friends.
At a time when young black men could be lynched for simply looking at a white girl, Pietro understands, better than Teresa, the danger of their relationship. Teresa's quest to find her voice onstage and in her life, far from the support of her family, takes place against a complex racial backdrop of American history.

I'll cut to the chase: the synopsis doesn't exactly describe the plot accurately. The way it describes this book makes it seem like a forbidden romance in a historical fiction, but it's not like that at all.
What I liked about the plot: It's all about a girl following her dreams. Who doesn't like a story about that? Teresa just wants to make it big in Vaudeville and moves to New York City to try to make that happen. It follows her hurdles and her triumphs and shows that sometimes it's not always that easy to make it.
However, sometimes it was that easy for Teresa. Some of the things that happen are very convenient. She runs into the right people at the right time in the span of just a week or two. It's a more unrealistic look at show business (though, I'm sure there are people who had this happen to them). This book could have benefited from just a bit of a longer timeline and a few more struggles for Teresa. 

Teresa is the main character. She's young, at 15-years-old, a bit naïve and trusting (but again, she runs into the right people). There isn't much to dislike or like about her because she is just the typical character who's trying to do what makes them happy. It aids the story, but I didn't feel a great connection to her character.
The supporting cast are all great additions. Maeve is a girl friend to Teresa (bonus points for girl friendship) and she treats her right. It's a positive relationship, so that's always good. Pietro and Mr. Jones are the black father-son dancers that Teresa also befriends. Teresa learns a lot about race during her encounters with them. However, as stated earlier, Pietro is supposed to be her romantic interest, yet there was very little to no romance in this at all. 

I adore Ketchum's writing. She is very descriptive but in a way that gives you just enough while leaving some to your imagination. Her writing is very easy to read and flows perfectly. Also, the structure of this novel is unique in that it really is a book told in Three Acts. Each section of the book is divided by a playscript (that are only a few pages long) but I thought they all added a bit of connection and emotion to Teresa's character.
Also, there's singing and plenty of musical talks. If you're a fan of music, you'll like this!
Where I think the writing could improve is actually with the dialogue. While Ketchum writes beautifully elsewhere, sometimes the dialogue was lacking in emotion – though it isn't really enough for me to dislike the writing as a whole.

This isn't a hugely diverse book, but a few things are worth mentioning.
This is a very historically accurate novel. The author's note and resources at the end are worth checking out because of the education within them. Ketchum clearly did her research and because of that, there are some accurate portrayals of how blacks were treated in 1913 in everyday life and in Vaudeville. Pietro and his father continually get turned away at hotels, questioned for talking to Teresa and Maeve, and are forced to wear blackface during their performances. With that said, I like how Ketchum wrote both of them. Pietro has dreams of his own – he strives for education and admired Du Bois. He's not a stereotype that other books use.
Another thing worth mentioning is that Teresa is a "thicker" character. However, it's not clear what her exact body type is. Personally, this is something I enjoyed. There were subtle mentions of her weight or how busty she was, but it wasn't a plot device of the book – it was just her. This is a positive, in my opinion.

I thoroughly enjoyed this story. Despite that fact that Teresa runs into a lot of conveniences, the book still gets its point across in a beautiful way. I thought it was fun to follow Teresa through her auditions, performances, and ~some~ hurdles. Ketchum writes beautifully, it's very descriptive and puts you right there in Vaudeville. The historical accuracy is something I loved the most in that I learned a few things about the early 1900's just by reading this book. So, if you're a fan of historical fiction – or even music/performing – I'd recommend this one. Though, FYI, I wouldn't pick this one up if you think it will have an interracial romance.
Rating Report
Plot
Characters
Writing
Representation
World Building
Overall:
4 / 5