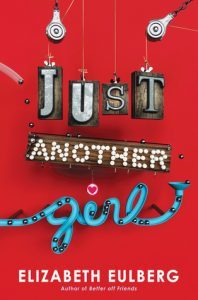 Just Another Girl

by Elizabeth Eulberg
Published by Scholastic on March 28th 2017
Genres: Contemporary (YA), Coming of Age (YA)
Pages: 256
Amazon | | Barnes & Noble

You resent her. You can't stand her. You might even hate her.
But you don't know her at all.
Hope knows there's only one thing coming between her and her longtime crush: his girlfriend, Parker. She has to sit on the sidelines and watch as the perfect girl gets the perfect boy . . . because that's how the universe works, even though it's so completely wrong.
Parker doesn't feel perfect. She knows if everyone knew the truth about her, they'd never be able to get past it. So she keeps quiet. She focuses on making it through the day with her secret safe . . . even as this becomes harder and harder to do. And Hope isn't making it any easier. . . .
In Just Another Girl, Elizabeth Eulberg astutely and affectingly shows us how battle lines get drawn between girls -- and how difficult it then becomes to see or understand the girl standing on the other side of the divide.
You think you have an enemy. But she's just another girl.
*Content Warning: View Spoiler »domestic abuse, excessive alcohol consumption, abandonment, weight (a lot of mentions of not being able to eat what they want because of weight) « Hide Spoiler
My initial thought about this book after reading the synopsis was oh great, another book about girl-on-girl hate, just what we need but I was hopeful that it had a good outcome or some sort of lesson in the end.
Luckily, this book was more than just two girls hating each other because of a boy.
"It's frustrating how easily you can misinterpret something when you only want to believe in one thing."
That quote is on page 5 in this book – it perfectly sums up the entire premise of this novel. Basically, Eulberg told you exactly what this novel is about and what lesson you are supposed to learn with one simple sentence on page 5. Perfection.
The story is told from two point-of-views, Hope and Parker. You're first introduced to Hope. She's a high school girl who is quite boy-obsessed with her childhood best friend, Brady. It's actually unpleasant to read just how obsessed with him she is. To her, her life is worthless because she is not with Brady, and it is made worse by Brady's 'perfect' girlfriend Parker. Reading her thoughts on this for 50 pages was frustrating. (Hope is bi-racial and I think she is slightly plus size. I don't want to make this a main point because I'm not exactly sure if she is plus size or just thinks she is.)
Then you get to Parker's POV and the idea behind this story starts to take shape. She looks perfect on the outside – she gets good grades, has a good boyfriend, she's in shape, rich, and has many friends. Then you find out that Parker's life is far from perfect (but I won't spoil anything).
By the time I got to Parker's POV, my initial concerns with this book started to fade away. It was going to be more than just two girls fighting over a boy – which is amazing considering how many books like that for teens there are out there. By the end, I would hope that people walk away with a better understanding of [insert any cliché statement here] – like don't judge a book by its cover or make sure you walk a mile in someone else's shoes.
While I loved that premise and that it ended up being more than just girl hate, I did have a few issues. 
First, I liked the two perspectives, but there wasn't enough distinction between the voices. They read identical to each other and it was their circumstances that separated their POVs.
Second, I think that mental health should have been addressed. I can't go into detail with this without spoiling anything. To put it simply, some of the things some characters go through may cause mental illness, trauma, something, but nothing like that is addressed. (Yes, the characters could not be affected at all in that way, but it would have been a good opportunity to discuss it)
Third, I disliked the relationship between Brady and Hope. Again, I can't go into detail because of spoilers, but I didn't think Brady was actually a good person even though the entire book is both girls toting on how amazing he is.
There were things that I was glad were addressed by the end, though, such as: Hope's boy obsession, codependency in relationships, and how it's okay to ask for help when you need it.
Overall, I enjoyed this one. I think it is an important read because of its lesson – despite the minor issues I had with it. It's also very short, under 300 pages, so it's a quick read as well! If you're looking for a coming-of-age YA about friendship and life beyond romantic relationships as a teen, this might work for you.
Rating Report
Plot
Characters
Writing
Romance
Overall:
3.5 / 5