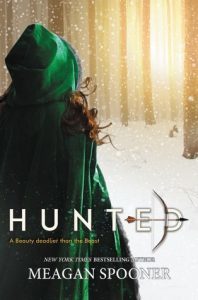 Hunted

by Meagan Spooner
Published by HarperTeen on March 14th 2017
Genres: Fantasy (YA), Romance (YA), Fairy Tale Retelling
Pages: 384
Amazon | | Barnes & Noble

Beauty knows the Beast's forest in her bones—and in her blood. Though she grew up with the city's highest aristocrats, far from her father's old lodge, she knows that the forest holds secrets and that her father is the only hunter who's ever come close to discovering them.
So when her father loses his fortune and moves Yeva and her sisters back to the outskirts of town, Yeva is secretly relieved. Out in the wilderness, there's no pressure to make idle chatter with vapid baronessas…or to submit to marrying a wealthy gentleman. But Yeva's father's misfortune may have cost him his mind, and when he goes missing in the woods, Yeva sets her sights on one prey: the creature he'd been obsessively tracking just before his disappearance.
Deaf to her sisters' protests, Yeva hunts this strange Beast back into his own territory—a cursed valley, a ruined castle, and a world of creatures that Yeva's only heard about in fairy tales. A world that can bring her ruin or salvation. Who will survive: the Beauty, or the Beast?
*Content Warning:View Spoiler » Domestic violence (there is a short story mentioned), suicide (many mentions of self-harm, suicide attempts) « Hide Spoiler
I didn't have any expectations going into this one. I've read several Beauty and the Beast retellings and none of them have impressed me – so I went into this one fairly neutral. I was disappointed in it by the end. 
The story heavily relies on the romance. This book is about people rather than an actual fantasy plot line. This means the romance had to be pretty on point for it to work – and it simply wasn't.
There was no build up of their relationship, no defining moment that determined they were meant for each other, no chemistry – nothing. It felt flat, unconvincing, and like they didn't even know each other so how could there be a romance blossoming?
However, if there was much more focus on Yeva's relationship with her sisters – now that is a story I'd be interested in. Spooner created a wonderful family around Yeva that I just adored. I loved every scene with them, cherished every time they were mentioned, and I wanted more of that sisterly bond. I wanted to see them do something together, live their lives. Forget about the Beast, let's follow the sisterhood.
Unfortunately, that's not what we get. 
There also wasn't much of a fantasy element to this. I know, that makes no sense, I mean, there's a beast! There wasn't enough fantasy, there wasn't enough magic. There needed to be more of that world. I wanted an epic quest to figure out the curse, a battle, a magical being swooping Yeva away, something, anything other than the short few pages that we get that even resemble a fantasy. There was so much build-up that eventually led nowhere.
Most of this book wasn't for me. It's slow, drug out, very little action or climactic moments, and the romance was stale. Although, I will end this on a positive note: Spooner's writing is glorious. It's beautiful and poetic – I kept reading just because of her writing. It's the book's saving grace, without it, I would have given up.
Rating Report
Plot
Characters
Writing
World Building
Romance
Overall:
2 / 5