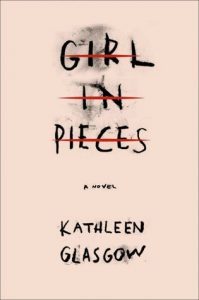 Girl in Pieces

by Kathleen Glasgow
Published by Delacorte Press on August 30th 2016
Genres: Contemporary (YA), Mental Health, Own Voices
Pages: 416
Amazon | | Barnes & Noble

Charlotte Davis is in pieces. At seventeen she's already lost more than most people lose in a lifetime. But she's learned how to forget. The broken glass washes away the sorrow until there is nothing but calm. You don't have to think about your father and the river. Your best friend, who is gone forever. Or your mother, who has nothing left to give you.
Every new scar hardens Charlie's heart just a little more, yet it still hurts so much. It hurts enough to not care anymore, which is sometimes what has to happen before you can find your way back from the edge.
*Content Warning: View Spoiler »suicide, self-harm, domestic abuse, sexual abuse, rape, alcohol abuse, drug abuse, addiction « Hide Spoiler
I don't know where to begin with this review. I'm sure you've all heard that this book is heartbreaking, dark, and will most likely leave you in tears. That is so true.
I'll start with the basics. 
Charlie is a dark character. She has a lot of inner struggles, has been through more than most teenagers, and her thoughts are depressing and scary at times. That may seem like a difficult character for people to connect with if they haven't ever gone through something similar, but Glasgow manages to create a character that I think many people can connect to.
We've all felt the way Charlie feels at times. Even if we don't act on it, or only feel it for a short period of time, we've all felt how Charlie feels after bad things happen to us. With a story like this, it's important for the reader to feel a connection to her and Glasgow delivers. 
Speaking of the story, it's a bit different from what most of us would read. There isn't really a beginning, middle, and end. There isn't really a build up and a climax. It's many ups and downs – a  lot of highs and lows. It's perfect. It's a perfect way to tell Charlie's story. It's fitting that there isn't a beginning, middle, and end, rather just a life lived with really good moments and really bad moments.
And when I say really bad moments, I mean really bad. This book doesn't shy away from anything.
One negative I have is the writing style, which eventually turned into a positive. It's written almost in the voice of someone reading a diary. There's progression in sentence structure, but at first, it will feel odd. The beginning of the book starts with very choppy sentences, unclear descriptions of the surroundings, and characters that you can't quite put together yet. It eventually smooths. As the story goes, the writing gets clearer, Charlie's thoughts are more cohesive. It's an impactful way to write this – you just have to be patient.
Another criticism is that I wish there was a clearer background on Charlie's life before the story starts. It was a little difficult to keep up with the names of her old friends because there wasn't much to connect them to. Bits and pieces were revealed throughout the story, but it would have been nice to have a more complete rundown.
Overall, though, I really enjoyed this one. It hit some personal notes for me that I probably influenced my overall enjoyment of it, but I still think it's a great read for those who can't specifically relate to anything in it. It's a very powerful story that may be hard to get through for some, but I recommend it to anyone who can handle it.
Rating Report
Plot
Characters
Writing
Representation
Overall:
5 / 5