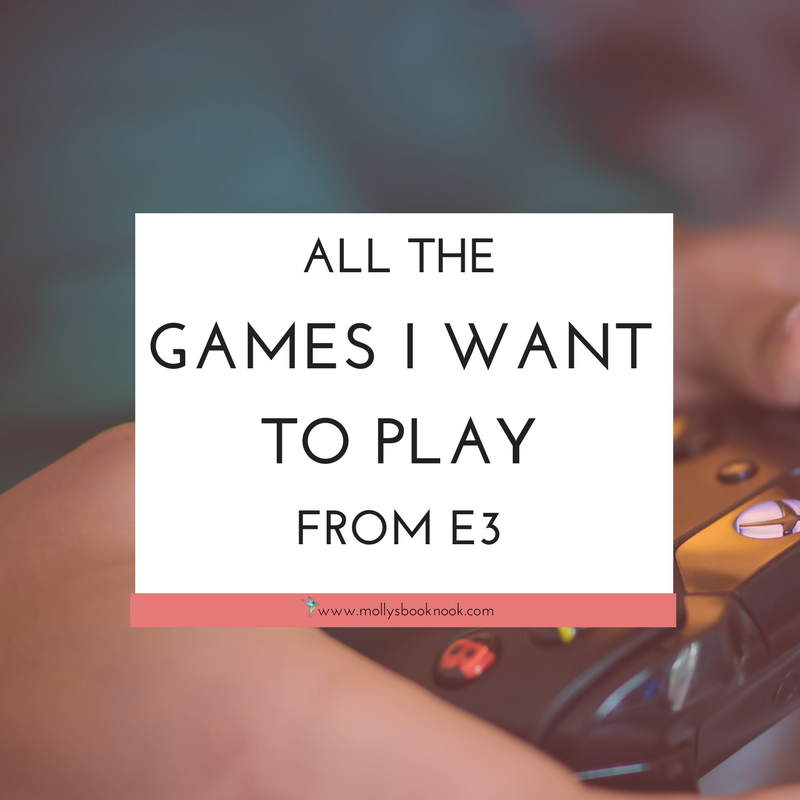 If you don't know this about me already, I love playing video games and every year I watch E3. (If you don't know what E3 is, it's basically a convention all about video games where all the upcoming games are revealed/news is shared). There are so many great looking games this year, we're even considering purchasing a PS4 (we're Xbox people) because of all the amazing games. So, here is a list of some of the games I'm most excited for within the next year or so.

DISHONORED: DEATH OF THE OUTSIDER
I played the first two back-to-back a couple of months ago and it is easily one of my favorite series. It has everything I love. Exploring, various types of playthroughs, steam punk feel, 'zombies', and magic. This spin-off DLC is going to be so amazing. I can't give away too much because of spoilers, but I can't wait to play as Billie!

DAYS GONE
This is a game I may just have to buy a PS4 for. If you know me at all, you know I'm a sucker for anything end-of-the-world (post-apocalyptic, zombies, apocalyptic, dystopian, give me all of it!) This game looks bad ass. You basically get to play as Daryl from The Walking Dead. I mean, the guys on a motorcycle AND has a leather vest.  😆

STATE OF DECAY 2
Again, I love the end-of-the-world genre.  This game is unique in that it is literally about survival. You have to get a home base, rescue survivors to build it up and gather supplies, and you get to play as any survivor you rescue (you switch between as you please). The kicker? When one survivor dies, that's it, they're dead and you have to play as someone else. Which means you can spend the whole game building the skills up of one person, make them bad ass, and then they die and that's it. It's pretty awesome and I can't wait to see what they do with the second one now that it's kind of bigger and more well-known.

UNCHARTED: THE LOST LEGACY
Another one I may have to get a PS4 to play. I've always wanted to play Uncharted because it reminds me of Tomb Raider and now this one has 2 female MC's (so, it's basically tomb raider). It looks pretty cool.

GOD OF WAR
The original ones were some of my favorite games (I never played the PS Vita games). They're just a fun hack and slash type of game that is about mythology. This time, Kratos is against the Norse Gods! How awesome is that?

METRO EXODUS
I haven't had the chance to play the first game or read the book it's based on, but I still want to give this one a try. It actually looks a little scary (based on this gameplay trailer for it).

ASSASSIN'S CREED: ORIGINS
I kind of got over the AC franchise a while back. All the spin-offs and multiplayer games just didn't appeal to me. Although, Black Flag was way too awesome. This one looks like it might revive my love for it. I mean, you can control a damn eagle! I was sold on that alone. This time it's the 'origins' and based in ancient Egypt.
SOME MORE GREAT ONES
Anthem
Skyrim for the Switch (you can get a Link costume)
Life is Strange: Before the Storm
Middle-Earth: Shadow of War
Sea of Thieves
Spider-Man
Battlefront 2
---

Do you play games? Did you watch any E3 coverage? Any games that interest you in this list or otherwise?