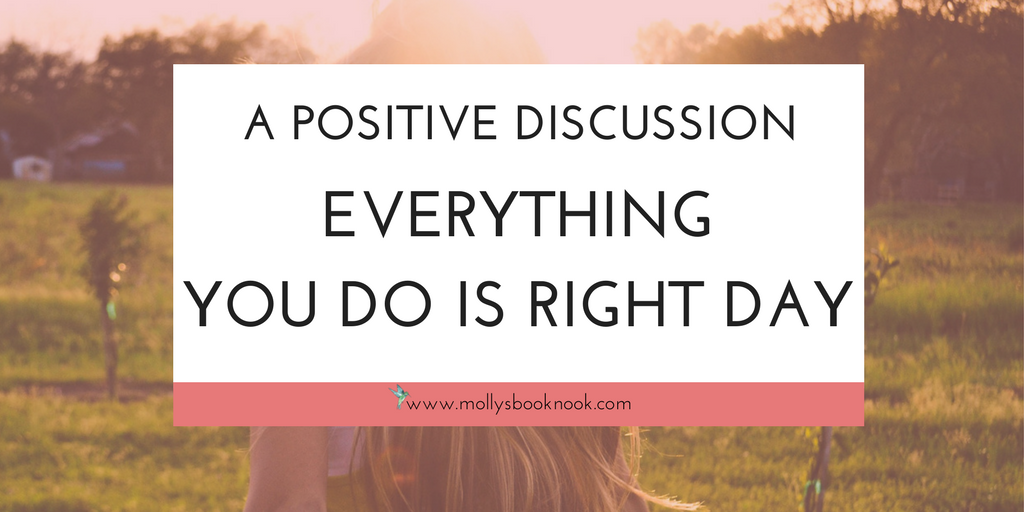 Strap in, I'm about to get real corny (again).
Sometimes I look up wacky or unofficial holidays. In that search, I've learned that my birthday is Toasted Marshmallows Day (which I am 100% okay with), I also found out that today, March 16th, is Everything You Do Is Right Day.
There's no official "founder" or way to celebrate it, and I'm sure there are different ways to interpret it, but for me, it felt like a day to spread some more positivity. We're all going through hard stuff in our lives. That's a fact. There's no point system to who has it harder because we're all going through something that is difficult for us. We've also all made mistakes in our lives that we've had to learn from. So, because life is so hard sometimes, let's take today to recognize that regardless of what we're going through or what has happened before today, today will be great.
This isn't exactly a bookish or blogging related topic, but I think some of us could use a day like this. We hit reading slumps, we go through times of doubting our blog, we feel like we can't balance the hobby with real life, we question how much we contribute, we feel like we're doing something wrong in life, said the wrong thing, made the wrong decision. That's a lot and taking a day for yourself is crucial.
So, how can you celebrate Everything You Do Is Right Day?

Because why not? Mottos are fun and are also a great way to start the day. Here is an article on Psychology Today that lists 9 reasons why having a motto is so important. So, what do you want yours to be today? Do you want to focus on self-love? Do you want to spread positivity? Do you want to be the strongest person you can be? Here are some examples by some smart people 😉 :
Happiness depends upon ourselves.
– Aristotle
Nothing can bring you peace but yourself.
– Ralph Waldo Emerson
Always be a first-rate version of yourself, instead of a second-rate version of somebody else.
– Judy Garland
The purpose of life is a life of purpose.
– Robert Byrne
No one knows what he can do until he tries.
– Publilius Syrus
Life's burdens are lighter when I laugh at myself.
– Jonathan Lockwood Huie

I published a post last week on 5 ways to make other bloggers smile – why not continue that into the real world too?
It feels good to do kind things for other people – so be a little selfish and make yourself feel good by doing something nice for others 😉 . Whether that's taking the post I wrote last week and running with all the examples, or going out in the real world and doing something kind. Whatever it is, it's right, because you can't go wrong when spreading positivity.

The bottom line for today is to do what makes you happy. It doesn't matter what wrongs you made in the past, or what struggles you're going through, just enjoy today for yourself.
Read a book. Take a hot bath. Go see a movie. Give yourself a facial. Treat yourself to a professional facial. Sit outside. Go for a drive. Listen to music. Dance. Sing. Play a video game. Cook a meal. Call your friends. Call your family. Give out hugs!

What I think the goal or the lesson learned from this should be is to have a little self-compassion. A lot of us talk about having compassion and empathy for others, but it can be hard to do that when we don't have it for ourselves.
We're our own worst critics. We think that to motivate ourselves we have to critique and judge ourselves. Don't do that. Instead, be mindful of how you're feeling but don't judge yourself for it. Be mindful without trying to change yourself because of those negative thoughts.
If this is something you're genuinely interested in learning about, you can find a lot of great information here.
"Instead of mercilessly judging and criticizing yourself for various inadequacies or shortcomings, self-compassion means you are kind and understanding when confronted with personal failings – after all, who ever said you were supposed to be perfect?" – source
---

I know this is a random post for me to write, but I felt like sometimes we all need a little reminder to treat ourselves. So, what do you think? How do you take time for yourself? Do you think that you could be a little less judgemental towards yourself?