I received this book for free from the publisher in exchange for an honest review. This does not affect my opinion of the book or the content of my review.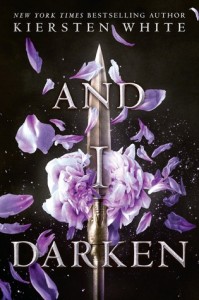 And I Darken (Conqueror's Saga, #1)

by Kiersten White
Published by Corgi Childrens on July 7th 2016
Genres: Fantasy (YA), Historical Fiction
Pages: 484
Source: the publisher
Amazon | | Barnes & Noble

No one expects a princess to be brutal. And Lada Dragwyla likes it that way.
Ever since she and her brother were abandoned by their father to be raised in the Ottoman sultan's courts, Lada has known that ruthlessness is the key to survival. For the lineage that makes her and her brother special also makes them targets.
Lada hones her skills as a warrior as she nurtures plans to wreak revenge on the empire that holds her captive. Then she and Radu meet the sultan's son, Mehmed, and everything changes. Now Mehmed unwittingly stands between Lada and Radu as they transform from siblings to rivals, and the ties of love and loyalty that bind them together are stretched to breaking point.
The first of an epic new trilogy starring the ultimate anti-princess who does not have a gentle heart. Lada knows how to wield a sword, and she'll stop at nothing to keep herself and her brother alive.
I really really really wanted to like this book. Unfortunately, I didn't, and it has become my first DNF review on here.
Before I begin, I got almost exactly 50% through this book before giving up. I think that's plenty for me to give an adequate review.
First of all, what ultimately made me put this down, was the pacing. It's excruciatingly slow. Looking at my notes while reading this book, my first bullet point is "very slow > 167 pages in and nothing has happened". ONE HUNDRED AND SIXTY-SEVEN PAGES and I still felt like nothing happened.
The problem was that the book literally follows Lada from birth. I thought the first chapter was a good intro, I thought it was just another "origin" sort of introduction. I was wrong. It then goes to when her little brother is born (so she's about 2 or 3), then to when she's 6. It follows her whole life and by the time I put it down (almost 50%), she was still under 13 years-old.
This method of story-telling caused two things to happen for me:
I didn't feel connected to the characters at all. They were just too young. Also, Lada is just evil from the beginning. There really isn't development on why she's like that. What I gathered is that she was cursed (literally). I would have preferred if something bad happened to her and that's why she was the way she was. As for Radu, her brother, it was the same with him. He was too good. He was also a little weird with Mehmed — were his feelings romantic? I couldn't tell.
It never felt like the story was heading anywhere. Sure, things were happening, but they never pointed at a specific plot. Almost half way through and there still wasn't a solid story being built. At least, not one I cared about. It was kind of all over the place.
Also, this book is compared to Game of Thrones. I don't agree with this at all, you'd really have to stretch in order to make that comparison. A Song of Ice and Fire is full of political intrigue, corruption, complex characters. And I Darken is just a generic "girl wants the throne" type YA story. It can't even be compared to Martin's story or world.
To the books credit, I didn't get past age 12 with Lada. Maybe in the last half she gets better, maybe there is more character development, maybe the plot thickens — but if I have to read over 200 pages to get to that, that's not good. It should not take that long to develop at least something. Also, this is a trilogy, which makes me feel like maybe White had to stretch out the story in order to actually make it three books? Some of the things that happened in the first half of this could have been condensed so much.
Overall, I did not like this book. It lacked anything that would capture my attention.

Have you read this book? What did you think?
What books have you DNF'd?